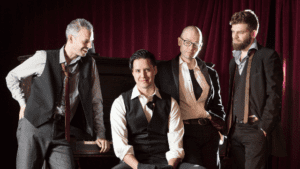 The Forum presents the American String Quartet Brooklyn Rider, who will perform at 8 p.m., Saturday, March 26, at Prior-Jollek Hall, on the Antilles Campus, St. Thomas, U.S. Virgin Islands. The members of the quartet are Johnny Gandelsman (violin), Colin Jacobsen (violin), Nicholas Cords (viola) and Michael Nicolas (cello).
The quartet will present its Grammy-nominated project "Healing Modes."
Brooklyn Rider often performs live at WGBH's Fraser Performance Studio in Boston. Hailed as "the future of chamber music" (strings), the veteran string quartet Brooklyn Rider presents eclectic repertoire and gripping performances that continue to draw rave reviews from classical, world and rock critics alike.
NPR credits Brooklyn Rider with "recreating the 300-year-old form of string quartet as a vital and creative 21st-century ensemble."
"I don't believe I've ever experienced the radical emotional range of Op. 132's long, slow movement — with its liberating, dancing interjections — more intensely than when listening to the entirety of Healing Modes." — The New York Times
The healing properties of music have been recognized from ancient Greek civilization to the field of modern neuroscience and expressed in countless global traditions.
The slow movement of Beethoven's Opus 132, a 'Song of Holy Thanksgiving from a Convalescent to the Deity in the Lydian Mode,' is among the most profound expressions of healing in the string quartet repertoire. This autumnal masterwork is presented in its entirety alongside five compact new commissions.
These five new works explore the subject of healing from a wide range of historical and cultural perspectives. Composers include Reena Esmail, Gabriela Lena Frank, Matana Roberts and recent Pulitzer Prize winners Caroline Shaw and Du Yun.
"They are four classical musicians performing with the energy of young rock stars jamming on their guitars." — Pittsburgh Post-Gazette
Click here, to purchase tickets:
"For the past few years, Brooklyn Rider has pushed the envelope pretty much as far as a string quartet can go, and in the process have raised the bar for other groups: they transcend any preconception about what serious composed music is all about." — Lucid cuLture
The performance was made possible by the Virgin Islands Special Presenter Initiative program of the Mid Atlantic Arts Foundation with support of the National Endowment for the arts.
Made possible by the Penny & Hank Feuerzeig Family Fund at the Community Foundation of the Virgin Islands.
At 7 p.m. the Courtyard will open, offering for sale small meals, wine, beverages and Desserts from Amalia Café. The concert will follow at 8 p.m.
Ticket pricing: Adults $30, Teachers $10, Students $5 and Children are free
Please, get your online free ticket to make sure you have a seat. Masks are required; there will be temperature checks at the door.