Most people around St. John know Kim Lyons. Whether as a friendly face around Cruz Bay, supporting a niece competing in the Junior Miss St. John Pageant or just enjoying a meal at one restaurant or another, Lyons is a familiar face. But Lyons – mother, consultant, public relations specialist, artisan to name a few of the hats that she wears – is always showing those who think they know her a new side.
This Sunday evening, December 11, Lyons will be showing her artistic and charitable sides as she exhibits her new collection of handcrafted jewelry and crocheted bags at Tage from 5:30 to 8:30 p.m. A percentage of sales from the show will benefit the St. John School of the Arts.
"Little Obsession"
"Jewelry has been a hobby of mine for the past five years and I've always done beaded work," said Lyons. "But it was when I went to the Dominican Republic on a trip with a friend and bought a lot of amber that it became a little obsession of mine."
The artist's exhibit will also include crocheted bags embellished with beads.
"I learned to crochet from my grandmother many years ago but I didn't start again until this year," explained Lyons. "My grandmother was sick and I started crocheting again so I could sit with her and have something to do."
Lyons, who has been collecting beads for about 20 years, works mainly in silver and vermeil, which is a sterling silver plated with 22 carat gold.
This is the artist's second show, she last exhibited her work two years ago at Karen Samuels' gallery Kareso which was also a St. John School of the Arts benefit.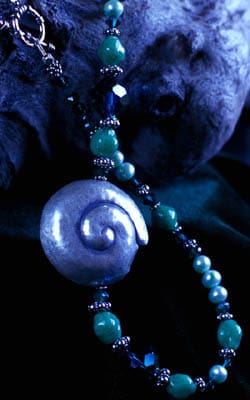 Respect for the Arts
"I donate to the school because I have a lot of respect for what Sis Frank is doing there," said Lyons, adding that her 11-year-old daughter takes ballet at the school. "This is support for Sis's efforts because she does a lot of outreach to other schools that don't have a lot of arts – what she is doing is important."
Lyons is a native St. Johnian who left island to attend Hunter College in New York City. She stayed in New York and worked in advertising for nine years before returning home in the early 1990s.
"I came back to St. John because it's home – it seems to pull me back," said the artist. "No place else is home like St. John."
When she was growing up on St. John it was a far different world then what the island is today, added Lyons, who said she has seen a vast amount of change.
Change is Good and Bad
"Some of it is welcome; some of the changes have brought prosperity which is welcome, but with that comes a loss of some of the culture and some of the traditions which is sad," said the artist. "It happens in a lot of places but it's hard to watch it in my own home."
A lack of civility and manners seems to be happening to many people on St. John and around the world, according to Lyons
"If we all took lessons in civility and respect I think it would help," the artist said. "It's a world wide issue but it's in our face here because it's so small."
Instead of simply complaining about issues that affect St. John, Lyons is taking a proactive approach.
VIPD Liaison
"Right now I've gotten into working with the V.I. Police Department as a community liaison," said Lyons. "I report directly to the V.I.P.D. Commissioner so he gets to hear what goes on here and there is hopefully nothing that gets lost in that channel of communication because I am his eyes and ears here on St. John."
This is yet another side of the multi-faceted Lyons — community service. "Art is my passion, but community service is also really important to me — being able to make a difference and help people," said Lyons. "My job with the VIPD is about community service and trying to fill some areas where I feel service is needed."
The biggest problem facing St. John right now is the lack of opportunities for the youth on island, according to the artist.
Island Youth Neglected
"I hear a lot of rhetoric floating around about how the youth are our future, but if people were serious there would be a lot more resources and educational opportunities for our young people," said Lyons. "We need to keep the kids safe, off the streets and give them something to do."
Various groups across the island are creating opportunities for youth of St. John, but the effort needs to be collective, Lyons continued.
"The youth are being neglected here, they don't have anything to do," said the artist. "I know that there are people doing things like the youth center, but we need to do it collectively."
Lyons acknowledged the difficulty of categorizing her, but the artist was able to come up with one word that would fit — bridge.
Bridging Past and Future
"There is no such thing as me in a nutshell," said Lyons. "I see myself as a bridge between the past and the future, between different people and different cultures."
"I try to bring people together across cultures and across generations and genders," she continued.
Don't miss your chance to check out this dynamic woman's latest collection of handcrafted jewelry and crocheted bags at Tage on December 11.