Forget everything you think you might know about chefs — the ego usually associated with the big hat in the kitchen does not apply to the new man at Cruz Bay's Tage.
Carl Foster, who purchased William Jerome's interest in the popular Cruz Bay restaurant in early August, is anything but a typical man behind the line.
Atypical Chef
A chef by trade, Foster calls himself the "chef/owner," and although he scrutinizes every plate that leaves the Tage kitchen, he has no intentions of usurping executive chef Chris Frangiadis' power.
"Chris is my executive chef," he said. "It is my intention to still have my hands on the menu but without taking away Chris' creativity."
[adrotate group="6"]
The new Tage owner traveled an interesting road on his way to becoming chef/owner of the Love City establishment.
Academic Background
Foster, who earned his undergraduate degree with a double major in biology and comparative religion, was on his way to medical school when his path changed course.
"I just always loved to cook," he said. "I come from a large family and my grandmothers on both sides were amazing cooks. It's just something in my blood."
The young Foster worked at his uncle's restaurant in Ohio for years and continued working in various restaurants throughout his time at undergraduate college.
Instead of pursuing a career in medicine, Foster struck out for New York's Hudson Valley where he attended the renowned Culinary Institute of America. Upon graduation, Foster trained under one of the few master chefs in the U.S. at the time and mastered the art of both classical French and Northern Italian cuisines.
After his internship with the master chef, Foster worked in some of the most noted restaurants in New York City.
What seemed like clear a shot to the top for this promising young chef was detoured for a spell when he needed a change.
"After being in the business for a while, I was burnt out," the new Tage owner said. "I decided to go back to school and take some time away from cooking."
So back to school he went, to one of the most prestigious universities in the country where he earned a master's degree in divinity. Although Foster was not interested in being ordained in any faith, religion is apparently in his blood also.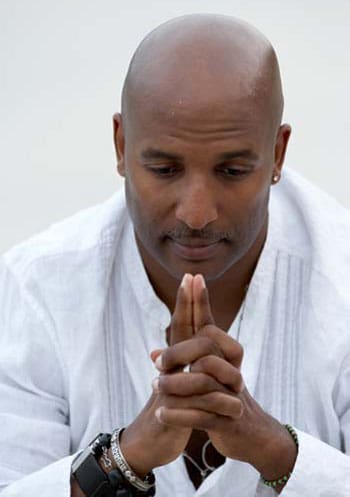 Food, Religion and Music
"Food, religion and music are the things that I love most in the world," he said.
With three years of knowledge now under his belt, Foster dove back into the New York restaurant scene — with a little help from his friends.
"Mariel Hemingway and her husband are good friends of mine and they talked me into working at their restaurant, Sam's Cafe," he said.
After working in New York for a time, Foster got the opportunity to open a new Sam's Cafe in Los Angeles — which did not even tempt the avid New Yorker.
"I was not interested in moving to L.A. at all," he said. "But Mariel said 'please' and I couldn't say no."
Foster spent a year and a half in the city of angels where he "did everything, short of building the chairs," to open the West Coast Sam's Cafe.
"L.A. never grew on me and I was open to going somewhere new," he said.
And just like that a private yacht club in Jamaica came calling. Foster flew to Jamaica for the first time in the late 1980s and was impressed.
"Morgan's Harbor invited me to come down and take a look at their property, which was amazing," he said. "The location was beautiful and had an amazing history. It was Walt Disney's first choice for the location of his theme park."
First Taste of Caribbean
"This was my first taste of the Caribbean and how I got enthralled with the area," the chef continued.
Foster accepted the position as executive chef and food and beverage manager, where he and his team took the yacht club from no stars to two stars in less than a year.
"My training is French but my focus was on fusing Caribbean and French cuisines, although not in a French-Caribbean way," he said.
Consulting Work
The chef eventually returned to New York, but while he was in Jamaica, acclaimed writer and satirist Joe Queenan wrote an article about Foster for the men's magazine G.Q.
"The article came out after I returned to New York and started a consulting business for new restaurants," he said. "As a result of the G.Q. article, I got tons of calls for consulting work."
Foster was not about to settle down yet. He soon headed back to Ohio where he and two friends opened a restaurant in the financial district of Cleveland. Foster then branched out and opened his own restaurant in Cleveland before working for a private yacht club in the city. But the Caribbean was about to beckon him again.
Caribbean Calls
"Then I got a call from the Wyndham Sugar Bay in St. Thomas," he said. "I had met one of the general managers in Jamaica, and he called me in Cleveland and asked me to come down to be the executive chef."
Wyndham flew Foster down in the late 1990s and it didn't take him long to feel right at home.
"When I left Ohio it was six degrees," he said. "When I got to St. Thomas it was 86 degrees and before I took my first step, I said 'this is home.' That was it."
After working at Wyndham for a while, Foster started his own catering and private chef business where he cooked for private companies and "exclusive no-name clients."
Foster, who has lived on St. Thomas for nine years, said he always loved St. John.
In Love With Love City
"I've really been trying to get to St. John for years," he said. "I was looking for the right home and the right opportunity and now I've stopped looking. Not to say anything bad about St. Thomas, but I love small communities and friendly people."
"I'm home," Foster added.
The new Tage owner does not plan on making major changes at the establishment. "One of the reasons that I won't change the name or the aura is because one of the things that attracted me is the concept of this restaurant," said Foster. "The focus is on few ingredients, but the very best ingredients. It's about letting the food do the talking."
"That's the way that Chris cooks and that's the way that I always cooked," he added.
Foster is not ruling out the possibility of instituting changes.
Learn the Rules First
"As the Dali Lama says, 'First learn the rules so you can break them properly,'" quoted Foster. "I am going to let this place tell me what it needs and then I'll make changes."
There are a few changes that Foster will implement in the coming weeks. Tage, which already offers 16 wines by the glass, will soon feature 25, including champagnes and ice wines.
"We'll have more of a wine bar feel," Foster said. "We'd like to stay open later and offer smaller plates. I'd like people to come and try five or six different things."
Wine flights will be available for tastings, either paired with appetizer plates or individually chosen. The aim is to give people a "total experience," according to the chef/owner.
"I want to make people's experience here more interactive," he said. "Expect to be surprised. Our motto here is 'forget what you thought you knew.'"
Tage is open from 6 to 9 p.m. Mondays through Saturdays. Call 715-4270 for reservations.