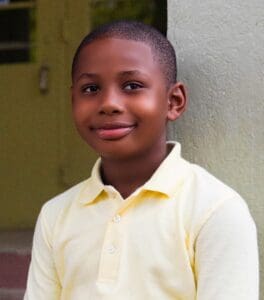 Omar Mutidi Jr., a third grader at Pearl B. Larsen PreK-8 School on St. Croix, preserves V.I. culture through the moko jumbie art form, which he was exposed to as a young child during his time with the Ase Moko Jumbie group. Omar is also skilled in the pan arts, which he learned from his grandfather, Noel Wynter Sr., a master pan artist and instructor.
Wendy Wynter, Omar's mother and Lew Muckle Elementary School teacher, promotes pan arts in public schools and is the organizer of Lew Muckle's pan orchestra, where Omar has performed for many years.
When he is not at school, Omar devotes most of his time to the moko jumbie art form. He made his first public performance as a moko jumbie during the 2021-2022 Christmas season, following the completion of his training with the Guardians of Culture Moko Jumbies, which was led by culture bearer and retired educator Willard John. Through him, Omar learned the physical and spiritual virtues of the moko jumbie arts.
Today, Omar is an active member of his community, taking part in a variety of performances and cultural activities as a Moko Jumbie Ambassador.
The Virgin Islands Department of Education's Youth Culture Bearer of the Month initiative seeks to raise awareness of the many students within the territory's schools who are practitioners of Virgin Islands cultural and traditional art forms.