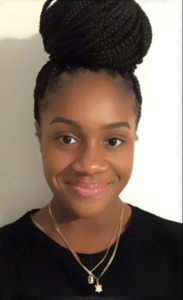 A young woman attending the University of the Virgin Islands has become the third student for this academic school year to be selected to participate in the historic White House Historically Black Colleges and Universities (HBCUs) Journalism Press Briefings. The events are part of a White House initiative to strategically position young black journalists and media enthusiasts in unique professional settings where they can engage with key political figures. The format is modeled after official press briefings held daily for the White House press corps.
S'niyah Roberts, a sophomore, communication major and member of the student group UVI Association of Black Journalists (UVIABJ), is the third student chosen from the communication unit to represent UVI. She will join approximately 20 other student journalists from Historically Black Colleges and Universities (HBCUs) in a virtual media setting hosted by Marcia Fudge, United States secretary of Housing and Urban Development.
In the half-hour, live-streamed event, Roberts will serve as part of a press corps and pose a question to Secretary Fudge. "I am honored to represent the territory, my university, the communication department and our student newspaper, UVI VOICE 2.0, at the White House Press Briefing," Roberts said.
Sharon Honore, Ph.D., associate chair of the communication unit in the department of Communication and Performing Arts expressed pride that UVI students were, again, chosen to participate in this event. "This initiative by the African American Media division of the Biden-Harris administration presents opportune moments for journalism students at HBCUs to showcase their talents and enhance their portfolios. S'niyah has grown expeditiously as a communication major and UVIABJ member and is well-prepared to dialogue with Secretary Fudge."
[adrotate group="6"]
Roberts acknowledged that she is eager to engage with Fudge, who has a reputation for a 'no-nonsense approach' to political issues. She has been quite vocal about her political career objectives. Prior to her appointment at Housing and Urban Development (HUD), Fudge indicated an interest to serve as secretary of agriculture and become the first African American woman to hold that position.
Formerly, Fudge was chair of both the House Agriculture Committee and the Nutrition Subcommittee, which has oversight over U.S. Department of Agriculture operations. As a member of the Democratic Party, she served as the U.S. representative for Ohio's 11th congressional district for 13 years and was chair of the Congressional Black Caucus. Since her appointment last year, Fudge has embraced her role at HUD and created several initiatives that impact people of color during the COVID pandemic.
Students from all 105 HBCUs across the nation who actively participate in their campus journalism programs are allowed to compete for a handful of vacancies. During the fall 2021 semester, UVI student representatives, who included George Francis, a senior, communication major, and Nadege Barber, a junior, communication minor, participated in the first two White House HBCU press briefings hosted by Karine Jean-Pierre and Cedric Richmond.
Jean-Pierre is the deputy principal press secretary and Representative Cedric Richmond is the senior advisor to the president and director of the White House Office of Public Engagement.
The press briefings can be viewed via a direct link at  https://www.youtube.com/watch?v=H9lv69menAw (26:23/34:18) and https://www.youtube.com/watch?v=3hLGPtHqyho     (59:13/1:20:05)
For more information, contact the public relations office at pr@uvi.edu.