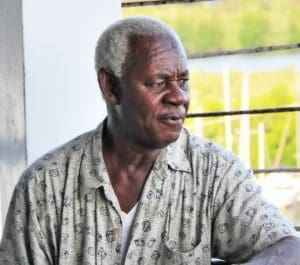 Thomas Jennings, known as "Tom" or "Two Pedal," died on Feb. 13 on St. Thomas, Virgin Islands. He was born in Tortola, British Virgin Islands, but he made his home on St. Thomas.
Tom is preceded in death by his parents: Joseph Jennings and Catherine Venzen Jennings; brothers: Ezekiel, Gerald, William, Daniel and Clebon Jennings; sisters: Elsina Jennings Williams, Pathrenella Jennings Hodge, Enorah Jennings Fleming and Hosepheta Jennings Percel.
He leaves to mourn: his beloved wife of 53 years, Carletha; son, Darryl Thomas Jennings; granddaughter, Te'Quasia; brother, Zedekiah Jennings (wife Janet); special nephews: Elroy (Fever) Fleming, Winston Percel and Francisco (Cisco Kid) Jennings; Jennings family members, Venzen family members, Weatherspoon family members, Fahie family members, Thomas family members and Skelton family members; special friends: Stanley Parsons, Rudolph Freeman, members of the Taxi Drivers Association; as well as a host of nieces, nephews, and friends too numerous to mention.
Relatives and friends are respectfully invited to attend the first viewing from 5-7 p.m., Thursday, March 10, at Celestial Chapel of Dan Hurley Home for Funerals.
The second viewing will be held at 9 a.m. followed by a funeral service at 10 a.m., Friday, March 11, at the New Herrnhut Moravian Church. Interment will be at New Herrnhut Moravian Cemetery.
Arrangements are under the care of Dan Hurley Home for Funerals and Cremation Center of St. Thomas, St. John and St. Croix.
For online condolences and directions, please visit the website at www.hurleydavisfuneralhome.com
All COVID-19 protocols will be observed.