The smell of johnny cakes and patés wafted through Cruz Bay, while the sounds of the Love City Pan Dragons and the JDPP Jammerz kept the crowd moving on Wednesday evening, June 28, at the official opening of Festival Village — named Thomasville — in honor of St. John native Natalie Thomas.
Lieutenant Governor Vargrave Richards and Senator at Large Craig Barshinger, among others, were on hand to honor Thomas along with Jam Band frontman Nicholas "Daddy" Friday, who was honored posthumously.
"She is one outstanding bookkeeper and hardworking member," said festival chairperson Jane Johannes of Thomas, who works as the St. John Festival and Cultural Organization's treasurer.
Dedicated To Service
"She is dedicated to providing service to the St. John community and the Festival Committee," said Festival Committee president Leona Smith.
Thomas thanked God, her friends and her family for their support.
"Thank God for blessing me with the desire to serve," she said. "Thank you to the Festival Committee for your vote of confidence in naming this Village in my honor. I am proud and thrilled to be this year's honoree."
Friday, who died late last year of complications from diabetes, was praised by the many speakers who graced the stage Wednesday evening, and a plaque was presented to his family in his honor.
Friday's Legacy Lives On
"We truly miss him," said the evening's emcee, Alecia Wells.
Barshinger, who left the Legislature early to attend the evening's festivities, proudly announced that the senate had just passed a bill in honor of Friday. "His legacy lives on," said Barshinger.
"I can feel his spirit on this stage," said Richards. "He left an indelible mark on this community."
Tourists and locals turned out for the Festival Village kickoff.
"I love it," said Cleveland resident Deborah Arcaro, who was visiting St. John for the first time with her husband, Mike Arcaro. "It's really moving."
"It's nice to see the American flag here in the Virgin Islands," said Mike Arcaro.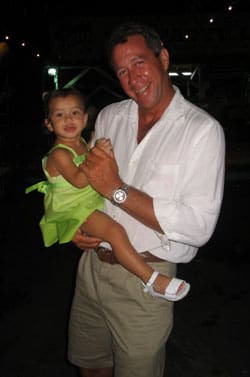 St. John resident Doreen Callwood had one thing on her mind at the Festival Village opening — food.
"I'm here because I can find the things I like to eat right now," said Callwood, who is from Jost Van Dyke. "I like seafood."
The St. John Fourth of July celebration is unique, according to Richards.
"We Let Our Hair Down"
"July 4 is celebrated on St. John like nowhere else on Earth," said the Lieutenant Governor. "We let our hair down and we have fun. We get a chance to celebrate our people."
St. John Administrator Julien Harley urged everyone to come back to Festival Village nightly for the food and entertainment.
"We all come here to enjoy ourselves," he said. "Keep coming every night until it finishes. Spend, spend, spend."
Thomasville will remain open through July 4.