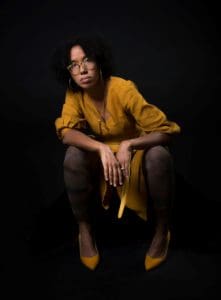 "There is no way to know anything for sure. And thank God for that. Thank God for that New Year's Day, nineteen-eighty-six. That day the monster was on my back. But then again, the monster has always been coming for me."
Tiphanie Yanique's new novel, "Monster in the Middle," takes the reader on a generational love journey that spans some of America's most perilous moments. From the Vietnam War to the Challenger explosion to COVID-19, she follows two families over a 50-year stretch of American history in a collection of stories that together form a larger tale of how our time, place and position in the world impacts how we experience love and intimacy. "Monster in the Middle" is the quintessential novel for 2021.
Yanique calls on themes from some of the best American, Caribbean and international fiction, using her signature lyrical writing style. This historical fiction travels throughout America, from California and Tennessee to Puerto Rico and the U.S. Virgin Islands. It explores intimacy through a generational, historical and societal lens. It provides a rare look into post-colonialism in America as well as the divergent experience of being black in America over the last 50 years.
"Monster in the Middle" challenges everything we know about relationships and how they are shaped by our cultures, our families, our communities, our race, and our time and location within history. Each generation in each location faces its own unique challenges and circumstances.
This novel touches on some of the most poignant historical moments, bringing us to this apex moment in the present, where we're all masked, still searching for love and struggling to reconcile political and cultural differences. This book asks us to rethink what it means to be American during turbulent times, particularly an American in love.
"Monster in the Middle" will be published in October 2021 by Penguin/Random House under their Riverhead imprint. It already has won The Best American Short Story 2021, selected by Curtis Sittenfield, and the O. Henry Prize 2021, selected by Chimamanda Adichie. Selections from the book have been published in the New York Times, the New Yorker, the Harvard Review and the Yale Review.
About Tiphanie Yanique
Tiphanie Yanique is an award-winning author and creative writing professor at Emory University. Her poetry collection, "Wife," won the 2016 Bocas Prize in Caribbean poetry and the United Kingdom's 2016 Forward/Felix Dennis Prize for a First Collection. Yanique also is the author of the novel, "Land of Love and Drowning," which won the 2014 Flaherty-Dunnan First Novel Award from the Center for Fiction, the Phillis Wheatley Award for Pan-African Literature, and the American Academy of Arts and Letters Rosenthal Family Foundation Award, and was listed by NPR as one of the Best Books of 2014. It was also a finalist for the Orion Award in Environmental Literature and the Hurston-Wright Legacy Award.
She was listed as the National Book Foundation's 5 Under 35 for her collection of stories in "How to Escape from a Leper Colony." She has received many other awards and accolades. Yanique is a native of the Virgin Islands and is an associate professor of creative writing at Emory University. Her novel, "Monster in the Middle," will be published in October 2021.