More than 50 people gathered in Estate Enighed for a touching memorial service on Thursday evening, Dec. 22, for Javon Jade "JJ" Alfred. Family members and friends remembered the 7-year-old, who was tragically hit and killed by a delivery truck on his way home from a school Christmas party on Dec. 22 last year.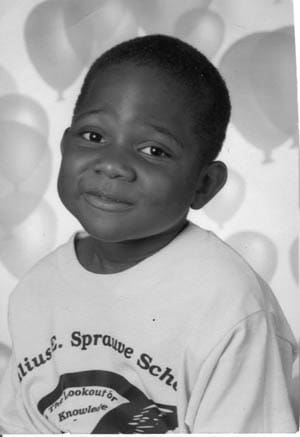 JJ's parents shared moving memories of their lost son, and had some advice for the community. His mother, Deverell, delivered a personal speech about the importance of spending time with loved ones amid the hustle and bustle of life.
Davidson, JJ's father, thanked the community for its continued support.
Pastor J.W. Lewis led the attendees in prayers and encouraged residents to unite in the face of tragedy.
The children at the gathering sang "Jesus Loves the Little Children," and the whole group joined in singing "Jesus Wants Me For a Sunbeam," "Won't You Greet Somebody in Jesus Name," and "Love Lifted Me."
Visitors from the U.S. mainland who witnessed the 2004 accident made a special trip to St. John to be a part of the evening.
The memorial service, held at the Enighed intersection where young JJ was struck, touched the hearts of all who attended.
The second annual JJ Memorial Basketball Tourna-ment is set for 6 p.m. on Wednesday, Dec. 28, and 6 p.m. on Friday, Dec. 30, at the Pine Peace basketball court. Umoja members will play against each other on Wednesday night, and their all-star team will compete against Zero Tolerance from St. Thomas on Friday.