Pictured above (L to R): Denise E. H. Lewis, VITEMA's deputy director of operations, Carolyn Wattley, the 9-1-1 Emergency Communication Center Manager for the  St. Thomas-St John District, and St. John Administrator Camille Paris. [hr gap="1″]
Exactly who should be called when an emergency occurs on St. John was the topic of a town meeting held at the Legislature Annex in Cruz Bay on October 11.
St. John Island Administrator Camille Paris invited two staff members from the Virgin Islands Territorial Emergency Management Agency (VITEMA) to meet with the public and members of other first-responder organizations.  He said after receiving calls of complaint from residents about delays in contacting dispatchers and receiving help, he hoped to hold an open discussion about possible breakdowns in communication that could have deadly consequences.
The meeting began with questions from Ian Samuel, a board member of St. John Rescue, about the procedures the public should follow and the protocols VITEMA has in place when an emergency occurs.
"People are supposed call 9-1-1 first in an emergency," said Denise E. H. Lewis, VITEMA's deputy director of operations.
St. John does not have its own 9-1-1 call center. Emergency calls from St. John are routed to the center on St. Thomas; in the event that dispatchers on St. Thomas are busy, the call would be automatically rerouted to St. Croix's 9-1-1 center which has a "redundant" system, sharing the same information.
Carolyn Wattley, the 9-1-1 Emergency Communication Center Manager for the  St. Thomas-St John District, explained that the 9-1-1 dispatcher then calls the Emergency Medical Service (EMS), the police, the fire department, and any other agency as needed, such as the Water and Power Authority if a power pole is hit by a car.
But Samuel questioned whether EMS can respond quickly enough to locations throughout the island in a medical emergency.
EMS is based in Cruz Bay, where trained emergency medical technicians and the island's only ambulance are stationed. The trip from Cruz Bay to Coral Bay, the growing community on the eastern end of the island, takes 25 minutes.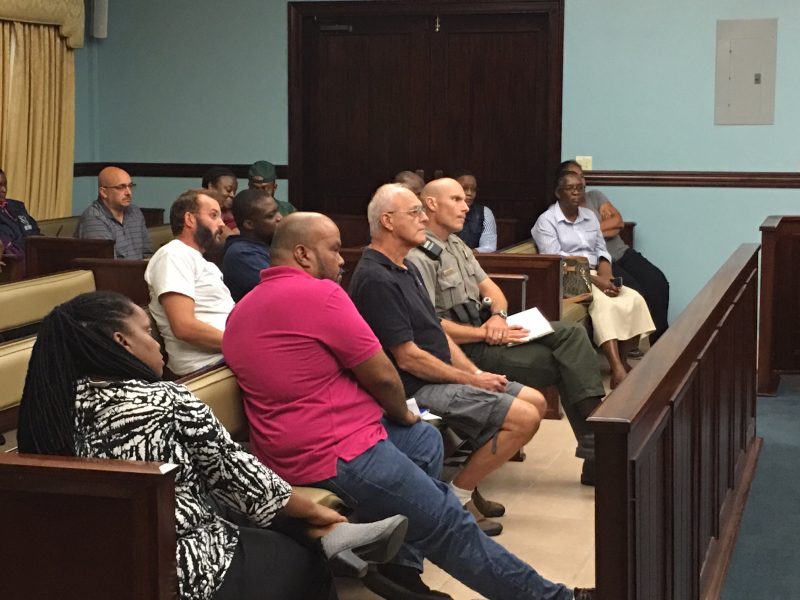 "My job is to make sure St. John residents get adequate care," said Samuel.  "If it's your loved one, it's hard to understand when it takes 25 minutes. Everyone has heard about someone whose life could have been saved if they'd gotten there on time."
Coral Bay has a fire station, and some firefighters are certified as emergency medical responders, according to Avon Chesterfield, EMS coordinator for the St. Thomas-St. John District.
St. John Rescue, a volunteer organization, currently has 26 trained members located throughout the island who can often reach people undergoing an emergency within a couple of minutes.  Samuel questioned why St. John Rescue wasn't alerted by 9-1-1 operators.
"The lives of Virgin Island residents is very important to me," said Lewis, who explained that a memorandum of understanding (MOU) was being drawn up to allow a private organization like St. John Rescue to become part of the chain of responders coordinated by VITEMA.
"The MOU still isn't done.  I will make the commitment to bringing the parties to the table," she said.  Paris said he would also work to make sure the agreement was completed.
Chesterfield brought up the problem of "dead spots" throughout the island where radio signals cannot be transmitted or received by first responders. "What are the plans to improve the communication level?  There are a lot of places, maybe 60% where the radios are dead."
Lewis acknowledged that there were problems throughout the Virgin Islands but said the Bureau of Information Technology was charged with upgrading the communications signals for VITEMA.  She said there needed to be a coordinated effort to identify where better service was needed.
Bob Malacarne, training officer for St. John Rescue, reminded the audience that cell phone users can't access emergency operators by simply dialing 9-1-1 but should instead dial 340-776-9110.   "This number goes directly to St. Thomas dispatch," he said.
Cell phone users, especially those on the north shore of St. John, have had problems with their calls being picked up by British Virgin Islands phone companies.  Someone did die when an emergency call was routed to Tortola, Malacarne said.
Lewis and Wattley assured him that calls picked up by BVI phone companies are now immediately routed to St. Thomas dispatch.
One audience member asked Wattley if a caller's name and address appear automatically when 9-1-1 dispatchers receive a call.  Wattley responded that they did not.  However, if calls had been made from the phone previously, dispatchers would be able to search their logs to see if directions had been given to a location in the past, and that information could be sent to responders.
Wattley explained that dispatchers follow a protocol to determine the nature of an emergency and which responders should be contacted.  Callers sometimes become impatient with the questions.  "In an emergency, a second feels like ten minutes. We get this," she said, "but for us, a lot is going on in the back end."
Larissa Charles, the only St. John resident who works as a 9-1-1 dispatcher, emphasized that villa owners on St. John should include at the front of their guest packets specific directions to the villa in the event of an emergency.
Wattley said this was important, as villa guests sometimes call and can only identify their location by the villa's name or by the color of the house.
Kay Callwood, a retired EMS employee who has also worked greeting guests for a villa management company, said she always handed a sheet with directions to guests as they arrived and told them about contacting 9-1-1 by cell phone.
Because of the tradition of listing addresses by historical estate names, many homes in the Virgin Islands are often located on unnamed streets without a consistent pattern for numbering.
Myrtle Barry suggested that people calling in emergencies should try to have someone stand on the road to flag down emergency responders since houses are hard to find.
A suggestion was made that the St. John Accommodations Council compile an alphabetized list of villas with detailed location information.   Paris said he'd have a staff member contact all the villa owners to solicit the information.
Samuel noted that Villa guests must also provide codes to any gates, and 9-1-1 dispatchers would relay this information to responders by cell phone so that it wouldn't be broadcasted over the radio.
Lorelei Monsanto, who complimented EMS for their speedy response in two situations, asked if an ambulance could be located mid island to cut down on the response time to emergencies in Coral Bay.
Chesterfield explained that when the Myrah Keating Smith Community Clinic was built, the plan was to have the ambulance located there, but 85% of the calls for an ambulance come from people who are closer to Cruz Bay.  He said residents could contact him at avon.chesterfield@doh.vi.gov to register complaints.
Beverly Lockett, who works at Mongoose Junction, recounted a situation last year when a woman fell and broke her hip. When she called 9-1-1 and was told that the ambulance was on another call, she suggested the dispatcher call St. John Rescue. The dispatcher then said.  "Don't tell me how to do my job."
Both Lewis and Wattley apologized for that rudeness.  Lewis told the audience that they should not hesitate to contact her if there are problems like this.  Her email is denise.lewis@vitema.vi.gov.
Wattley said 9-1-1 dispatchers get training in customer service, CPR, first aid, and what to do in crisis situations including active shooters, bombings, terrorist attacks, tsunamis, and hurricanes.