Pictured above: Runner crossing the finish line at last year's first St. John Trail Race. Photos courtesy of Andrea Milam.
The island's most challenging race is fast approaching, and registration has filled up as runners look to test their endurance at the second annual St. John Trail Race. Scheduled for Monday, Feb. 20, the race will follow the same 13.6-mile course as last year.
The route starts with a climb from Cruz Bay to Caneel Hill. The course follows the ridge line to Margaret Hill before dropping down to the Water Catchment Trail head. Runners then encounter the longest non-trail portion of the course with a 1.3-mile stretch on Centerline Road to L'Esperance, where they will descend alongside the Fish Bay Gut to Reef Bay. The course climbs up the Reef Bay Trail and crosses Centerline before descending down to Maho Bay via Maria Hope Trail. Runners then head to the Leinster Bay Trail where they connect to the Johnny Horn Trail before descending toward the Coral Bay finish line.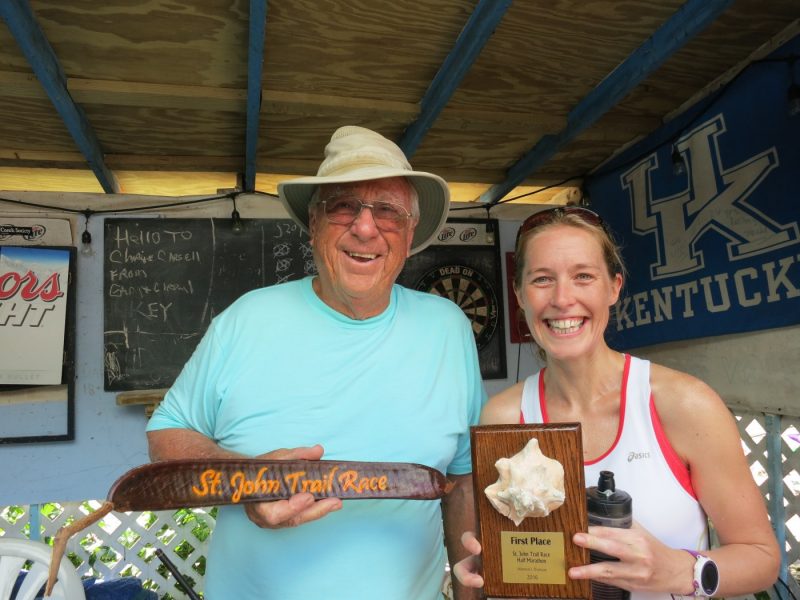 "We're doing a lot of things the same as last year because the formula worked," said the race's founder Kyle Hart. "The course is so rich and diverse. We got such a positive response from the runners."
Kyle opted once again to schedule the race close to the 8 Tuff Miles road race, as runners will be coming from the states to compete in both events. At press time, about half of the registered runners were USVI and BVI residents, while the other half were from the states.
Registration is full; those who are interested but haven't registered yet can sign up for the waiting list. Runners are expected to be largely self-sufficient, particularly on stretches of the course that are isolated with no cell phone service. Runners must finish the course in less than four hours.
"This isn't something you can just decide to do a few weeks before," said Kyle. "It's very difficult technical trail running."
Despite his warning, Kyle notes that experienced trail runners who took part in the race last year enjoyed the event.
"Runners absolutely love this course," he said. "We got a lot of good feedback. It's quite an amazing experience, and the ending at Skinny Legs is a blast."
Those who wish to cheer on runners can do so at the top of Reef Bay Trail or at the entrance to the Leinster Bay Trail at Annaberg. Last year's winner, Evan Quirk-Garvan, finished the half-marathon-length race with a time of 2:22.
For more information on the Trail Race, visit www.stjohntrailrace.com.