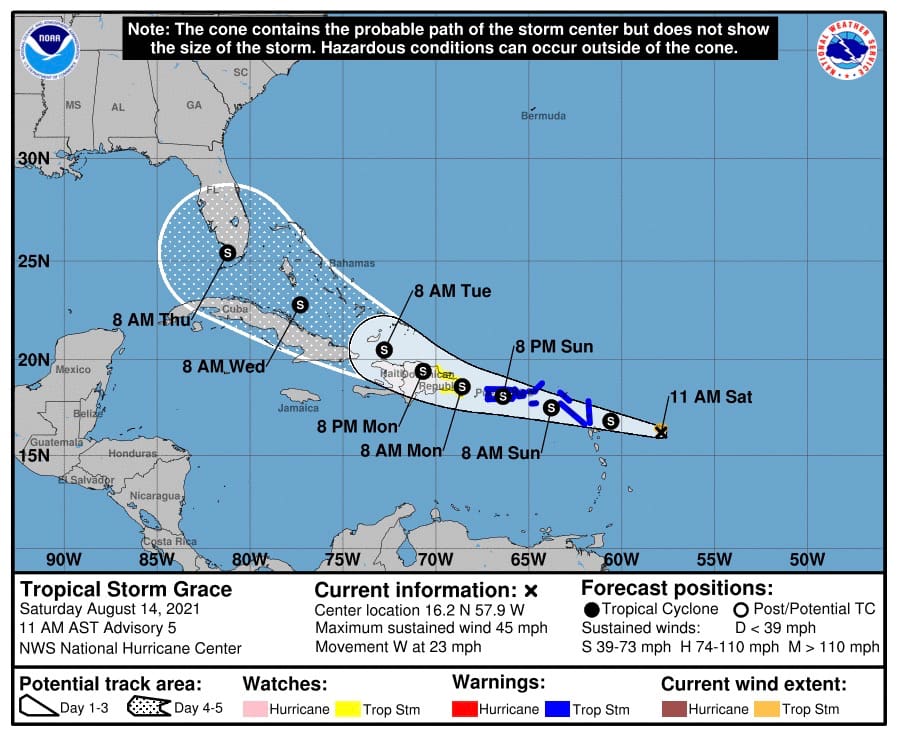 As Tropical Storm Grace shows signs of intensifying, according to the 11 a.m. National Hurricane Center update, the first effects are expected to reach the northern Leewards later Saturday afternoon, with the projected center of the storm passing within six miles south of St. Croix on Sunday, with sustained winds of approximately 60 miles per hour.
Gov. Albert Bryan Jr. and VITEMA Director Daryl Jaschen will hold a press conference at 3 p.m. Saturday to update residents about Tropical Storm Grace. Tune in on the Government House Facebook page.
A Tropical Storm Warning and a Flash Flood Watch remain in effect for the Virgin Islands. At 11 a.m., the center of the storm was located at 16.2 degrees North, 57.9 degrees West or about 470 miles southeast of St. Croix, the NHC said. Top winds have increased to 45 miles per hour and extend outward up to 35 miles from the center.
Satellite photos indicate that Tropical Storm Grace may be organizing rather quickly, with a growing area of deep convection that suggests strengthening, the NHC said. In addition, some banding may be beginning to develop with data also indicating that there is an organized low-level center and that Grace may already be a 50- to 60-mile-per-hour tropical storm. A reconnaissance aircraft is set to investigate Grace on Saturday afternoon to determine how organized and what strength it is at.
Grace is headed on a nearly due west track at a forward speed of 22 miles per hour and based on this track, its first effects are expected to reach the northern Leeward Islands late Saturday afternoon and Saturday evening. It is expected that the center of Grace will move across the northern Leeward Islands Saturday night and that tropical storm conditions with wind gusts of well over 60 miles per hour are possible across the islands of Guadeloupe, Montserrat, Antigua, Barbuda, St. Kitts, Anguilla and St. Maarten.
During the day on Sunday, a track across the Virgin Islands and Puerto Rico looks likely with tropical storm conditions expected, according to the NHC.
The current projected path has the center of the storm passing within six miles of St. Croix early Sunday afternoon as a strong tropical storm with top sustained winds of 60 miles per hour, the NHC said. Winds of 25 to 35 miles per hour with gusts to 50 miles per hour are forecast to affect the Virgin Islands from Sunday morning through Sunday afternoon. Winds may intensify as the day progresses. Grace has the potential to leave 3 to 6 inches of rainfall in some locations as it moves across the northeast Caribbean.