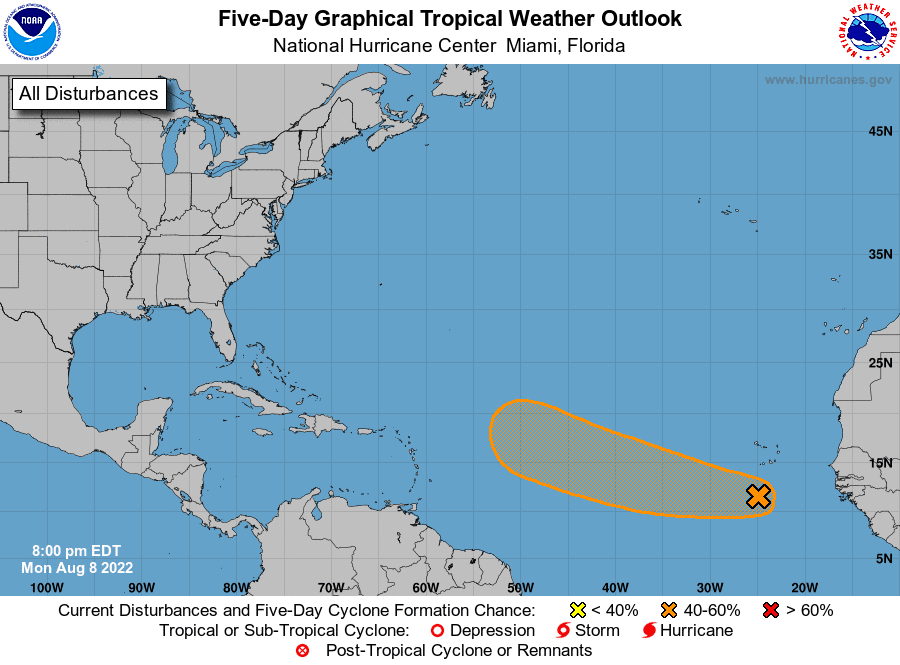 Meteorologists are keeping watch on a tropical wave that was a few hundred miles south-southwest of the Cabo Verde Islands at 8 p.m. Monday that could become a tropical depression by the middle to latter part of the week.
Environmental conditions favor the system developing further, according to the National Hurricane Center. Should it become a tropical storm, it would be named Danielle.
Currently, the system is tracking westward to west-northwestward at 15 to 20 mph across the eastern and central tropical Atlantic, though it is too early to determine whether it will impact the Virgin Islands and Puerto Rico or skirt to the north.
The system has a 20 percent chance of development over the next 48 hours and 40 percent over the next five days, the National Hurricane Center reported in its 8 p.m. update. The next update will come at 2 a.m. Tuesday.
August through October is peak hurricane season, though there have already been three named storms this year: Tropical Storm Alex, which formed June 2 over the Yucatan Peninsula and brought drenching rains to South Florida and Cuba; Hurricane Bonnie, which made brief landfall on the Costa Rica-Nicaragua border on July 1 as a tropical storm, then intensified into a Category 3 storm before dissipating over the Pacific Ocean; and Tropical Storm Colin, which formed offshore of Savannah, Georgia, on July 1 before moving inland across coastal South Carolina.
Both Colorado State University and the National Oceanic and Atmospheric Administration continue to predict an above-average season in their mid-season updates released Thursday.
NOAA is calling for 14 to 20 named storms, of which six to 10 will become hurricanes, and three to five major hurricanes, which are defined as Category 3 and higher, or winds of 111 mph and greater.
Colorado State's current forecast calls for 18 named storms and eight hurricanes. The newest prediction calls for four of the hurricanes to be major.
According to Colorado State researchers, there is a 46 percent chance of a named storm impacting the U.S. Virgin Islands this season, a 28 percent chance of a hurricane, and a 12 percent chance of a major hurricane. According to their data, from 1880 through 2020, the USVI experienced 57 named storms, with 12 of them considered major.
Both agencies attribute the active season to current La Niña conditions, which are likely to persist through November. When El Niño dominates, strong upper winds from across the Atlantic shear storms before they can develop. When La Niña dominates, those winds are weaker.
"Sea surface temperatures averaged across the tropical Atlantic are slightly warmer than normal, while subtropical Atlantic sea-surface temperatures are cooler than normal," according to Colorado State's forecast by Philip Klotzbach, Michael Bell, and Alex DesRosiers of the school's Department of Atmospheric Science.
"Vertical wind shear anomalies averaged over the past 30 days over the Caribbean, and tropical Atlantic are slightly weaker than normal. Current La Niña conditions are likely to persist for the rest of the Atlantic hurricane season," they said.
"We continue to anticipate an above-normal probability for major hurricanes making landfall along the continental United States coastline and in the Caribbean."
Both agencies also warned that their outlooks are for overall seasonal activity, not landfall forecasts. Landfalls are largely governed by short-term weather patterns that are currently only predictable within about one week of a storm potentially reaching a coastline, NOAA said, which is why residents should prepare well ahead of any potential weather events.
Locally, sign up for V.I. Emergency Management Agency alerts via text and email. Visit ready.gov to learn more about disaster preparedness.