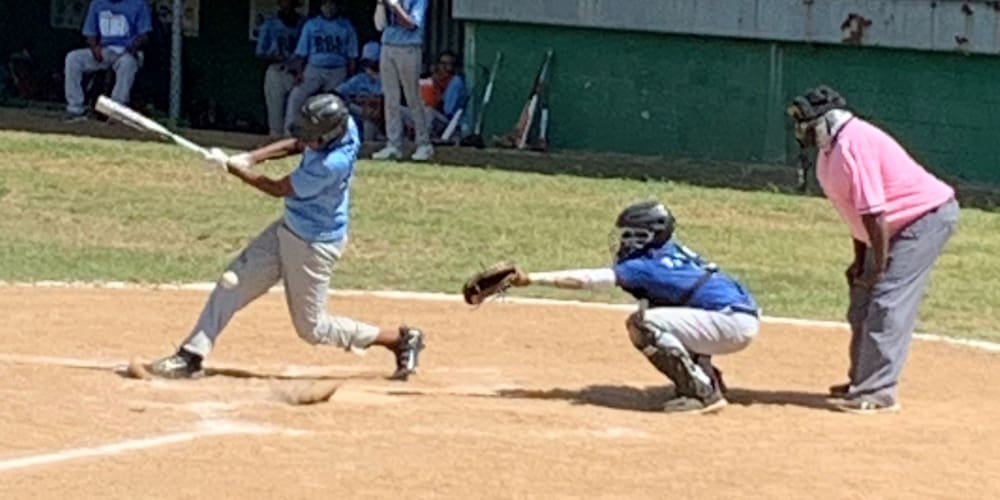 The RBI Junior Baseball League* played a four-game slate over the weekend, with two games at the Lionel Roberts Stadium on St Thomas and the final two at the DC Canegata Ballpark on St. Croix.
Truce 12 – Dream Chasers 1:
Truce used a strong pitching performance by Vern Frett and five-run innings in both the first and second innings to claim their win over Dream Chasers on Saturday at the Lionel Roberts Stadium.
In the first inning, Dehlani Simon and Re'Kai Huyghue both hit singles to right field, helping Truce score five runs in the opening inning. In the second, Truce used a single by Nehkai Nibbs, a triple by K'Nard Callendar and a double by Dehlani Simon to produce five more runs giving Truce a 10-0 lead after two innings.
That would be more than enough for Truce pitcher Vern Frett, who struck out nine on his way to a complete-game three-hitter.
Jayden Lawrence, Glen Maduro III and Roshard Lewis got the hits for Dream Chasers.
Saints 21 – Respect 6:
The runs came early and often for the Saints in their 21-6 victory over Respect in the RBI Junior League game on Saturday at the DC Canegata Ballpark.
The Saints came out the gates sprinting as their first four batters all came around to score. The nine-run opening inning featured two inside-the-park home runs, by Jacob Turnbull and Tyrone Lake. The Saints scored multiple times in all four innings of this game. Lake led the way, going 3-of-4 with four RBIs. D'Lani Charles went 2-of-3 while knocking in three runs, Jelani Coggins batted 2-of-4 with three RBIs, Raynaldo Corcino hit 2-of-3 collecting two RBIs. Turnbull also had a good day at the plate going 2-of-2 while Derek Morales went 1-of-2.
Respect's two hits were struck by Jahdiel Bermudez and Na-Jaii Hospedales.
Truce 18 – Integrity 4:
Anarae Mason displayed his "A" game on the mound on Sunday at the Lionel Roberts Stadium as he led his team, Truce, to an 18-4 victory over Integrity in the RBI Junior Baseball League game.
Mason pitched the entire game, allowing only two hits and striking out six Integrity batters.
Offensively, Truce put on a hitting clinic as they racked up 16 hits. K'Nard Callendar led the onslaught with three hits. AJai Larcheveaux, LeSean George, Nehkai Nibbs and Mason each chipped in two hits. Jordan Fleming, Dehlani Simon, Re'kai Huyghue, Devonte Freeman and Kevani Greaves contributed one hit each.
Kibwe Bell Jr. and Caheal Turnbull garnered the two hits for Integrity.
Saints 6 – Respect 3:
Hits were at a premium as both teams combined to register just three hits in the Saints 6-3 victory over Respect on Sunday at the DC Canegata Ballpark.
Both teams used a platoon of pitchers to quiet the bats of their opponent. Starting pitcher Kineil Stevens who worked three strong innings for the Saints, striking out three batters and yielding just one hit. JaQuan John and D'Lani Charles both later took the mound for the Saints in relief and did not allow a hit.
Thomas Corcino started the game for Respect but he only lasted one and two-third innings. He only allowed two hits but walked five batters. Relievers Jahdiel Bermudez and Januelle Morales combined to strike out three batters while holding the Saints hitless.
The Saints scored all their runs in the first three innings taking a 6-0 lead into what would be the final inning. In the top of the fourth, an error and three consecutive walks allowed Respect to get on the board. Respect was only able to push across two more run in the inning.
*RBI, which stands for Reviving Baseball in Inner City, is an outreach program created by Major League Baseball, sponsored in the territory by the Department of Sports, Parks and Recreation to create a love for the game of baseball and use that to foster the value of teamwork, working hard to achieve their goals, academic excellence and community service.