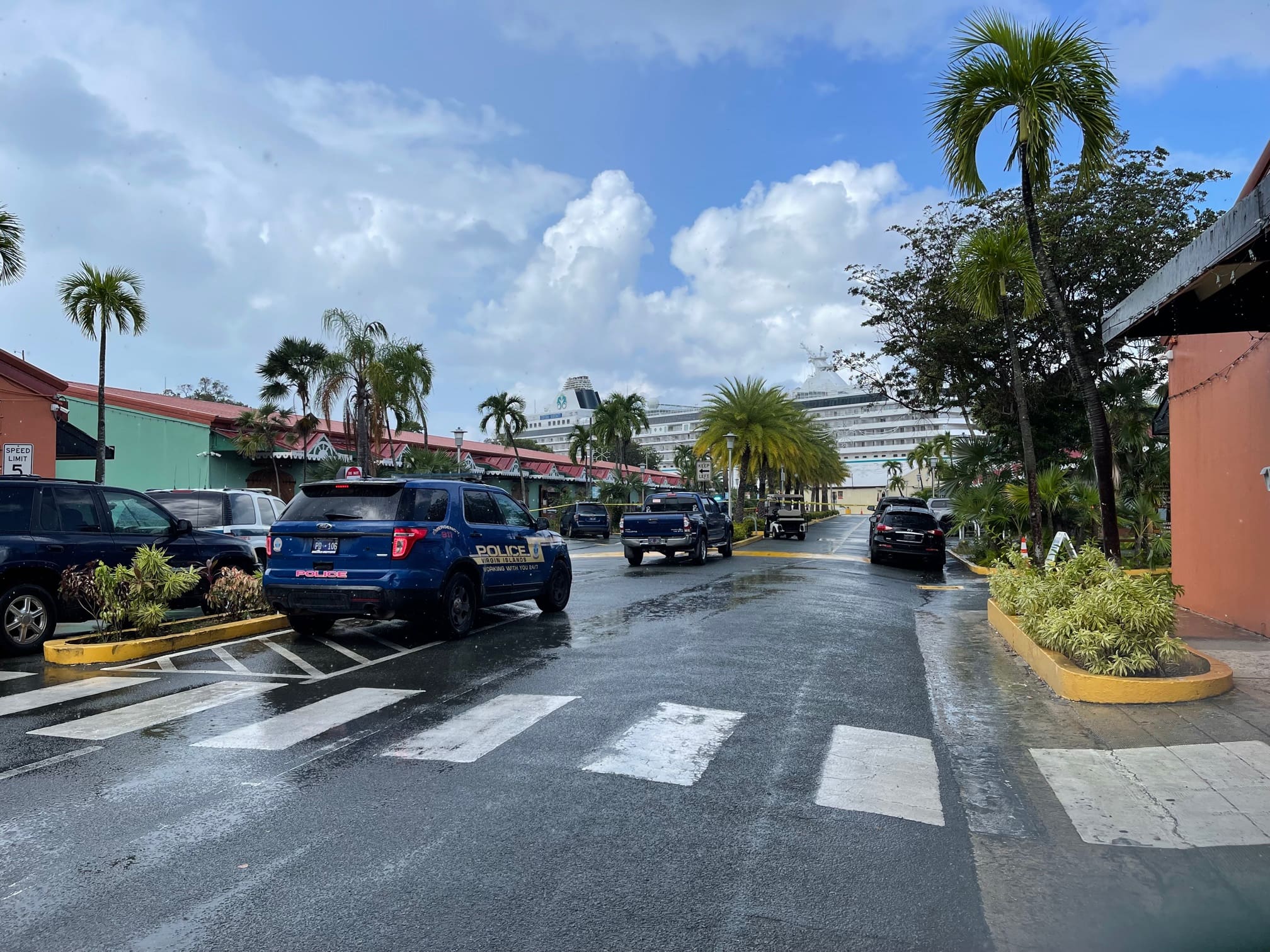 As the V.I. Police Department continues to investigate Saturday morning's attempted robbery in Havensight Mall, VIPD Commissioner Ray Martinez confirmed community and police intel led officers to intercept a vehicle and take into custody two individuals – who were found with an automatic assault rifle, handgun ammunition – that are deemed persons of interest in this and several other violent crimes.
As of 8 p.m., Martinez confirmed both victims of the incident – a security guard who was shot in the stomach and a female customer who was shot in the chest – are in critical condition and still being treated at Schneider Regional Medical Center, where they were escorted by both Emergency Medical Services and Fire responders.
Going through the chronology, Martinez said calls into 911 came in around 11 a.m. from multiple community members reporting an attempted robbery at Glitters in the Havensight Mall, with multiple shots fired and three male suspects entering the store after pulling up out front in a heavily tinted van.
According to witnesses, while they were in the store one of the suspects jumped over the counter and removed several pieces of jewelry before exiting the store and fleeing from the area in the van at a high rate of speed.
Martinez said rapid community intel, along with surveillance camera footage, led officers to intercept a vehicle on First Avenue in Estate Thomas and take into custody the two suspects, who he said were charged with the illegal possession of those weapons. Police are looking for a third suspect, who has evaded custody, and a fourth who they believed to be the driver. Because of community information, police were also able to recover the getaway vehicle in Upper Havensight.
The Source will continue to provide updates as more details become available.
This case is presently under investigation by the Criminal Investigation Bureau. Anyone with any information regarding this crime is urged to contact 911, the Criminal Investigation Bureau at 340-774-2211 ext. 5610 or Crime Stoppers V.I.