An update from the United Kingdom-based organization "Tropical Storm Risk" predicts that the 2023 Atlantic Hurricane Season may be less active than usual.
"TSR reduces its forecast issued in early December and predicts North Atlantic hurricane activity in 2023 will be 25-30% below the 1991-2020 30-year norm. However, this outlook has large uncertainties, and the forecast skill at this range is very low," according to the report released by TSR earlier this month.
One of the researchers at TSR, Adam Lea, Ph.D., spoke to the Source about the organization's most recent report. (The Source initially spoke with Lea regarding the previous TSR update at the end of 2022 in an article here.)
What Is TSR, and How Are Weather Predictions Made?
"'Tropical Storm Risk' was originally a collaborative venture between University College London and a handful of insurance companies," Lea explained of the organization. "I generate the seasonal forecasts and maintain the storm tracker and website," he continued.
TSR utilizes its weather forecast models to make predictions about cyclones. They also factor in the forecasts from major weather organizations worldwide. Cyclone predictions from TSR are provided for areas across the North Atlantic and the Northwest Pacific. Factors such as sea temperatures and trade winds are utilized to help produce forecasts about the potential for tropical activity.
"The two predictors used to generate the forecast are the August-September sea surface temperature anomaly in the Atlantic Main Development Region (10-20N, 60-20W) and the July-September Atlantic and Caribbean trade wind anomaly across the region 7.5-17.5N, 100-30W," Lea noted.
"Stronger-than-normal tradewinds are linked to higher vertical wind shear and tend to lead to cooling of the tropical Atlantic sea surface temperatures and reduced cyclonic vorticity over the Atlantic main development region, further suppressing tropical cyclone development," Lea added.
A Potentially Less-Active 2023 Hurricane Season
The predictors that Lea mentioned helped the team conclude that this year's Atlantic Hurricane Season may be quieter than average. And while uncertainty remains, the picture of what we expect to see has become more evident since TSR's previous cyclone forecast in December.
"The 2023 seasonal predictions still have a high level of uncertainty, but we have reasonable confidence the upcoming Atlantic season will not be above-average," Lea said.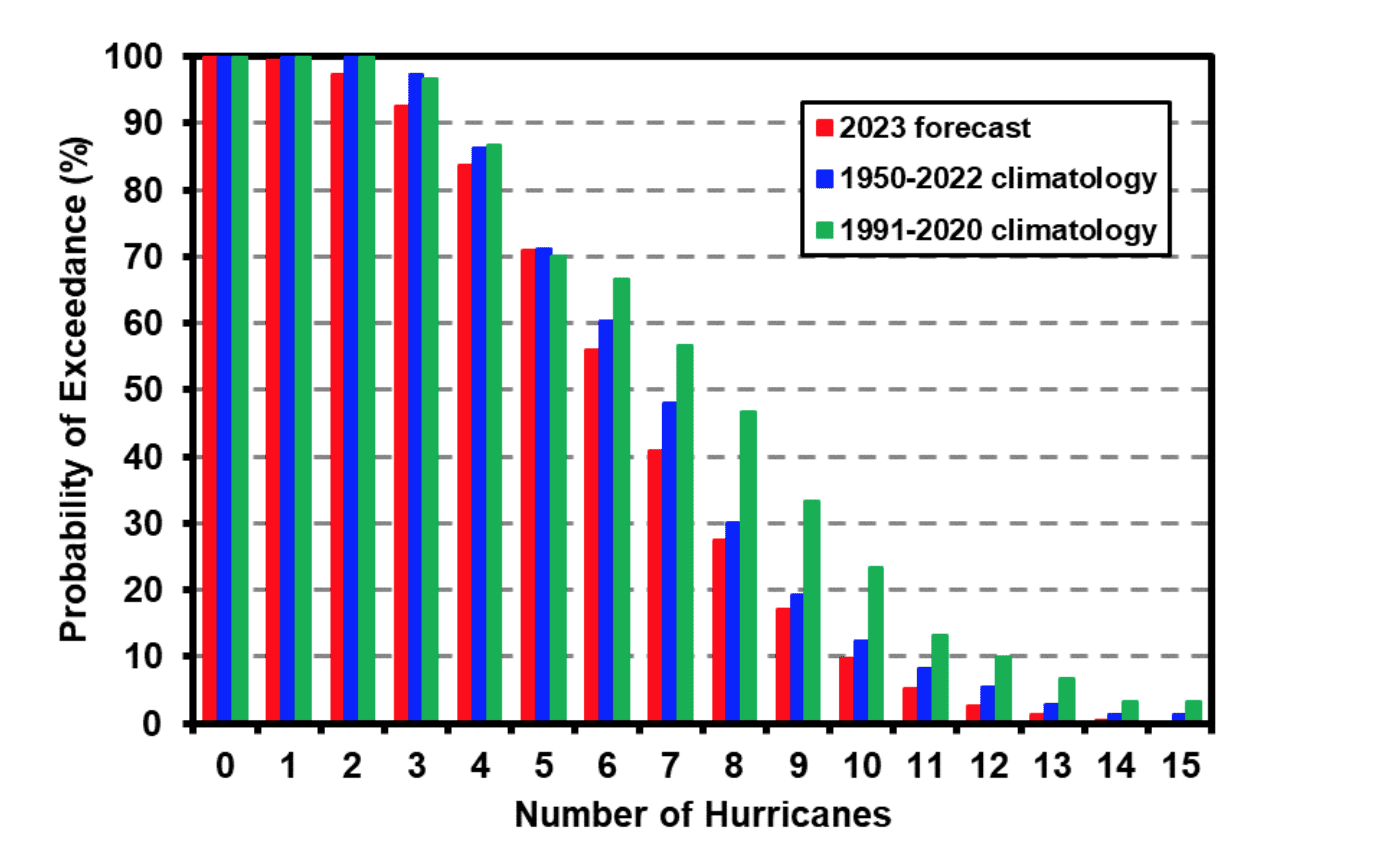 One factor that may help reduce the number of hurricanes is the potential for an El Niño weather pattern to occur later this year. (As reported by the Source, Colorado State University's Tropical Meteorology Project echoes this sentiment.)
"The El Niño forecasts have become a bit stronger since then, which is why we have reduced our Atlantic hurricane forecast," Lea stated. "As for accuracy, the skill at the April lead time is still low, comparable to December, due to high uncertainties in the strength of the El Niño this summer/autumn and other factors which cannot yet be taken into account."
Cyclone Development and Climate Change
Impacts on the Caribbean region due to climate change are a major concern. However, Lea explains that it is typical for global temperatures to rise during an El Niño event.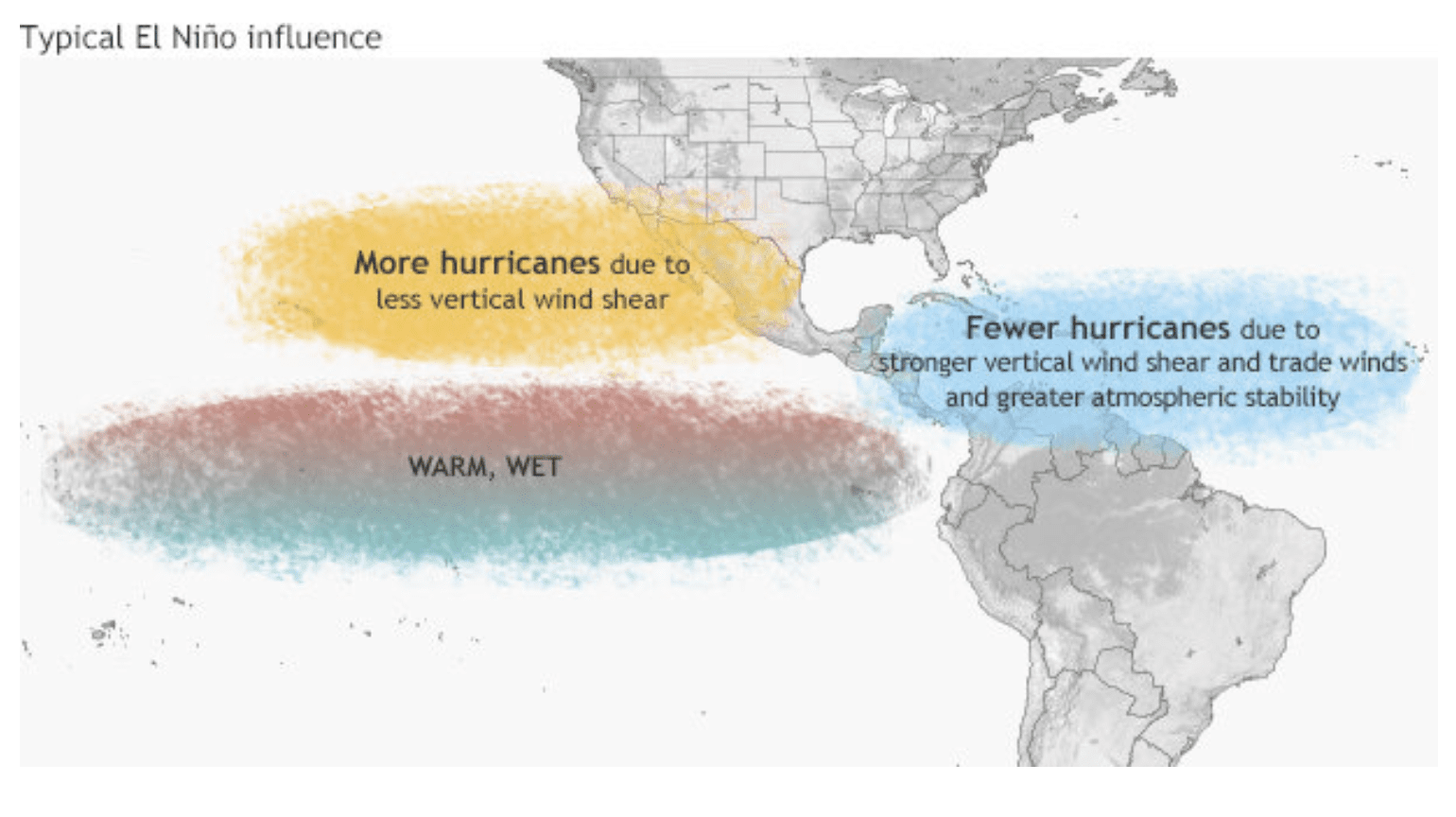 "Climate change refers to long-term trends so cannot be said to directly have an impact on a single weather event or season," Lea explained. "Global temperatures tend to rise for a year or so during and following an El Niño event, as heat is transferred from the ocean to the atmosphere. However, this effect is temporary and represents a redistribution of heat through internal variability rather than anything to do with anthropogenic climate change. This warming will be superimposed on the long-term anthropogenic warming trend, so the global temperature anomaly is more likely to break records during a strong El Niño event."
Preparing for a Hurricane
The news about a potential reduction in hurricanes is certainly welcomed. However, nothing is guaranteed; it only takes one intense cyclone to cause significant damage.
"Given the expected reduction in hurricane activity across the Atlantic Main Development Region, I would expect a lower probability of hurricane landfalls across the Lesser Antilles," Lea predicted. "It is important to note that a lower probability doesn't mean a major landfalling event won't happen. It only takes one landfall to cause significant hardship, and residents should prepare in advance of the hurricane season as normal. Do not become complacent," he warned.
Tips from the National Weather Service about hurricane preparedness are available here.