As Love City continues to feel the pressures of expanded development and astronomical land prices, the fate of a popular — and affordable — resort hangs in the balance as its land lease is due to expire in 2012.
Maho Bay Camps has been a landmark St. John resort since it opened its doors with about nine tents in 1976. The resort became a reality due to a connection to another St. John landmark resort — Caneel Bay.
"I was doing some consulting work for the Rockefeller brothers and this land had been offered to them," recalled Maho Bay Camps owner Stanley Selengut.
"They weren't interested in a lease arrangement and I just happened to be there when was it was being discussed," Selengut added. "It was one of those 'right place, right time' situations."
Eco-tourism Pioneer
Since then, Selengut, who is widely considered a pioneer in the field of eco-tourism, has expanded both the accommodations and attractions at the nature-centered resort.
"It started with about nine tents and gradually grew," said Joe Feraco, general manager of Maho Bay Camps and its sister property Concordia. "We now have 114 tent cottages, a glass blowing center, ceramics studio, textiles workshop, art gallery, store, restaurant and beach cafe."
Being based in the V.I. enabled Selengut to experiment more than he would have been able to in the mainland, explained the owner.
"I never could have been as innovative as I was had I been in the mainland U.S.," he said. "In a small community like the V.I., I was allowed to do things that I wouldn't have been allowed to in a lot of places."
Composting toilets and cloth covered structures are two examples of innovative experiments that Selengut said helped make the eco-resort what it is today.
Uncertain Future
Perched just outside of the V.I. National Park, Maho continues to draw a devoted tourist base and attract nature-minded newcomers. As the lease for the 14-acre property is due to expire in 2012, no one knows what the future might bring. "We have no indication from the land owners what the future is," Feraco said. "At this point in time, we honestly don't know what the future holds."
However unlikely it might be, renewing the lease would be the ideal situation, added Feraco.
"Ideally, I would love to see it remain Maho Bay Camps and continue on the way that it is now," he said. "It would be a tragedy to see this place sold and end up like the other mega-developments on the island."
Skyrocketing Land Prices
Although the property is still owned by the same U.S. mainland families, land prices are far higher now than when Selengut signed his 38-year lease for the property in 1974.
"I'm pretty sure that the land is so valuable that there is no way that we could afford it and keep our commitment to providing affordable accommodations," said Selengut. "We don't expect to be able to pay what the land is worth."
"We have never received a figure from the land owners," added Feraco. "But I'd say based on what land prices are now, in another five or six years when the lease expires, it could be worth $30 to $60 million."
Getting a foundation like the Trust for Public Land to purchase the property and donate it to the V.I. National Park is the another possibility, Selengut explained.
"I'd love to see the Park obtain the property somehow or other," he said. "There has been some interest by the Trust for Public Land. From what I've been told, however, the owners of the property said that it's not for sale."
"Once the owners come up with a definitive amount that they would be willing to accept, some of the foundations might be able to buy it for the park," Selengut continued.
Before eco-tourists jump out of their tree-houses, know that all hope is not lost. Selengut owns about 50 acres in Estate Concordia, where his sister resort is currently located and the eco-magnate has big plans for expansion.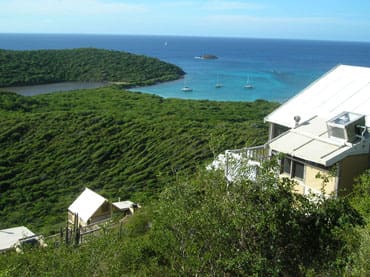 Concordia is "Blessing"
"I've learned an awful lot in the last 30 years and having another property to take what I've learned and carry it forward is a real blessing in a way," said Selengut. "The fact that I have a much larger property to work with means that I can do a lot more that I couldn't fit into the 14 acres at Maho."
"We just added seven more eco-cottages at Concordia and we are in the process of adding a yoga pavilion and restaurant," Feraco said. "We also plan to move the art departments from Maho over to Concordia."
"The whole trash to treasure program will not die," said Selengut. "In fact, I think it can expand in a lot of ways."
"Especially now that the Earth's resources are being used so quickly, there is more of a focus on taking things out of the waste stream and turning them into useful products," he continued.
Expanding Concordia
While the fate of Maho Bay Camps is determined, Selengut said that he is putting his energy toward expanding Concordia. "In the meantime, I'm working really hard at Concordia to make that a really special place," he said. "The difference is that when I bought the Maho lease 30 years ago, I didn't know about solar hot water heaters and other things."
"Now the new eco-cottages at Concordia are on a whole new level because I know how easy it is to have renewable energy sources," Selengut explained.
As Concordia continues to expand, the public can still enjoy Maho Bay Camps for five more complete seasons.