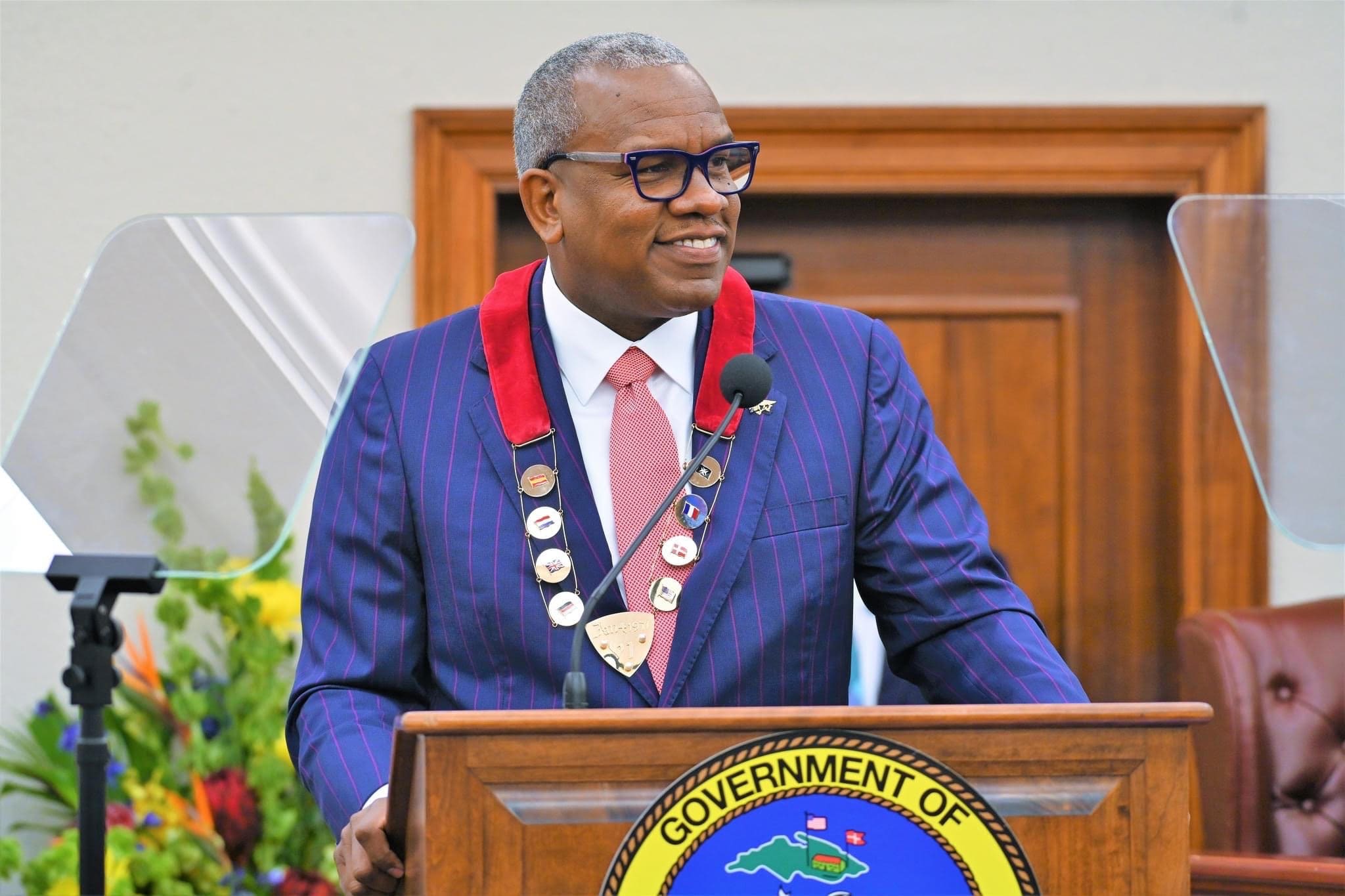 Gov. Albert Bryan Jr. spoke glowingly of the U.S. Virgin Islands' future in his State of the Territory Address Monday night, touting relative economic prosperity, increased tourist arrivals, infrastructure investment, and a reduction in crime.
In his nearly two-hour speech, Bryan also spoke about areas of continued frustration. The Water and Power Authority's feud with its primary propane provider remained intractable, he said. Even that heavy issue was addressed with optimism by the governor, however.
"WAPA has attracted the attention of everyone from my Government House to President Biden's White House and is steadily making progress on its transformational plan," Bryan said. "WAPA is currently in discussions with Vitol to resolve this matter amicably, and we are optimistic that we will be able to announce a positive resolution in short order. We intend to settle this debt once and for all and place WAPA on firm financial footing. Needless to say, this is a critical step towards an economic future full of promise."
Bryan called for a diversified system of power generation. He said solar farms on St. Croix will be fully operational in less than 18 months if acted on. Similar cheaper-energy solar plants were possible in the St. Thomas/St. John district as well.
The governor ran through a long list of accomplishments, including St. Croix's first new public school in decades, a project he said would break ground Feb. 8.
He said 2023 would see $42 million invested in construction, restoration, and repair projects on eight Head Start centers. Bryan said these were long-term investments, with impacts that may not be immediately obvious but would pay off in years to come.
The Virgin Islands Education Department had unprecedented access to federal funds, he said. The department will use $138 million in American Rescue Plan allotments to reform, rebuild, and rebrand public education. Reforming efforts include instituting site-based management, which gives schools and their principals $250,000 each to implement plans designed to meet the unique needs of their students, faculty, and staff.
Bryan said school violence was on the rise, however, as school transitions back to in-person after pandemic-related virtual instruction.
Bryan urged Virgin Islanders to take advantage of education and job-training programs, saying the territory needed 5,000 more skilled workers to meet recovery needs.
"Now, more than ever, we need to develop a generation of Virgin Islanders that are prepared for the competitive world we live in," he said. "The Virgin Islands can boast that it has a complete educational pipeline. Not only is the pipeline accessible, it is also free — free Head Start, free public pre-kindergarten, free K-12, free college tuition and free vocational training and apprenticeship programs."
The governor said he wants to raise teacher pay to $50,000 a year.
"Attracting and retaining teachers has to be one of our main emphasis in the Virgin Islands," he said. "It is downright ridiculous that teachers are working second jobs."
The government also addressed the affordable housing crisis.
"As we work to address the housing crisis that has been building in the U.S. Virgin Islands for the last decade, we must act quickly and thoughtfully. We will do this by creating new, high-quality housing units and helping revitalize the neighborhoods where we build them, ensuring everyone in our communities will rise together," Bryan said.
In 2022, $46.2 million in federal funds helped more than 2,000 families living in public housing and 2,000 low-to-moderate income families using Housing Choice Vouchers. The Virgin Islands Housing Authority is allotted $15 million in housing assistance payments for upwards of 800 landlords in 2023, he said.
"The Housing Authority continues the implementation of a $1 billion redevelopment plan, which will see the replacement of the entire 3,000 units of public housing with half new construction and half of the units to be comprehensively modernized over five years," he said.
Bryan also vowed to address abandoned eyesore buildings around the territory, saying they bring down the islands' curb appeal.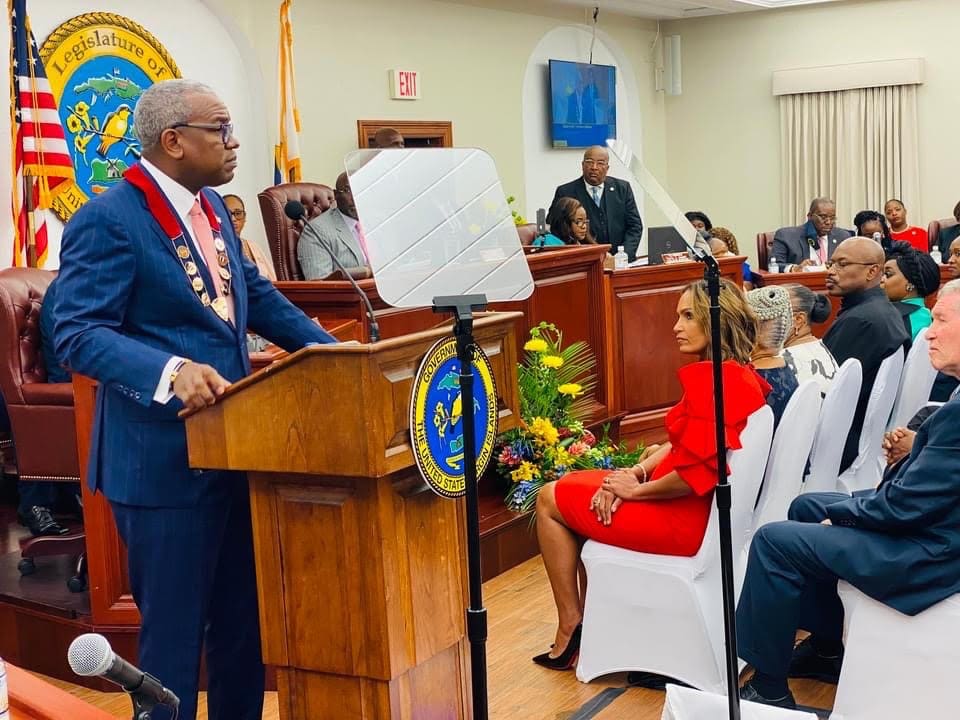 Buildings damaged decades ago by hurricanes Hugo and Marilyn have been additionally damaged by hurricanes Irma and Maria.
"We have tried to incentivize property owners by dangling the proverbial carrot and whatnot, but we have simply not made enough progress with the current approach. The time has come for us to be more aggressive in restoring the previous beauty of our islands," he said. "In the next few months, I will be sending to the Senate legislation that unifies and modernizes our historic preservation laws, as well as addresses abandoned and derelict properties."
The idea is to create a process for properties to be placed into conservatorship by order of the court. These court-ordered conservatorships would temporarily transfer control of the property to a public or non-profit entity for the purpose of restoring the property to functional viability.
"The emphasis is on temporary because we want Virgin Islands families to retain these properties," he said.
Bryan seemed to endorse the controversial plan to demolish and redevelop the crumbling Hamburg America building in downtown Charlotte Amalie near Vendors Plaza. He said these beautification projects were part of the territory's tourism product.
"I have to say that I am particularly proud of what we are doing to transform our tourism product. The new Vendors Plaza in downtown Charlotte Amalie is a welcome relief after enduring the previous eyesore for more than 20 years," Bryan said.
More than 1.6 million tourists visited the territory in 2022, he said, a 116 percent increase from 2022. Air visitors remain robust, increasing by 11 percent through September 2022 over 2021.
While cruise passenger arrivals plunged to 30,194 in 2020, they recovered at the end of 2021 and reached more than 777,000 in fiscal year 2022. It's a 2,475 percent increase over 2021, but still only about two-thirds of their pre-pandemic levels.
"I must applaud the Virgin Islands Port Authority on its work to nearly triple the amount of cruise passengers visiting the island of St. Croix this year. Seeing two cruise ships docked at the Frederiksted pier is no longer such a rare sight," Bryan said.
On St. Thomas, the West Indian Company Limited has recently refinanced its debt to place it in a more positive financial light and was further assisted by $2 million in funding that was invested by the local government, Bryan said.
A plan to dredge the inner harbor in Charlotte Amalie is being vetted by the Army Corps of Engineers.
"The successful completion of this project will allow us to comfortably accommodate the largest cruise ships serving the Caribbean region," he said.
Dredging projects are planned for Gallows Bay on St. Croix and Crown Bay on St. Thomas as well. Royal Caribbean Cruise Lines' pledge to expand the Crown Bay projects would include a new cruise berth, Bryan said.
The governor didn't give dates on when the Frenchman's Reef hotel may reopen but listed it and the recent lease signed to redevelop Protestant Cay in the Christiansted harbor. He also said construction of a 120-room hotel for the West Indian Company dock would begin for the end of the year.
Bryan had praised Congressional Delegate Stacey Plaskett and her predecessor Donna Christian-Christensen for their work getting the U.S. Congress to recognize St. Croix's natural, cultural, and historic importance.
"President Biden signed into law the National Heritage Area Act, which finally designates the island of St. Croix as a National Heritage Area," Bryan said. "This new designation will assist greatly in the promotion of heritage tourism and marketing of St. Croix as a unique destination."
Bryan also touted the recent establishment of the Territorial Park System, which he said would hold lands in perpetuity for Virgin Islanders.
"We are working diligently to finalize the agreement that will preserve over a thousand acres of historically significant land in the northwest of St. Croix for the people of the Virgin Islands. There will be more announcements this year on further investments into our park system," Bryan said.
The governor had a long list of parks and recreation projects underway, including ballparks, stadiums, cricket grounds, racetracks, and the long-stymied restoration of the Vincent Mason Pool, which doubled in cost after it was discovered the foundation needed to be replaced. Bryan said he was working on an amended contract and hoped to restart work before spring.
He acknowledged another long-delayed development, expansion of the Juan F. Luis Hospital.
"The challenge of opening the JFL North modular facility on St. Croix has been the most frustrating setback in our hurricane recovery efforts. The project has been plagued over the years by errors and omissions in funding, supply chain disruptions, contract disputes, and poor management oversight, amongst other issues," Bryan said.
He said administrators were fully aware of the problems the delay has caused.
"Senators, I know you have heard this before, but they assure me that I will be seeing you all soon at the long-awaited ribbon cutting to open this facility," Bryan said.
Bryan marked expansion of the Federal Medicaid Assistance Percentage for Virgin Islanders. It was previously funded at 55 percent but temporarily raised to 89 percent through March of this year. He said new legislation set the funding permanently at 83 percent, meaning Medicaid would cover 83 cents of every dollar a beneficiary spends on approved healthcare.
"It is one thing to provide the facilities for healthcare but creating access for our community is just as important. More than 30 percent of Virgin Islanders do not have access to traditional health insurance," he said.
The governor also assured Virgin Islanders they'd have access to the territory's roadways. He rattled off a long list of paving projects but acknowledged it could never be enough for everyone.
"I could stand up here all night and name road projects but there will always be somebody who said, 'But my road didn't get paved,'" he joked.
He said it was far more complex an undertaking than repaving.
"It's not simply laying asphalt but coordinating efforts to dig once and properly lay electrical, water, sewer, and telecommunication lines. It is the coordination of multiple funding sources and several agencies to ensure that the infrastructure beneath our roadways is designed properly. To further complicate the issue, the timing of funds that need to be coordinated amongst each agency with different sources of federal and local funding is a nightmare," he said.
Bryan was upbeat about the territory's economic prospects. He said after the COVID-19 slowdown, the territory issued 2,375 construction permits in fiscal year 2022.
"The estimated construction value of those issued permits was a whopping $506 million," he beamed.
Federal funds figured heavily in his estimations.
"In the years ahead, we can look forward to a burgeoning construction sector as we strive to infuse at least $800 million in federal spending into our economy each year. Growth in the overall Gross Territorial Product by two percent is considered robust. This is an almost 20 percent increase in spending every year for the next four years. We expect that this influx of dollars will continue annually for at least the next 10 years. This money does not fully safeguard us against recessions and other economic disruptions, it does assure us that we will have a steady stream of capital spending for the foreseeable future."
He touched on other economic indicators too.
"We have evidence of our success as the number of new business license applications more than doubled from 1,027 filed in 2021 to 2,239 in 2022. That's an increase of over 1200 new licenses, which significantly surpassed all our projections."
The territory's unemployment rate declined to 5.3 percent in September 2022, which is higher than the pre-pandemic rate of 3.5 percent in February 2020, but well below the 2021 average of 10 percent.
Initial unemployment claims were also considerably lower: 176 in August 2022 compared to their April 2020 peak of 2,727. Private sector hiring has increased, supported by industries tied to tourism, Bryan said.
"We must be mindful that government spending spurs private sector activity. When the government spends, these expenditures are multiplied in the private sector. The need for more housing, food, gas, restaurants, and services will continue to generate additional tax dollars to take care of our General Fund obligations and allow for the greater provision of public services for our community," he said.
The General Fund operating revenues increased by 12.6 percent between fiscal year 2021 and fiscal year 2022, he said.
"Corporate income taxes showed particularly strong growth during that period, increasing by 54.4 percent and real property tax collections in fiscal year 2022 exceeded revenue forecasts by $3.5 million," Bryan said. "Part of the reason for this revenue increase is the modernization of our property tax system. No longer do you have to drive to your local property tax office to pay your bills; you can now pay those bills and access the information you need from the comfort of your home or office."
Bryan said the territory was leaving money on the table in its recently passed Adult Use Cannabis law. He promised a "cautious and conservative approach to building the regulatory ecosystem that will sustain the cannabis industry" but urged the Senate to expand the law. He wants legislation that would allow the University of the Virgin Islands to study and engineer cannabis products.
"By creating opportunities for research, we can patent and trademark cannabis discoveries that would be used worldwide. Residuals and dividends from these trademarks could be in the hundreds of millions and would be returned at a tax discount to the General Fund. We intend to resubmit the legislation to this body as we cannot afford to miss this opportunity," Bryan said.
The governor said Virgin Islands gun violence was down and arrest rates up in 2022, and offered praise for Police Commissioner Ray Martinez. He said all categories of serious crimes declined versus the prior year and the territory recorded the lowest number of homicides in a decade.
Bryan said the Virgin Islands Police Department would soon launch a recruitment program offering a $10,000 sign-on bonus to new police officers.
"Ladies and gentlemen, if you ever considered a career in law enforcement, I would say the time is now. Sign up, go through the academy and serve your community. The position is noble and very rewarding," he said.