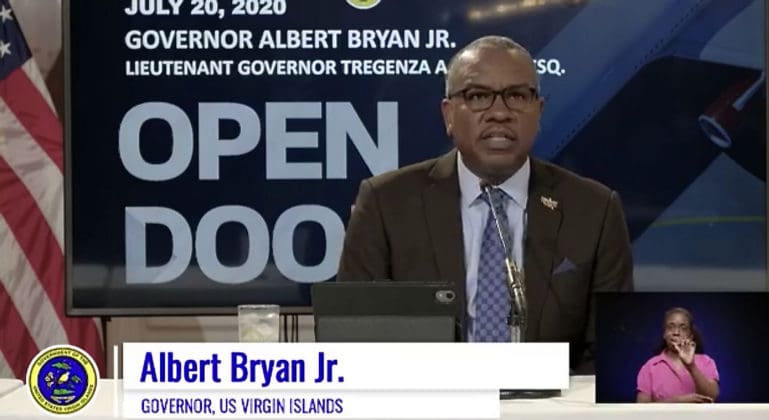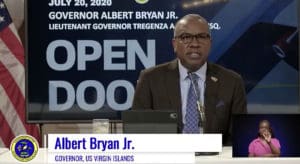 There's no question that the territory is in the "throes" of a COVID-19 surge, according to Gov. Albert Bryan Jr., who said Monday that while the overall positivity rate is going down, residents still need to fully comply with public safety guidelines.
That means more than just wearing your mask when going into a store. Bryan said during his Monday news conference that mask-wearing should also be done in public when social distancing isn't possible, including when talking to someone outside that isn't in your immediate family or when you're working in the office with other people.
It also means vacating the beaches by 4 p.m. on weekends and holidays and encouraging visiting family members to get tested or to self-quarantine if they have traveled or know that they've been exposed to the virus. Bryan said it is also important to not throw or attend any events that encourage mass gathering.
"And if you see someone not complying, pull them up," he added.
Dr. Esther Ellis, the territorial epidemiologist, added later during the conference that business owners should also be active in regulating exposure to employees who have traveled and ask that they wear masks during the day. Symptoms generally present themselves two to 14 days after exposure, so encouraging testing after three to five days will more likely reduce the chances of a false negative, she said.
Bryan reported 163 active cases territory-wide Monday afternoon, out of a total of 304 residents who have tested positive for the virus since the beginning of the epidemic. Late Monday night, the number of active cases had gone down by 23 as more patients reported full recovery. But the total number of individuals who have tested positive since the beginning of the epidemic increased to 308, with a jump of four cases in the St. Thomas-St. John District.
Bryan said roughly 0.1 percent of the local population is now being tested daily, with 7 percent tested to date.
There are additionally four patients at the Schneider Regional Medical Center, and one being treated at the Gov. Juan F. Luis Hospital on St. Croix.
With testing ramping up, Bryan said local health experts have seen a decline in the overall positivity rate, which he described as a "real, promising sign that the last round of restrictions are starting to have a positive impact."
The news isn't as good for the territory's economy, however, as the government heads into a third government payday this month with coffers that are "stretched thin," despite the recent tax-filing deadline. Bryan said the U.S. Senate is expected this week to introduce a bill that could help, which he explained contains measures his team has continued to lobby for, including another round of stimulus checks; forgiveness of $300 million in community disaster loans taken by the V.I. after the last hurricanes; an extension of unemployment insurance benefits for those who have still not returned to work but continued to pay bills; payroll tax cuts for businesses; and additional funds so businesses can stay open and remain viable.
"This package provides the shot in the arm needed to maintain the level of government services that we need as we ride out the impacts of the pandemic and wiggle room we need to pay the financial obligations," Bryan said. Because nothing has been finalized, however, the funding could range anywhere from $70 million to $2 billion, which means that even if the territory does get something, the rest of this year and next will be tight in terms of budgeting.
Still, Bryan said any benefits received will be shared across the board with businesses, vendors and government partners who have also been riding out the pandemic, and in the meantime, another $8 million in stimulus checks will be going out next week for social security recipients and residents who filed late.
Speaking later Monday, Lt. Gov. Tregenza Roach added that residents can still apply for the Small Business Administration's Paycheck Protection Program until Aug. 8, and Economic Injury Disaster Loans – primarily for farmers and fishermen – until Dec. 21. Residents should also call the Office of the Tax Assessor to arrange payment plans if they are unable to make property tax or other payments this year, but he warned that those who want the relief must apply by Aug. 31.