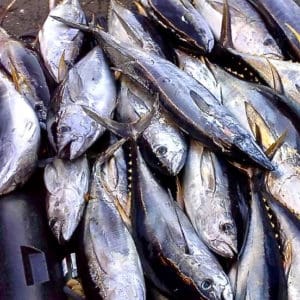 Planning and Natural Resources Commissioner Jean-Pierre Oriol lifted the 20-year moratorium on new commercial fishing permits this week, according to a Department of Planning and Natural Resources release Thursday.
The moratorium was put in place in 2001 following the Sustainable Fisheries Act of 1996, which mandated that actions be taken both to reduce potential overfishing impacts and to rebuild struggling fisheries.
In 2017, one new license was issued despite the moratorium, under circumstances that were never fully clarified. Reportedly, an incorrect box was checked, turning a vendor's license into a commercial fishing license.
According to DPNR, Oriol made the choice personally, under powers granted to him by V.I. statute. Title 12, Chapter 10, Section 303(a)(1)(2)(3) and (b) of the Virgin Islands Code gives the DPNR commissioner responsibility for issuing fishing licenses.
The moratorium on new commercial fishing ended Thursday. Applications, limited by district for entry to the commercial fishery, will start being accepted at 8 a.m. on Friday, Oct. 1.
"DPNR is excited about lifting the moratorium and creating more economic opportunities in this industry throughout the Territory," said Oriol in the departmental release. "I'd like to also thank the Fisheries Advisory Committees in both districts for their hard work and support with this initiative," Oriol said.
All those who wish to obtain a new commercial fishing permit for the 2022 registration year must submit the appropriate forms and materials as required by the Department of Planning and Natural Resources.
The associated documents are available at the Division of Fish and Wildlife offices on Thursdays or Fridays at 45 Mars Hill, St. Croix or 6972 Estate Nazareth, St. Thomas between the hours of 9 a.m. and 4 p.m., except holidays, or on the DPNR-DFW website.