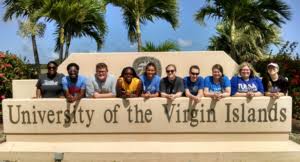 UVI Closed for Martin Luther King Jr. Day Holiday The University of the Virgin Islands will be closed on Monday, Jan. 16, in commemoration of the Martin Luther King Jr. Day holiday.
Administrative offices will re-open and classes resume at their regular schedule on Tuesday, Jan. 17.
Cooks and Volunteers Needed for Afternoon on the Green 2023 Cooks and other volunteers interested in giving to a good cause are invited to participate in the 2023 Afternoon on the Green at UVI's Orville E. Kean campus on St. Thomas. Contribute your best dish, baked goods, native drinks or other delicacies to share with the community and win prizes! Or lend a helping hand in different areas to support this family-friendly event.
All proceeds will go to the Edward Thomas Volunteer Scholarship Fund. To register as a cook, complete the Afternoon on the Green Cook Registration Form by March 1. See this website: https://fundraise.givesmart.com/join/uvi/AOTG?parent_id=763795&vid=wndgum
For more information or to volunteer, contact kyza.callwood@uvi.edu or 513-9346. Mark your calendar – Afternoon on the Green 2023 is Sunday, March 19.
SGA Seeks Candidates for 2023-2024 Miss UVI Ambassadorial Competition Are You the Next Miss UVI? The Orville E. Kean Campus Student Government Association's Queen Selection Committee is seeking candidates for the 2023-2024 Miss UVI Ambassadorial Competition. To qualify, candidates must be matriculated female students who are not on social or academic probation. They should not be graduating seniors and must have a grade point average above 2.5.
For more information, contact the SGA Queen's Committee at sgastt@uvi.edu.
UVI Café on Orville E. Kean Campus Seeking Cashiers, Cooks & Food Service Workers The UVI Café is hiring cashiers, cooks and food service workers to fill positions on the Orville E. Kean Campus, St. Thomas. Applicants are required to have a Health Card from the V.I. Department of Health. Persons interested in the cooking positions should have, preferably, one to two years of previous experience. Applicants may stop by the cafeteria to inquire about the positions or to fill out an application. Please email your resume to andrew.gay@uvi.edu.