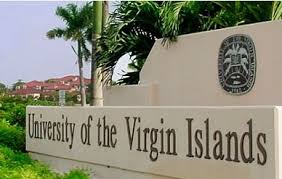 UVI Board of Trustees Approves FY 2022 Budget and MOU with the St. Vincent and the Grenadines Community College In the regular session of its quarterly meeting on March 6, via Zoom, the University of the Virgin Islands Board of Trustees unanimously ratified actions taken during the Regular Session of the Feb. 10, Executive Committee to approve UVI's Fiscal Year 2022 appropriations request of $41.7 million for operating expenses, debt service, mandated and miscellaneous programs.
The board also unanimously approved a Memorandum of Understanding (MOU) between the University of the Virgin Islands and the St. Vincent and the Grenadines Community College (SVGCC). As part of the agreement, UVI will offer St. Vincent and the Grenadines' students pursuing undergraduate and graduate degrees at UVI a tuition rate of 1.75 times tuition rates established for residents of the U.S. Virgin Islands.
"We have always tried to be open to receiving students from the broader Caribbean. That has been a part of the history at UVI," said UVI President Dr. David Hall. "However, a few years ago we were made aware that the out of territory cost of tuition stands in the way of some students coming here because our out of territory tuition costs are three times that of in-territory students."
Dr. Hall said that the university embarked on a project a few years ago to make it easier for students to come to UVI by reducing the out of territory tuition, bringing it down to 1.75 percent of the in-territory tuition.
As part of the agreement, SVGCC will make classroom and office space available in the event of a UVI physical presence in St. Vincent and the Grenadines for purposes of offering applicable cohort driven hybrid undergraduate and graduate degree programs for those persons who for various reasons are unable to attend classes in the territory or St. Maarten campuses. Students pursuing a graduate degree will be admitted to the specified graduate degree program at UVI.
More information is available in a news release on the Media Section of the UVI Website www.uvi.edu/
UVI Caribbean Green Technology Center to Host World Water Day Outreach Events in March In celebration of #WorldWaterDay, the Caribbean Green Technology Center (CGTC) at the University of the Virgin Islands will host World Water Month outreach events throughout March to showcase the ways Virgin Islanders can learn more about water quality, safe drinking water, water conservation strategies, wastewater and the impacts of drought on agriculture.
CGTC staff are working to help residents learn ways to stay healthy while stretching their dollar when it comes to water. The webinar series will include a range of speakers from U.S. Drought Monitor, National Park Service, farmers and local and national water testing and filtration companies, such as Caribbean Water Technologies based in the USVI, Sawyer Water Filters and Aquagenx.
Dr. Greg Guannel, director of the CGTC, indicated that the goal of the month-long series of webinars is to provide useful information to the community so they can make informed decisions about the water they drink and use. "Especially now, as we prepare for hurricane season, it's important to remember, water quality is a good investment and these workshops can help you to reduce costs and help you maintain safe drinking water which can impact your health," Guannel said. "Safe drinking water is important and one way to stay ahead of illness related to water is to be informed so you know what to do and how to keep your water safe, especially if you have small children and seniors at home."
More information is available in a news release on the Media Section of the UVI Website www.uvi.edu/
2021 AgDiscovery Summer Enrichment Program Application is Now Available Junior high and high school students are invited to apply to the AgDiscovery Summer Enrichment Program at the University of the Virgin Islands. The program will be conducted by staff of the School of Agriculture on both the Orville E. Kean Campus on St. Thomas and the Albert A. Sheen Campus on St. Croix from July 18 – 31. Students in grades 7 – 12 are eligible to apply by visiting the website at http://ces.uvi.edu  There are no registration fees.
AgDiscovery is a dynamic two-week summer outreach program designed to help junior and senior high school students explore career opportunities in plant and animal science, agribusiness, international relations and much more. Usually, the program allows students to live on a college campus and learn about agriculture from university professors, scientists, and administrative professionals who work in the fields of agriculture. The students will work with the following scientists as they study the life cycles and behavior of insects (entomologists); investigate the application of biological processes to develop problem-solving technologies (biotechnologists); examine the impact of diseases on crop and livestock production ( plant/veterinary pathologists); work to enforce international regulations and negotiate agreements with foreign countries (foreign service officers); carry out animal health programs (veterinarians); provide education on the humane care and treatment of animals (veterinarians and animal care inspectors), and manage the business aspects of crop and livestock production systems (agribusiness).
More information is available in a news release on the Media Section of the UVI Website www.uvi.edu/
VI SBDC Honors Commitment to help Businesses Grow and Succeed amid COVID-19 Pandemic
The Virgin Islands Small Business Development Center (VI SBDC) is honored to share its achievements in the form of best practices to fulfill its initiative to help businesses grow and succeed.
More than ever, small businesses are staying afloat because of financial resources. The VI SBDC credits its partnerships with lenders like the Thomas USAF Group, an originator of large government-guaranteed loans and First Bank VI. "We want the general public to know that we are committed to the economic prosperity within the small business community more so in the climate of a pandemic," said Karen Jones, VI SBDC associate state director. "Our staff works tirelessly to support clients with resources and expertise needed to stay open."
The VI SBDC has been recognized for its involvement with agencies like the U.S. Department of Agriculture (USDA), Minority Business Development Agency (MBDA), USVI Economic Development Agency (USVI EDA), VI Department of Licensing and Consumer Affairs (DLCA), St. Croix and St. Thomas-St. John Chambers of Commerce to name a few.  Special edition newsletters provide resource links to training, supporting documents and updates from the SBA, America's Small Business Development Center (ASBDC) and the CDC.
More information is available in a news release on the Media Section of the UVI Website www.uvi.edu/
UVI to Begin Accepting Glass Beverage Bottle Waste for recycling beginning on March 27 The Virgin Islands Marine Advisory (VIMAS) and the Virgin Islands Experimental Program to Stimulate Competitive Research (VI-EPSCoR) are now accepting glass beverage bottle waste to be crushed and utilized for the creation of sandbags at the former West Bay Supermarket beginning on March 27 from 9 a.m. to noon and will continue every last Saturday of every month unless otherwise stated.
This is an effort to reduce the amount of glass beverage bottle waste that enters the landfills and utilize the end-product for something that will benefit the territory.
For more information, contact Howard Forbes Jr. at 693-1672 or email
Afternoon on the Green 2021 to be Celebrated Virtually 
Afternoon on the Green goes Virtual! Join us from March 15-21 as we celebrate one of our most highly anticipated events. Hosted under the theme "We Stream Green Afternoon on the Green 2021," you will only be but a click away from all the exciting activities.
Afternoon on the Green promises to be great, so save the date.