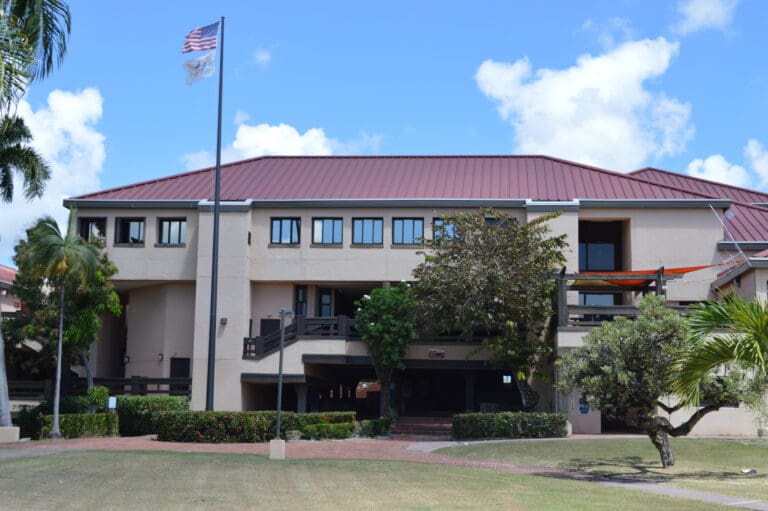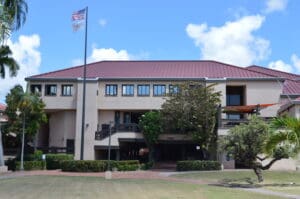 UVI Charter Day Concert to Be Held on March 18 at Prior Jollek Hall, Antilles School The UVI Music Department cordially invites members of the community to attend the Charter Day Concert at 7 p.m., Saturday, March 18 at Prior Jollek Hall at Antilles School.
The concert will be featuring gospel artist and choir director-in-residence Darryl Jordan, Ph.D., along with many other great musicians. In attendance will be the concert band, steel band ensemble, Jazz Combo and a special guest appearance by Sherwin Williams.
Tickets can be purchased from the UVI Bookstore.
Cost: $5 for students / $20 for adults
For additional information contact Dion Parson.
UVI's 61st Charter Day Run/Walk 2023 on March 17 Join the UVI Community on the Albert A. Sheen Campus at 6 a.m., Friday, March 17, to celebrate UVI's 61st Charter Day Run/Walk 2023.
Enjoy a stroll along the route or race against fellow students, staff, faculty and community members.
For additional information, contact Shay Roberts by email shanta.roberts@uvi.edu
UVI School of Agriculture Host Informational Session Via Zoom on March 22 The University of the Virgin Islands School of Agriculture is hosting another information Zoom session from 6-7:15 p.m., Wednesday, March 22.
This session is open to those who are interested in learning about UVI School of Agriculture's newest academic programs. view the attached file to share. The Zoom link information is listed below.
Join Zoom Meeting
https://uvi-edu.zoom.us/j/95566484651
Meeting ID: 955 6648 4651
For more information, contact Denise Lake at 692-4059 or email at dlake@uvi.edu.
TMCF Campus Takeover to be Held on UVI Campuses March 21 and March 23, STT/STX Students are invited to meet with Thurgood Marshall College Fund (TMCF) representatives visiting the Orville E. Campus on St. Thomas on Tuesday, March 21, and the Albert A. Sheen Campus on St. Croix on Thursday, March 23, for a TMCF Campus Takeover. 
TMCF offers highly competitive programs that leverage the knowledge, experience, and network of top employers from around the country and TMCF staff to foster a collaborative learning community. Students develop key leadership skills, nurture their originality and receive hands-on experience that will prepare them to be career ready as they join the workforce.
With the support of TMCF partners, they can continue to build the pipeline of extraordinary future leaders in science, technology, business, education, health, law, and other areas critical to building a competitive workforce in the 21st century.
For additional information, contact UVI TMCF Campus coordinators Mary Myers at 693-1088 or email mmyers@uvi.edu on the (OEK, St. Thomas Campus), Anyha Lord at 692-4180 or email alord@uvi.edu  on the (AAS, St. Croix Campus) or Kaniel Richardson by email at kaniel.richardson@students.uvi.edu
Save the Date – UVI to Celebrate its 59th Commencement Ceremonies on May 11 and 12 The University of the Virgin Islands will celebrate its 59th commencement ceremonies on Thursday, May 11, on the grounds of the Albert A. Sheen Campus on St. Croix and Friday, May 12, in the Elridge W. Blake Sports and Fitness Center on the Orville E. Kean Campus on St. Thomas. The ceremonies will be at 1 p.m. on both dates.
Graduating seniors are reminded of the deadlines to apply for graduation and to contact the bookstores on both campuses for measuring for their caps and gown. Faculty members are reminded that they will need to be measured for their regalia through the bookstore.
Please be reminded that the earlier you submit your application and visit the bookstores will prevent you from paying late fees for the services afforded to seniors and faculty members.
For more information, contact your student representatives and the office of the registrar for up-to-date information.
Visit http://commencement.uvi.edu for more information.
Registration is now Open for Ocean Explorers Summer Programs Registration for the Ocean Explorers Summer Programs is now open until May 1. Students interested in learning about marine science and STEM are encouraged to apply.
Applicants in grades 3-6 would be eligible for the Junior Ocean Explorers Summer Program which operates presently, only in St. Thomas. In this program, applicants will learn the basics of swimming, snorkeling, water safety and marine animal identification.
Applicants in grades 7-12 would be eligible for the Youth Ocean Explorers Summer Program that operates on both St. Thomas and St. Croix. In this program, applicants will learn snorkeling, scuba diving, marine plant and animal identification, career development, and ecology/oceanography.
Visit https://www.uvi.edu/community/virgin-islands-marine-advisory-service/index.html
For more information about each respective program contact Howard Forbes Jr. at 693-1672 or email howard.forbes@uvi.edu at the Center for Marine and Environmental Studies.