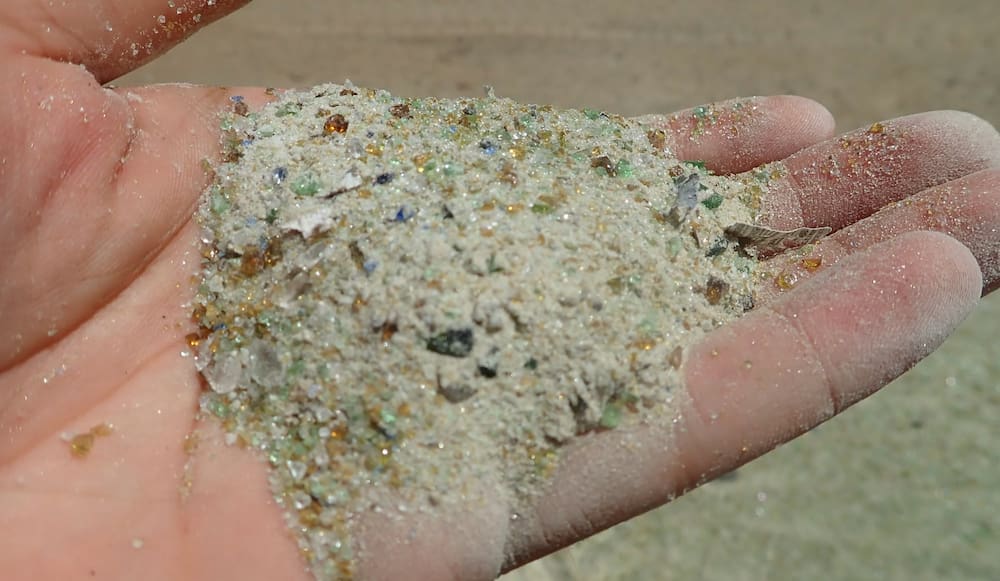 Glass bottles will soon be recycled into sandbags for hurricane season rather than ending up in the territory's overflowing landfills or littering its beaches, thanks to University of the Virgin Islands Marine Scientist Howard Forbes Jr.
Armed with a $50,000 grant from the Community Foundation of the Virgin Islands, Forbes has purchased five glass crushers that will be distributed to community partners on St. Thomas. Two more are slated for St. Croix, thanks to additional funding from the Ocean Conservancy.
Forbes is a big proponent of beach cleanups, as he is the St. Thomas coordinator for the Virgin Islands Marine Advisory Service, which operates within UVI's Center for Marine and Environmental Studies. But they are merely a Band-Aid for the real problem, he said in an interview on Monday.
"I love doing beach cleanups, but at the end of the day we have to find other means to make a dent or an impact, as far as making sure that trash doesn't end up on the beach to begin with," Forbes said. "Beach cleanups, in my opinion, are a Band-Aid to the problem. They are great at removing trash from the beach, but they don't solve or address the issue of how it got there in the first place."
[adrotate group="6"]
So, when Forbes saw a call by the Community Foundation of the Virgin Islands for grant proposals, he jumped at the opportunity. In October, he got the news that his project would receive $50,000 through CFVI's Island Spirits Fund, which is funded by Cruzan Rum through donations of $1 for every case of rum sold.
The money covered the purchase of five glass crushers at $5,000 each for St. Thomas, which arrived mid-December. The paperwork is complete to order two more for St. Croix, Forbes said.
"This isn't a magic solution that is going to solve all of our problems, but at the very least we'll be able to divert glass waste away from the landfill and be able to use it in a number of different applications, with the primary emphasis, again, on using it to fill sandbags sustainably because all of the sandbags that we have ever produced have been done so with beach sand, which isn't necessarily the most sustainable thing," Forbes said.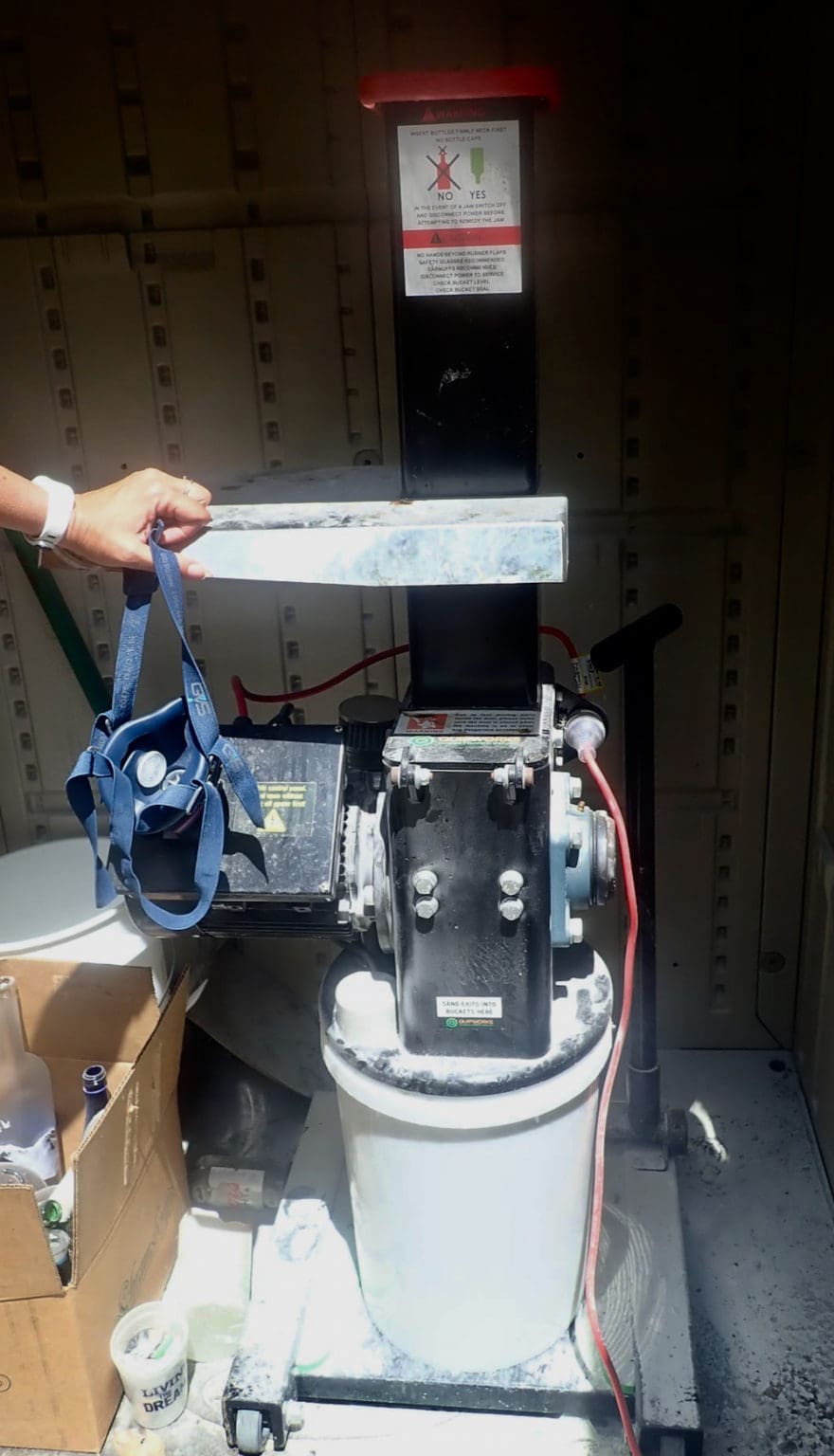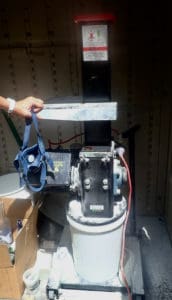 Multiple details remain to be worked out, not least of which is who will get the crushers and how the glass will get to them, Forbes said. "These are expensive machines and I don't want to just hand them off to anyone and everyone. I want to make sure there is a memorandum of understanding between the community partner and UVI," he said.
So far, Clean Sweep Frederiksted has been approved for a machine and one will remain at UVI, said Forbes, who has faced questions on social media asking why St. Thomas is getting more crushers than St. Croix.
"I am from St. Croix, and I am always looking out for the best interests of St. Croix, but my jurisdiction where I work is on St. Thomas. So, the first set of machines that we purchased are here on St. Thomas, and we are purchasing machines for St. Croix," said Forbes. "We can work out all the kinks, all the logistics, get everything figured out, so by the time we are ready to launch on St. Croix, we've already figured out what works best and what doesn't."
The GLSand machines, made by Expleco in New Zealand, can crush bottles into about four different sand grain sizes in about three to five seconds per bottle, Forbes said. "There were a lot of other glass crushers, but this particular manufacturer – they have a specific patent on the design of this machine. I haven't been able to find another machine quite like it," said Forbes, who especially likes their compact size – about three and a half feet tall and six inches wide.
Recycling glass is hardly novel – in fact, it was included in a list of recommendations for the territory in a federally funded study by the Virgin Islands Recycling Partnership 10 years ago, but seemingly never acted upon.
Crushed glass can be used for myriad purposes besides sandbags, including water and septic filtration, as an aggregate for concrete and asphalt, landfill cover material, decorative countertops, building foundations – the list goes on and on.
"An important point is that … a ready supply of crushed glass could be less expensive than local construction materials [aggregate, sand, soil, etc.], and would help preserve the limited amount of these materials on the V.I.," the 40-page study stated. "Other concepts to explore include encouraging the hotel and resort industry to help underwrite a glass crusher, the V.I. government helping to subsidize glass recycling and coordination with the British Virgin Islands and even Puerto Rico."
Now, 10 years on, Forbes hopes his project will motivate others – especially the government – to finally embrace recycling.
"I want to make sure we get the community buy-in, and I want to get as much support from the Virgin Islands government because as much as I would love to take this all on by myself, I need help," Forbes said.
"Realistically, this is something that the government should have been doing years ago. It shouldn't have taken me, a scientist at UVI, to stumble upon $50,000, to apply for a grant, to get these glass crushers. The government could have done this years ago. Especially if the Virgin Islands Recycling Partnership outlined all of this a decade ago."