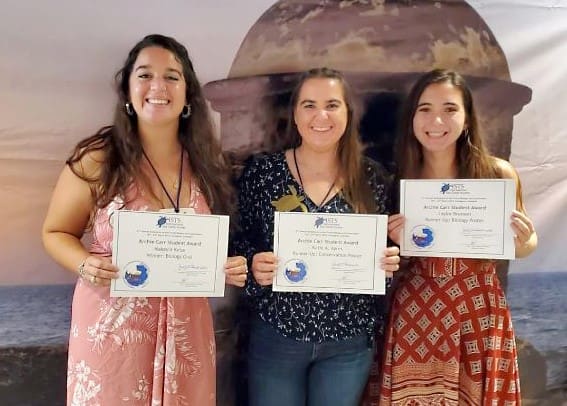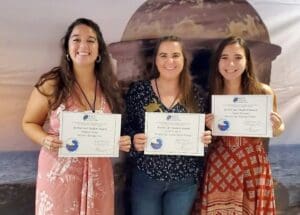 The University of the Virgin Islands (UVI) is proud to announce that three of its students have won awards at the 41st International Sea Turtle Symposium, which was held in Cartagena, Colombia, from March 18-24.
Makayla Kelso and Katie Ayres, who are recent graduates of the University of the Virgin Islands' Master of Science in Marine and Environmental Science program, and Taylor Brunson, who expects to graduate in May 2023, were recognized for their impressive presentations on sea turtle conservation and biology.
Kelso won the Best Student Oral Presentation in Sea Turtle Conservation for her presentation on the increase in hawksbill nesting trends at Sandy Point National Wildlife Refuge on St. Croix.
Ayres won the first runner-up prize for Best Student Poster Presentation in Sea Turtle Conservation, depicting her research on the critical male-producing habitat of hawksbills on St. Thomas beaches.
Brunson won the first runner-up prize for Best Student Poster Presentation in Sea Turtle Biology for her poster on identifying the space use and foraging patterns of juvenile green sea turtles in a Halophila stipulacea-dominated bay.
Approximately 600 attendees participated in the conference, which had 80 student presentations. UVI's students had an exceptional showing, winning three of the eight awards, an impressive feat for a single institution.
The students received grants during their studies from the Lana Vento Charitable Trust and the National Science Foundation's Virgin Islands Established Program to Stimulate Competitive Research (VI-EPSCoR) and Scholarships in Science, Technology, Engineering and Mathematics (S-STEM), which provided resources the students needed to undertake their research and present their findings at the conference.
Paul Jobsis, Ph.D., director of the Center of Marine and Environmental Studies at UVI, expressed his gratitude to those who helped to support the students' preparation, projects and presentations, including VI-EPSCoR and the National Save the Sea Turtle Foundation.
The St. Croix Sea Turtle Project, led by Dr. Kelly Stewart of the Ocean Foundation at Sandy Point, supported student projects and travel, making it possible for Kelso and Ayres to attend the conference, and Jobsis noted that UVI's Kayla Blincow, Ph.D., was also instrumental in guiding the students in their presentations and practices. Leatherback Brewing Company also donated funds to support the students' work.
"The sea turtle projects with which our students are involved are complex and require a great deal of commitment and support. Winning awards at an international symposium speaks volumes about the students' commitment and dedication to their research and study, and we could not be prouder of them for this significant achievement," said Jobsis.
Organized by the International Sea Turtle Society, the symposium brought together a community of sea turtle biologists, environmental practitioners, conservationists, Indigenous groups, researchers, academics and advocates from up to 60 countries to share knowledge, build capacity, network and collaborate, and ultimately to promote the protection and conservation of sea turtles.
UVI's Master of Marine and Environmental Science degree provides students with the training and skills necessary for planning, conducting and evaluating research in marine and environmental science. Additionally, students explore how to utilize research to manage natural resources, with a particular focus on the issues and challenges related to natural resource management in the Caribbean region.
For more information, contact pr@uvi.edu