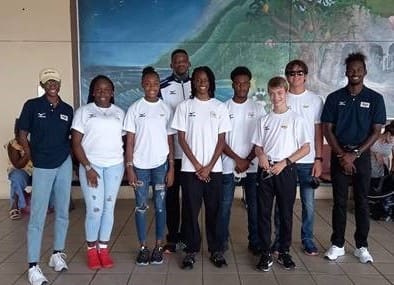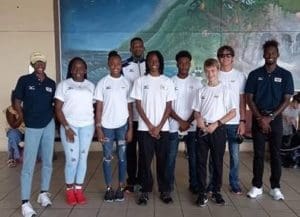 The Virgin Islands Track and Field Federation announces that Team Virgin Islands has continued with great performances in the 2021 AAU Junior Olympics in Humble, Texas.
Team Virgin Islands had several athletes competing on the fourth day of the AAU Junior Olympics. The highlight of the day was Michelle Smith's placing 3rd in the 400m hurdles final, setting a Virgin Islands Junior Record of 1:01.68, and earning her a bronze medal. Michelle also qualified for the 800m finals on Wednesday, Aug. 4.
Other highlights were Michael Dizon-Buman winning his heat in the 1500m and setting a personal record of 4:13.72. In the 100m dash Raynier Charlery, Cecil Hector, Rahyim George and Makari Matthew all set personal records.
Team VI Results Tuesday August 3
1500m B 17-18
24th Michael Dizon-Buman 4:13.72
Splits: 50.647 (50.647) — 2:00.286 (1:09.640) —     3:09.009 (1:08.724) — 4:13.720 (1:04.711)
400m Hurdles G 15-16
3rd Michelle Smith 1:01.68 Bronze Medal, VI Junior Record
100m B 15-16
83th Raynier Charlery 11.58
100th Cecil Hector 12.44
100m B 17-18
80th Rahyim George       11.22
93th Makari Matthew      12.17
Support these young V.I. athletes as they make history for the Virgin Islands
Remaining Schedule of Team Virgin Islands athletes:
Wednesday, Aug. 4
8 a.m., Shot Put (Rings 1, 2 Jordan Vaughn 17-18B
Noon Shot Put (Rings 1, 2) Ariana Edgar17-18G
1:15pm 800m (Final) Michelle Smith 15-16G
Thursday, August 5, 2021
8:00am Discus Jordan Vaughn 17-18B
Friday, August 6, 2021
8:00am Javelin Jordan Vaughn 17-18B
3:15pm400m (Semi-Final) Akyra Joseph; Makari Matthew 14G 17-18B
Saturday, August 7, 2021
8:00am 3000m (Timed Final) Michael Dizon-Bumann 17-18B
1:15pm 400m (Final) Akyra Joseph; Makari Matthew 14G 17-18B