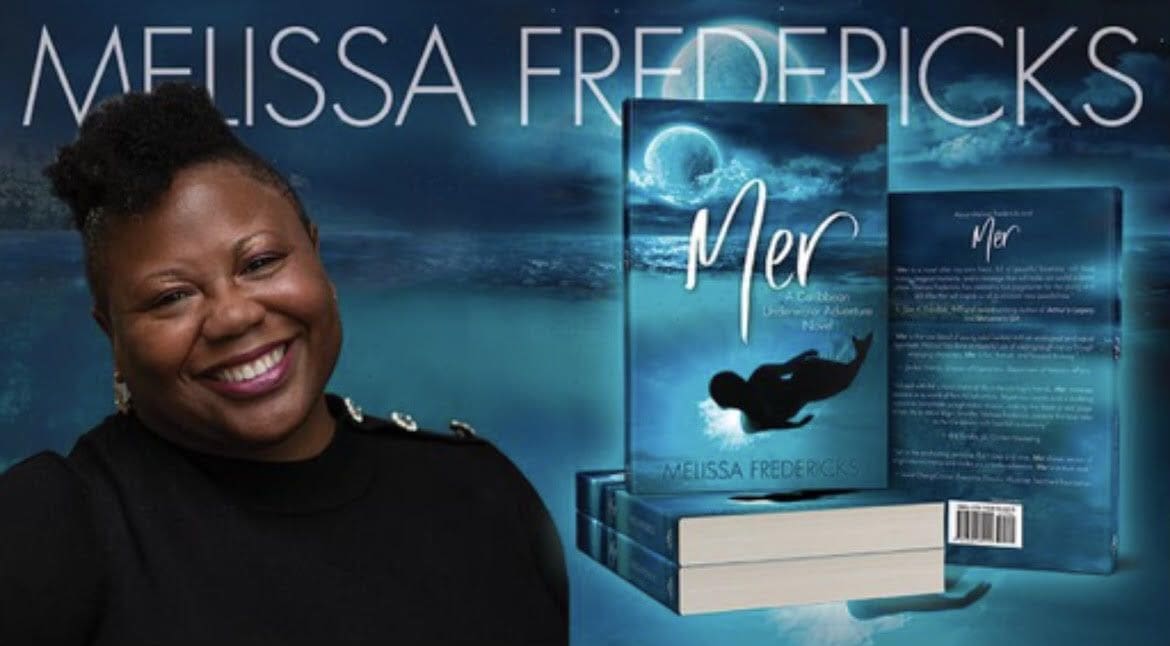 Have you ever heard of a mermaid on St. Thomas? Melissa Fredericks tells the tale of what happens when one frustrated teacher invites students to explore an underwater observatory at her home, eventually discovering mermaids living in the Caribbean waters, in her culturally historic novel Mer: A Caribbean Underwater Adventure.
"I have never seen a fantasy novel that took place in the Caribbean that I could connect to. For me, I wanted to make something that reflected the community," said Fredericks. "I wanted to make sure that we were represented."
Fredericks wrote her novel surrounding her hometown of St. Thomas. She gained an interest in writing in 2003 as a teacher when a dream she had inspired her.
"I had a dream about a mermaid in Victorian clothing, and I thought to myself, this is the craziest thing," she said. "I went to school the next day, in the teacher's lounge, and I said, 'I think I'm going to write a book about this.'"
[adrotate group="6"]
Frederick's push to write also came from her favorite author, C.S. Lewis, who further motivated the school teacher. She said that at age 17, Lewis likewise had a dream that inspired him. His was about a faun in a snowy forest, an umbrella and parcels under his arms, which ended up being the impetus for him to write the Chronicles of Narnia. So in 2004, Fredericks began writing her first novel.
Her historically fictitious novel, centers on a school teacher who is frustrated because she is not getting the results she wants from her students. At the same time she is frustrated, she finds an underwater observatory under her house and holds an essay contest for her students. The winners would get to explore the observatory at her home. However, once she and the students go observing, they end up discovering much more than they anticipated.
Teamwork and leadership are central themes throughout the novel. Fredericks said that readers will also taste Virgin Islands history and culture throughout the book. Prompts for readers, such as "how do you communicate a message?" or "what does it mean to be a leader," are also integrated she said.
Fredericks was born and raised on St. Thomas, and eventually became a teacher at the All Saints Cathedral School. She earned a bachelor's in communications from DePauw University and a master's in education from the University of the Virgin Islands. Now, she lives in Georgia where she is an environmental and historic preservation training coordinator.
Her novel is available on the website https://mercaribbeanunderwateradventure.com/. Hard copies are available at Mystic by the Sea in Palm Passage. Fredericks will also be presenting at the Caribbean Genealogy Library on Friday at 5:15 pm. Anyone interested can register online here to view the presentation.
Readers will have a chance to meet Fredericks in person and receive signed copies of her novel until February. On Feb. 4 at 6 p.m. at the 81C Gallery, she will be hosting a meet and greet and answer questions about her book.
"I want to encourage people that if you have a book inside of you to not leave it inside of you. You have something to share that is unique and beautiful," said Fredericks.