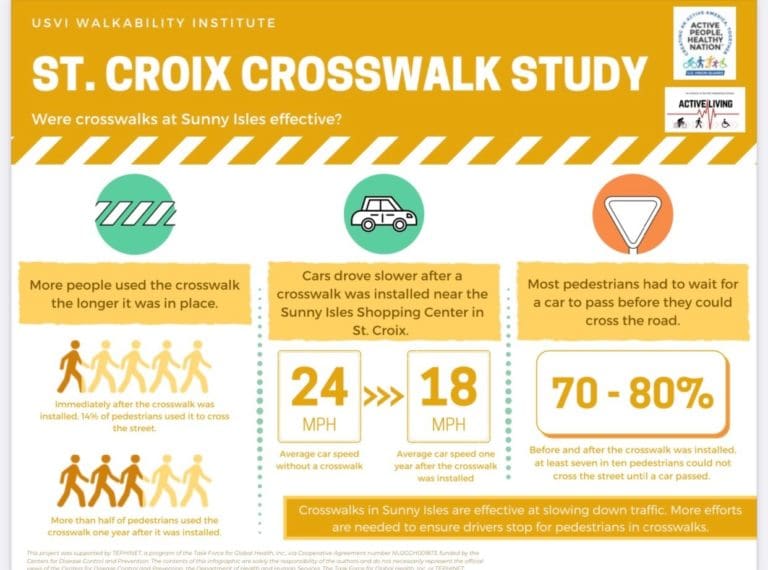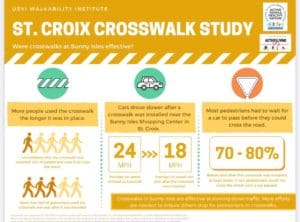 The Department of Health has released a summary finding on pedestrian and driver behaviors in the U.S. Virgin Islands and its impact on physical activity.
The study shows that 70 to 80 percent of pedestrians crossing a road in the Sunny Isle area had to wait at or near the crosswalk for cars to pass before crossing. In the same study, drivers decreased their speed by an average of six miles per hour as they approached the crosswalk. This study, a follow-up to the 2016 summary report, assessed the prevalence of community and street-scale design features to promote increased walking in the territory. Data collections on the islands of St. Thomas and St. John are in progress with findings expected in 2021.
Both studies support the Centers for Disease Control (CDC) and Prevention's Active People, Healthy Nation℠ campaign, a national initiative to assist 27 million Americans in becoming more physically active by 2027. This initiative promotes effective strategies recommended by the Community Preventive Services Task Force to improve physical activity. The CDC in collaboration with state, community and national partners promotes these proven strategies through Active People, Healthy Nation℠ to ensure that all Americans have access to safe and accessible places for physical activity. Increased physical activity improves health and quality of life and reduces healthcare costs. Building active and walkable communities can help support local economies, result in less air pollution, create more cohesive communities, and reduce the risk of chronic diseases and conditions.
Chronic Disease Director Kathleen Arnold-Lewis leads the Department of Health's Walkability Institute. According to Lewis, "The department has collaborated with government agencies and community members to achieve the goal of increasing physical activity in the territory. With increased physical activity, we hope to see a downward trend in chronic illnesses and a healthier Virgin Islands."
For more information on the studies, next steps and best practices to create a more walkable community please join the U.S.V.I. Walkability Institute's webinar series beginning with the first webinar on Oct. 7. The series will focus on walkability in the built environment through healthy design principles, incorporating a transportation master plan, creating safe routes to school and updating zoning codes to support mixed land use in the U.S. Virgin Islands.
Visit www.usviwalkabilityinstitute.com or email usviwalkabilityinstitute@gmail.com.