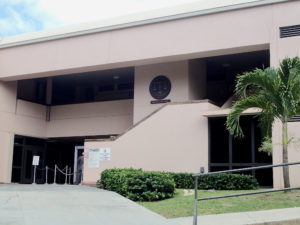 Chief Justice Rhys S. Hodge and Presiding Judge Harold W. L. Willocks have announced the expansion of the Superior Court's public access portal to include criminal cases and electronic filing for criminal and family cases. Effective Nov. 16, public access to case information and documents in criminal cases filed after Oct. 26 that do not require redaction of personal or confidential information will be available through the judiciary's public access portal at http://usvipublicaccess.vicourts.org.
The public access portal allows users to view basic case information, including parties, dockets, hearings, charges, assessments and fees. While every effort is made to keep information provided over the internet accurate and up-to-date, the Judicial Branch of the Virgin Islands does not certify the authenticity or accuracy of such information. In the event any users discover confidential, sensitive or inaccurate data, they are urged to immediately notify the Judicial Branch of the Virgin Islands of such occurrence(s).
The public is further advised that effective Nov. 16, the Supreme Court has entered Administrative Order No. 2020-0020, making electronic filing mandatory in all criminal cases in the Superior Court of the Virgin Islands.
The Virgin Islands Bar Association is also advised that as of Nov. 16, with the addition of criminal cases, e-filing is now required for criminal, family, probate and civil cases. E-filing may be accessed at https://usviefile.vicourts.org.
The judicial branch is pleased with the overall success of the CMS project and with the consistent improvement of access to services to both judicial partners and the community-at-large. The judicial branch thanks all of its employees for their continued commitment and dedication to the success of these service enhancements.