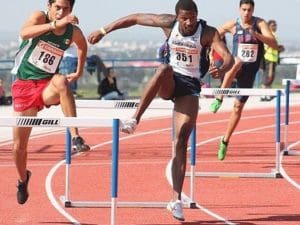 The Virgin Islands Track and Field Federation (VITFF), the governing body for track and field for the Virgin Islands, is an affiliate of World Athletics (WA), which is the world governing body, the V.I. Olympic Committee (VIOC) and the North America, Central America and Caribbean Athletics Association (NACAC).
VITFF has announced that under the newly elected board of directors led by President Keith Smith the Federation will continue to focus on the development of the sport in the territory for all age-groups and will continue to build on long-standing relationships with the public and private schools, other institutions and the government of the USVI.
V.I. Track and Field…disaster recovery…COVID-19
The VITFF is in the process of formalizing its relationship with the government of the V.I. as a result of grants it has received from World Athletics and the Virgin Islands Olympic Committee to recover from Hurricanes Irma and Maria as well as annual V.I. government appropriations.
In fact, the entire Olympiad (four-year Olympic cycle) has been impacted as the track and field facilities, which are owned by the V.I. government, have allowed limited access for various reasons, thus impacting the development of national track and field teams, athlete training as well as competition and public use of the facilities.  Hurricane recovery notwithstanding, the 2020 track and field season worldwide was canceled because of the COVID-19 pandemic.  Even the 2020 Games were postponed until 2021.
V.I. Track and Field to formalize relationship with V.I. government
VITFF has submitted for approval to the V.I. government a Memorandum of Understanding (MOU) for the purpose of formalizing the relationship with VITFF on all matters associated with the policy and procedure for operating the government-owned track and field facilities in the territory.
This agreement will formally allow for the thousands of dollars' worth of specialized equipment that VITFF has purchased and what's on order for the two existent synthetic surface tracks at the Ivana Eudora Kean High School on St. Thomas, which is a WA (IAAF) certified track, and the St. Croix Educational High School facilities.
This equipment includes over $100,000 worth of equipment, including a $25,000 Finishlynx electronic timing system, new high jump mats and hurdles for St. Thomas.  All of this and an inventory of previously purchased equipment are stored in two new 40-foot storage containers with logos to be placed at each of the facilities for access and use by student/athletes at the schools, VITFF clubs, competition organizers and the general public.
As the opportunity presents itself, VITFF will maintain its long-time effort since 1963 to introduce the sport of track and field (known as athletics in other parts of the world) to the general public to develop the sport, to select and prepare athletes for the opportunities offered by public and private schools, colleges/universities., prepare them for national teams and help them to become professionals and ultimately productive citizens. isv@mg.wa.org