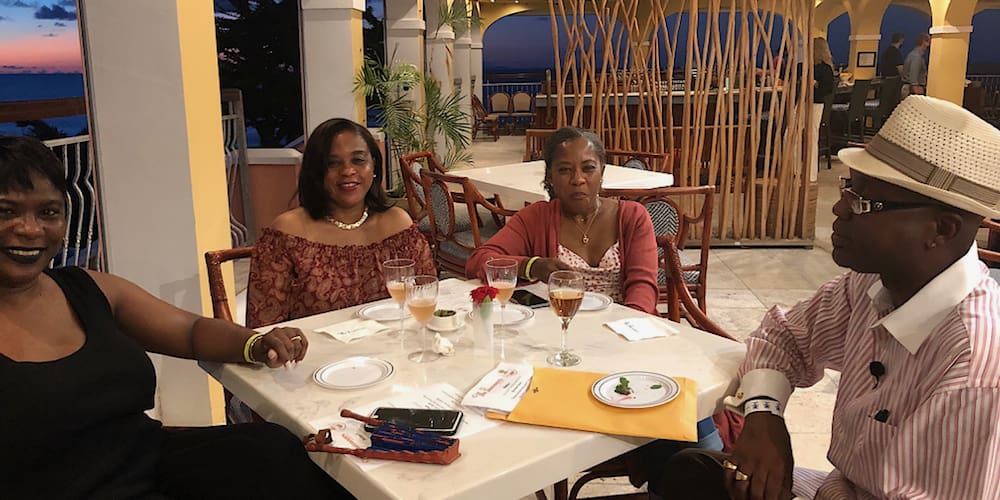 Fifty supporters – all fully vaccinated against COVID-19 – were invited to a first-class "A Taste of St. Croix" event Sunday, with top chefs, wine pairings and live music at the Terrace Restaurant of the Buccaneer Hotel.
Every move during the evening took into consideration social distancing and mask wearing.
"This is a series of pro-vaccine events, pro-vaccine parties/chef showcases/food events," said Collin Hodge, "A Taste of St. Croix" director. "What we're saying, if you want to live life, go out to parties, go out to dinner with your friends and families, get vaccinated. Because until that happens, we're going to be living with rules and regulations from the CDC and government agencies."
The event focused on three Virgin Islands chefs creating gourmet food and talking through the recipes as they prepared the dishes. Guests asked questions and watched closely as the bites were plated. Volunteers poured wine paired with each dish.
The guests were divided into two rooms to allow plenty of space, with half the group in each area.
The Buccaneer's executive chef, Norman McPherson, recently from the Ritz-Carlton, St. Thomas, created a room full of satisfied murmurs and sighs with his oxtail ravioli served on tostones and topped with a confit of cherry tomatoes and sprinkled with rosemary-infused oil.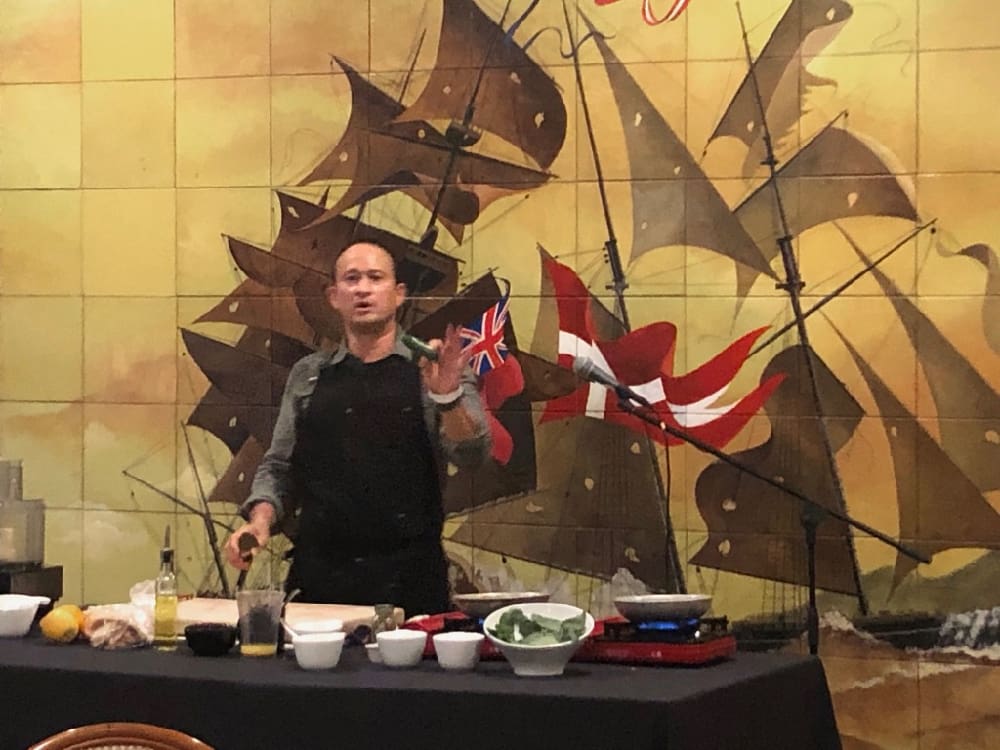 At the same time, the second group watched St. John executive chef Mathyom Yacharat put together a multitude of aromatic nuts and spices, known as pippin verde – Mexican Caribbean green pumpkin seed dip. It was a spread that looks similar to pesto and was served on freshly fried tortilla chips. People cleaned every bowl in the room and asked for more.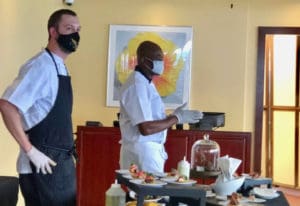 For his second dish, Yacharat demonstrated ceviche made with Mahi, lemongrass, chili, shallots, cilantro, Thai coconut and fresh lime juice. He showed the Mahi turning cloudy as the lime juice marinated the fish and infused the other ingredients. Coconut milk smoothed out the combination, enjoyed by all.
The Buccaneer's sous chef, Thomas Whittich, also created an unusual gourmet tasting – achiote marinated octopus on black bean puree and topped with pickled onions. Even people who don't usually eat octopus, smacked their lips after trying the savory bite.
At the end of the night, McPherson said he was pleased with the response to the food because it was important to the support of "A Taste of St. Croix."
Music was provided throughout the evening by the Ronnie Russel Jazz Band, including an extended version of Bob Marley's "Redemption Song" on guitar and saxophone.
According to Hodge, there will be several vaccinated-only events leading up to the A Taste of St. Croix on Dec. 1 which will be similar to last year's at the Divi Carina Bay, the Fred Hotel and the Buccaneer.
"If you're vaccinated, this is the future for you," he said.
The next event, also for vaccinated individuals only, will be in two weeks on St. Thomas. It will be similar to the Buccaneer's tastings but the location is yet to be determined.