When Hurricane Irma blew most of the leaves off most of the trees on St. John in September, the hillsides instantly became brown and desolate. Within a matter of weeks, however, some vegetation started to grow back.
St. John is once again a green island, but many trees have taken on uncharacteristic shapes, as leaves sprout directly from tree trunks and major branches, giving them a peculiar, fuzzy look.
Other trees, however, only appear to be recovering. Instead of growing new leaves, these trees are coated with a proliferation of vines.
"The island at large continues to green up but largely from the explosion of overgrowing vines," wrote Don Near, a retired V.I. National Park ranger, in December. Trees, especially those that have been broken or stunted by the storm, have taken on "a bizarre shrouded look," Near said. Hills are dominated "by verdant topiary hoodoos. Dr. Seuss meets Stephen King. When and if they will stop, nobody knows."
[adrotate group="6"]
Eleanor Gibney, an expert on native species, said something similar happened after Hugo and Marilyn.
"Vines famously do well after hurricane, but this [year's growth] has been much more extreme."
Gibney says five or six species of vines are thriving, but the one that is most rampant is a relative of melons and cucumbers. Locally known as "melon leaf," its scientific name is Cayaponia americana. It produces a small, inedible fruit.
"The seeds of vines can last for many decades," said Gibney. "They've successfully grown things from seeds from Egyptian tombs."
The vines that have been growing on St. John have taken advantage of the extra sunlight that became available when so many trees were blown down, she said. Their growth is particularly apparent on west-facing hills on Centerline Road in the areas above Cinnamon and Maho bays, where Irma's winds were most extreme.
Gibney hopes the vines will die off as spring approaches and the weather becomes drier, but she isn't waiting for natural processes to take care of the problem.
"I would recommend pulling the vines off trees you want to survive in your own yard," she said.
Vines are not the only plants to thrive after the storms.
"The wild tamarind, or tan-tan, always comes roaring back as the most vigorous woody weed," Gibney said. "It's 'a pioneer weed' whose presence indicates where land has been cleared in the past. It's now going to seed. It's the most abundant I've ever seen."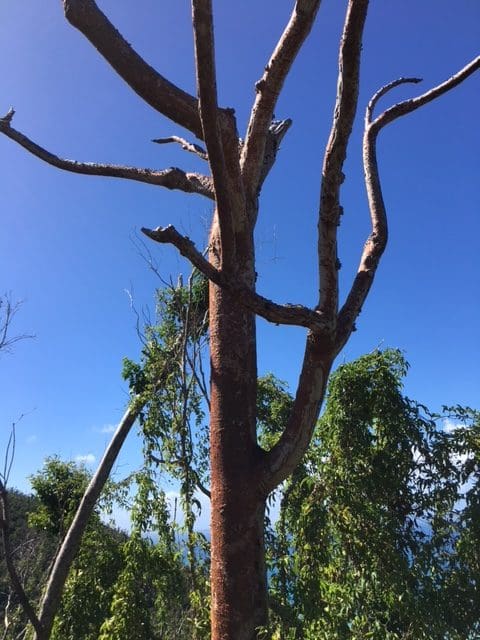 Gibney recommends that home gardeners should pull up tan-tan seedlings by their ground roots "now while the soil is moist and soft."
Among Gibney's concerns since the storms is an outbreak of a caterpillar that was first seen on St. John about three years ago. In the past month she's noticed that these caterpillars have been defoliating turpentine trees.
"It appears to be the larva of the 'dingy purple-winged butterfly'" she said, adding that it is not the same caterpillar that eats the leaves of flamboyant trees.
The larva of the dingy purple-winged butterfly is native to Florida and the Greater Antilles, Gibney said.
"We don't know if they came in with imported plants."
The storm has had at least one positive effect, according to Gibney. Monarch butterflies, which are becoming increasingly endangered are thriving on St. John this winter, thanks to the prolific growth of "butterfly bush" in open areas.
"It's going to be an interesting time," said Gibney. "Let's hope we don't have another hurricane for a while."
Shared content for St. John Tradewinds and Virgin Islands Source.