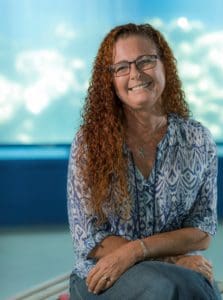 The Virgin Islands Conservation Society has named Valerie Peters to be its new executive director. She is the foundation's first female executive director, replacing Paul Chakroff who has been so since 2009. Chakroff was elected as a new board member and will continue to play an important role in supporting the Society.
Peters' goal in this new position is to expand the society's role from environmental education and advocacy to serving as a community liaison by raising awareness, engaging, educating, informing and connecting the Virgin Islands community to find solutions to the many environmental challenges it faces. She also aims to take positive action to protect and preserve the people and the natural resources of the Virgin Islands for a more resilient and sustainable future. To this end, the VI Conservation Society will soon launch a new website, including a new eco-directory and eco-calendar.
Peters was raised on St. Thomas and developed a passion for the environment at a very young age. In addition to owning and running Valevents and serving as marketing director for Coral World Ocean Park, she has been volunteering and operating environmental programs with the Society since 2010.
She began by launching the Blue Flag Eco Label through a memorandum of understanding between the Hotel and Tourism Association and the VI Conservation Society, with a primary focus on the sustainable management of recreational coastal environments.
Peters has engaged in a variety of projects, which include Reef Fest, the Smith Bay Watershed Study, Flood Education Project, countless community coastal clean-ups and education outreach projects.
The new executive director has recently launched the internationally recognized Eco Schools program and certification in the USVI. Joining 20 million students in 67 countries, the program is both an award and an environmental management system. Eco Schools is an environmental education program that promotes long-term, whole-school (students, teachers, parents and community) action for sustainability and resilience. Unlike a one-off project, its lasting impacts involve and engage participants through a clearly laid out process, with ongoing support and guidance from the Society.
Paul Chakroff served as the Virgin Islands Conservation Society executive director from 2009 to 2020. He previously served as executive director of the St. Croix Environmental Association. Chakroff left the U.S.V.I. after the two 2017 catastrophic Category 5 hurricanes to pursue his is Ph.D. in climate change and sustainable development at the Instituto de Ciências Sociais, Universidade de Lisboa. He was formally thanked and recognized for his efforts at a recent VI Conservation Society board meeting, where fellow current and past board members expressed their appreciation for his services. VICS looks forward to continuing working with Chakroff in his new role as a board member.
The Virgin Islands Conservation Society Inc. was incorporated on June 4, 1968, under the leadership of V.I. author, historian and businessman Isidor Paiewonsky and is the oldest local non-profit environmental conservation organization in the U.S. Virgin Islands. The brother of Gov. Ralph Paiewonsky, Isidor passed in 2004 at 95.
Donate Today – The Virgin Islands Conservation Society relies on the generous financial support from individuals, corporations, local businesses and foundations to fund its operating costs, programs and services. It has established a Fiscal Sponsorship at The Community Foundation of the Virgin Islands.  Donations may be made via credit card by calling CFVI at 774-6031 or on the CFVI website via PayPal by going to http://www.cfvi.net/donate/donate-fund.php.