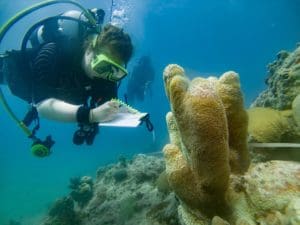 The Virgin Islands Coral Disease Advisory Committee has released the much anticipated USVI Coral Disease Outbreak Response Plan. This document details the U.S. Virgin Islands' collective resources, strategies and management of activities applied to the outbreak of the devastating Stony Coral Tissue Loss Disease, a major threat to coral reefs territorywide since January 2019.
The Response Plan was initiated during the University of the Virgin Islands hosted Coral Disease Outbreak Response Workshop in November 2019 and was later finalized by VI-CDAC.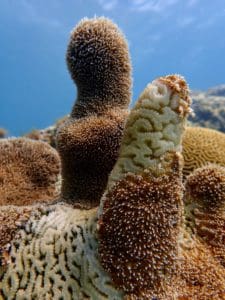 Creation of the Response Plan was spearheaded by Dr. Marilyn Brandt, Ph.D., a research associate professor of marine science and coral disease ecologist at the University of the Virgin Islands, along with Sonora Meiling, who is UVI's marine disease specialist. The development of the Response Plan also included significant input from local and federal government representatives, nonprofits and the private sector, as well as coral disease response representatives from Florida, where the disease originated and where a response plan is already in place.
The new plan addresses Stony Coral Tissue Loss Disease through sections on epidemiology and research, data management, communications, field intervention and restoration. Each section outlines what has been accomplished since the disease was first observed, but, more importantly, details current and future actions and goals for a comprehensive response to and management of the disease.
The Response Plan designates Virgin Islands Coral Disease Advisory Committee's executive team, which is directly responsible for territorial action against SCTLD. The team includes the USVI Department of Planning and Natural Resources Commissioner Jean-Pierre Oriol, National Park Service superintendents Nigel Fields and Gregory Camacho, NOAA Atlantic and Caribbean Team Lead Dana Wusinich-Mendez, Coastal Zone Management Division Director Marlon Hibbert, Division of Fish and Wildlife Director Dr. Nicole F. Angeli, NOAA Coastal Zone and Coral Management Liaison Leslie Henderson, as well as UVI's Dr. Brandt.
Funding for the Outbreak Response Workshop and the Outbreak Response Plan was provided by an NOAA Coral Reef Conservation Program grant to Brandt, with additional support from The Nature Conservancy and VI-EPSCoR.
To view the Response Plan and learn more about the challenges presented by Stony Coral Tissue Loss Disease, visit www.vicoraldisease.org.