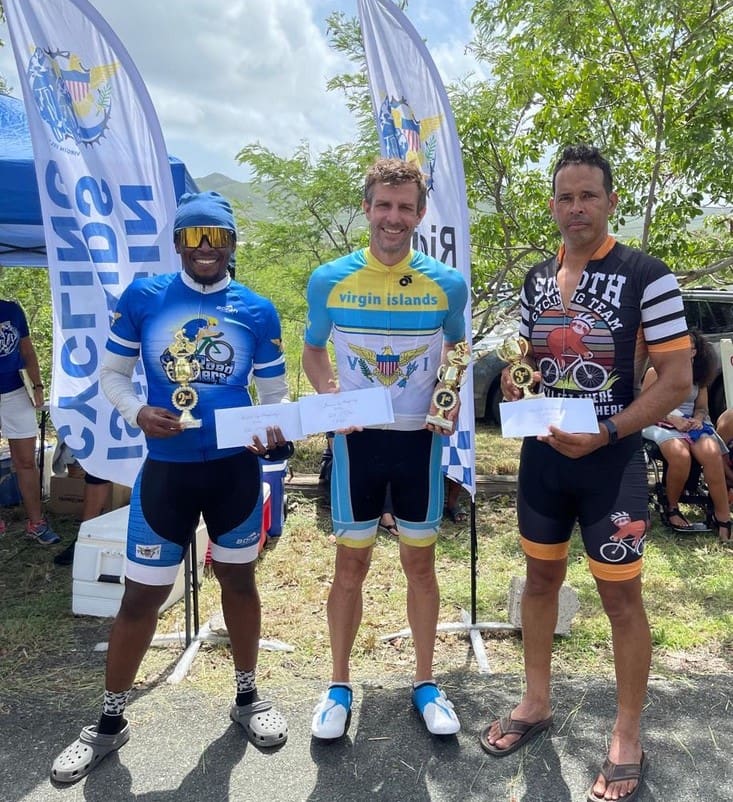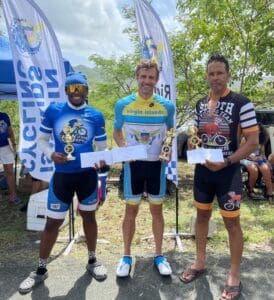 The Virgin Islands Cycling Federation (VICF) ended its competitive season with a weekend of races. The VICF Championship Time Trial took place on Saturday morning on the "airport loop," which started and finished in front of the Doc James Raceway on Airport Road. The Elite cyclists completed 4 laps of the 6-mile course, while all others completed 2 laps of the same course (12 miles) The overall Elite winner, Stephen Swanton, proved to be the fittest and crushed his time from 2021 by over 5 minutes. His time for the 24-mile race was 1:04:47. Alex Betancourt hit pretty consistent lap times and finished second in 1:05:11.  Joey Swanson was third in a time of 1:14:24.
Expert rider, Norbert "Ghost" Prospere, nailed the fastest time of this distance in a time of 32:51. Jerry Remie was the second Expert finisher (and third overall) in a time of 34:07.  Ted Prosper was third in 40:42.
Clive Parris dominated the Sport category in a time of 37:37. Mario Butcher earned second place in 39:21. Justin Johnson was third in 41:49.
Chris Dorsey was the fourth fastest overall and the top Masters finisher.  His time was 36:59. Brian Otis dropped back a bit on lap 2, but he still rode a time fast enough for second place. (41:19); Yves Abraham was third in 42:50.
Robin Seila laid out the most consistent splits of the race and earned the gold in the women's division.  Her time of 34:02 was the second fastest overall. Catherine Seguin, while still recovering from competing in Ironman Lake Placid just two weeks ago, was second in 37:39.  Jody Goodrich was third in 47:25; Judy Gario was fourth in 48:42.
The following day the VI Cycling Federation hosted The Governor's Cup Championship Road Race, which started and finished at Sally's Fancy on St Croix. The race brought out 24 cyclists, Gov. Albert Bryan Jr., several members of his staff, St. Croix Administrator Samual Sanes and many spectators. Although it was a very windy morning, cyclists enjoyed an overcast sky and nearly perfect roads. Cash prizes and trophies were sponsored by The Office of the Governor and the Department of Sports, Parks and Recreation.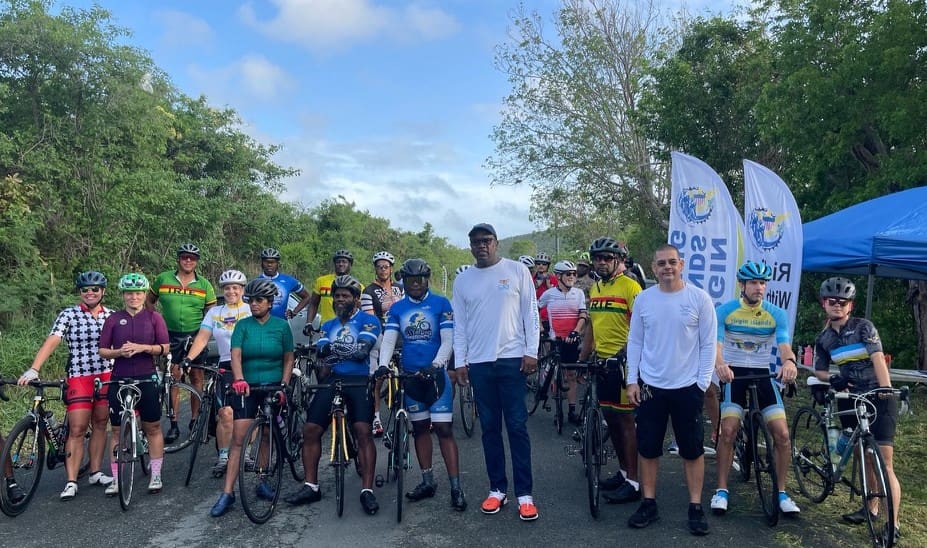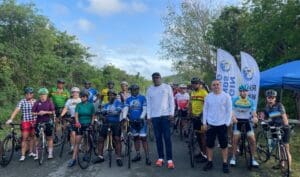 The small Elite group took off first, heading southeast around the east end, over the Christiansted Bypass, turning at Cool Out Bar and making their way back to the start at Sally's Fancy. They completed two loops of this course, which translated to 50 miles of tough racing.  Stephen Swanton attempted to drop Joey Swanson and Alex Betancourt on Yacht Club Hill on the first lap.  He remained ahead of the pair as he continued on to Beeston Hill, where he grabbed the cash prime of $50 awarded to the first cyclist to reach.
While applauding all three Elite cyclists for also competing in Saturday's time trial, it was Swanton who produced the best results in the 50-mile road race.  He finished in first place in 2:35:07. Betancourt mentioned having "dead legs" on Sunday and was not able to stay with Swanson, who finished one minute ahead of him, in a time of 2:40:59.  Betancourt's third place time was 2:41:58.
The Expert race became super exciting, as a new, young, unknown cyclist rode up to register just minutes before the start of the race.  The field of nine cyclists set out on the 40-mile course (one big loop and one small loop) with a fast pace heading east. The full group had separated by Grassy Point. James Bates was the first to reach Beeston Hill on the first lap, so he earned the $40 cash prime.  Youth prevailed as Elijah Payeur overtook James at the finish line for first place, both with the finish time of 2:14:25. Robin Seila was third in a time of 2:14:32.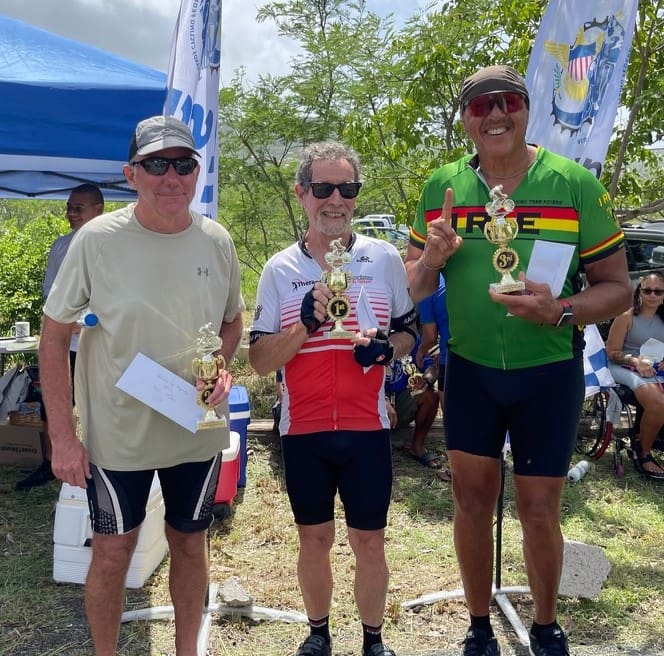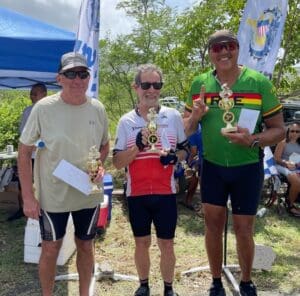 The Sport division also included two first-timers, plus three cyclists who competed in Saturday's time trial race. After setting out for their two-small loop course, Mario Butcher came through Beeston Hill with no one in sight on the first lap. He earned the cash prime of $30 and also first place, ahead of second place, Clive Parris, by over 4 minutes.  Butcher's time was 1:46:20; Justin Johnson was third in a time of 1:52:06.
The Masters field completed the same 30-mile course as the Sport riders. Chris Dorsey earned both the prime cash prize and the overall win.  His time was 1:47:25. Brian Otis was second in 1:57:32, while Brian O'Reilly was two seconds behind in third place.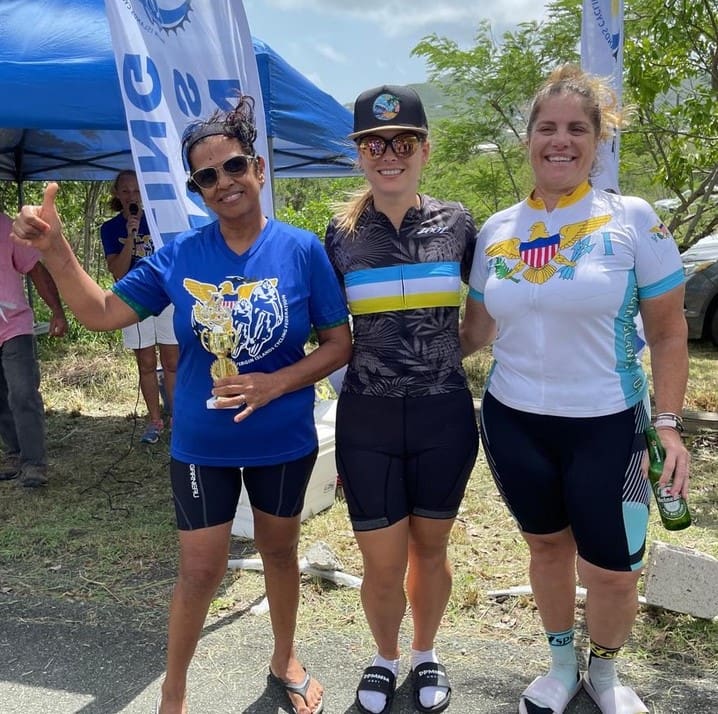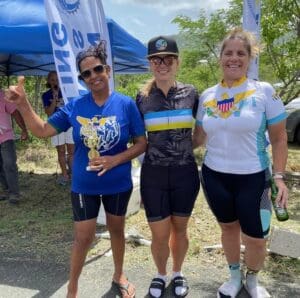 The small women's field rode one lap of the small loop, turning left at Union and Mt. Washington instead of right, to complete the east end loop. Jackie Robak surged ahead of Jody Goodrich on Contentment Hill and came through the prime checkpoint first to earn $15.  Robak stayed ahead of Goodrich to finish first in a time of 57:30. Goodrich was second in 1:00:46; Judy Gario was third in 1:08:11.
To learn more about cycling in the Virgin Islands, please write to vicfsecretary@gmail.com or call 643-6420.
Virgin Islands Cycling Federation
2022 VI Time Trial Championship
(St. Croix Airport Loop — Conditions: windy, hot)
Elite 24 Miles
Name/Overall Place Total Time— 1/ 2/ 3/4
1 Stephen Swanton/1st 1:04:47 — 0:15:31/ 0:16:29/ 0:16:32/ 0:16:15
2 Alex Betancourt 2nd 1:05:11 — 0:16:11/ 0:16:32/ 0:16:14/ 0:16:14
3 Joey Swanson 3rd 1:14:24 — 0:17:08/ 0:18:09/ 0:19:19/ 0:19:48
Expert 12 Miles
1 Norbert Prospere 1st 0:32:51 — 0:16:09 0:16:42
2 Jerry Remie 3rd 0:34:07 — 0:16:46/ 0:17:21
3 Ted Prosper 8th 0:40:42 — 0:19:36/ 0:21:06
Sport 12 miles
1 Clive Parris 6th 0:37:37 — 0:18:15/ 0:19:22
2 Mario Butcher 7th 0:39:21 — 0:19:36/ 0:19:45
3 Justin Johnson 10th 0:41:49 — 0:20:37 0:21:12
Women 12 Miles
1 Robin Seila 2nd 0:34:02 — 0:16:59/ 0:17:03
2 Catherine Seguin 5th 0:37:39 — 0:18:35/ 0:19:04
3 Jody Goodrich 12th 0:47:25 — 0:24:01/ 0:23:24
4 Judy Gario 13th 0:48:42 — 0:23:58/ 0:24:44
Masters 12 Miles
1 Chris Dorsey 4th 0:36:59 — 0:18:11/ 0:18:48
2 Brian Otis 9th 0:41:19 — 0:19:34/ 0:21:45
*************************************
Virgin Islands Cycling Federation Governor's Cup Championship Road Race
Sunday, August 7, at 7 a.m.; Start/Finish: Sally's Fancy
(Conditions: very windy, some cloud coverage, excellent roads)
ELITE – 50 Miles
Stephen Swanton – 2:35:07 (* Prime Winner)
Joey Swanson – 2:40:59
Alex Betancourt – 2:41:58
EXPERT – 40 Miles
Elijah Payeur – 2:14:25
James Bates – 2:14:25 (*Prime Winner)
Robin Seila – 2:14:32
Norbert Prospere – 2:19:10
Catherine Seguin – 2:19:23
Miguel Cruz – 2:19:44
Jerry Remie – 2:21:34
Ted Prosper – DNF
John Harper – DNF
SPORT – 30 Miles
Mario Butcher – 1:46:20 (*Prime Winner)
Clive Parris – 1:50:47
Justin Johnson – 1:52:06
Joshua Belardo – 1:58:33
Julio Felix – 2:18:24
MASTERS – 30 Miles
Chris Dorsey – 1:47:25 (*Prime Winner)
Brian Otis – 1:57:32
Brian O'Reilly – 1:57:34
Yves Abraham – DNF
WOMEN – 15 Miles
Jackie Robak – 57:30 (*Prime Winner)
Jody Goodrich – 1:00:46
Judy Gario – 1:08:11