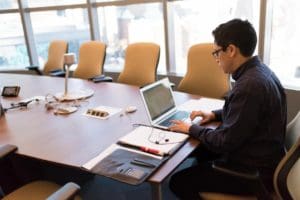 The Virgin Islands Economic Development Commission (VIEDC), one of four entities of the U.S. Virgin Islands Economic Development Authority (USVIEDA) launched its online application today for global investors to apply for 90-100 percent in tax incentive offered through the Economic Development Tax Incentive Program. Applicants will be required to file their VIEDC application online commencing with the public hearing in October 2020.
Now available at www.usvieda.org/apply, the VIEDC worked in partnership with St. Croix-based web development agency, CrucianPoint LLC, to develop this user-friendly, online application. This system allows the VI Economic Development Commission and applicants to track the progress of a prospective business investor's application and supporting documents.
"As our VIEDC team worked together with CrucianPoint on this online application, we focused on providing potential investors opportunities to remain updated on the status of their application in real-time and on retrieving feedback from stakeholders during a focus group sessions as they evaluated the new online format," said Margarita A. Benjamin, managing director of economic development.
"As potential investors work on their applications for the tax incentive program, these applicants can also save partially completed applications and return to update at a later time with pending information," said Benjamin.
For the VI Economic Development Commission, this online system
1) creates an application based upon the VI Economic Development Commission Application requirements;
2) provides better accountability and efficient case management;
3) streamlines the application process by reducing the use of paper applications; and
4) improves the tracking of applications.
The online application allows potential business investors the access of applying online from anywhere around the world in a secure environment. It provides accessibility to potential applicants globally and allows for processing online payment of application fees by Visa or MasterCard.
To begin their application, prospective investors can create their profile with business information as the application displays areas for a prospective investor to select its type of business, whether it is a sole proprietorship, partnership or corporation. Once the type of business is selected, the prospective investor is directed to answer specific questions based on their type of business.
"We know that ease of use, cost and security are important to the VI Economic Development Authority and its beneficiaries, so we helped VIEDA build their online application on a robust, extensible and secure platform," said CrucianPoints' Shomari Moorehead, chief creative officer. This online application is just one example of a secure solution where agencies can better respond to the needs of their customers."
The system is built using the WizeHive zEngine platform, a platform trusted by over 500 organizations including the White House, MIT, Georgetown and Princeton universities, Disney, Marriott hotels, and NBC.
To learn more about the VI Economic Development Commission online application, contact Margarita A. Benjamin, USVI Economic Development Authority managing director of economic development, at 714-1700, ext. no. 1611; or send an email to [email protected].