Two V.I. Olympian hopefuls gave their families and friends a special Christmas present. Chutney Mohler and Alexa Putnam, who have been skeleton sled training in Europe since November, thrilled their families and friends with a surprise holiday visit on Dec. 20.
"This is my last year before I go to college, so I really wanted to be with my parents for Christmas," said Putnam. "We had a lot of time to spare, and instead of traveling to Italy or somewhere, we wanted to go home."
Putnam fooled her parents with a ferry fakeout.
Fooled at the Ferry
"I called my parents and told them that there was a big package that they had to pick up on the 3 p.m. ferry," she said. "When my mom came, she was totally surprised. It was a lot of fun."
[adrotate group="6"]
Mohler's parents were completely surprised, as well.
"My parents had no idea that I was coming home," she said. "They were so shocked and happy at the same time.
Surprising your family is something that everyone should do at least once."
The trip back to St. John was anything but quick.
"Getting back here was a long process; it took a total of 41 hours to get from Germany to St. John," said Putnam. "We had to travel to Austria, then back to Germany, then from London to New York—where we slept in the airport because we didn't have anywhere to stay—then finally to St. Thomas. We arrived in St. John after almost two days of travel."
Although the young future Olympians are on vacation on their island home, they have been keeping busy.
Working Vacation
"I am practicing a new skeleton running start that no one else does, with my coach Steve Morgenthaler," said Putnam. "We practice at St. John School on Gifft Hill with a skeleton sled on wheels that is attached to a long cable. We practice every day and it's going really well."
"I have been working at Morgan's Mango and Pampa since I've been home," said Mohler. "I started working the day after I got home to get some money to bring back to Europe with me."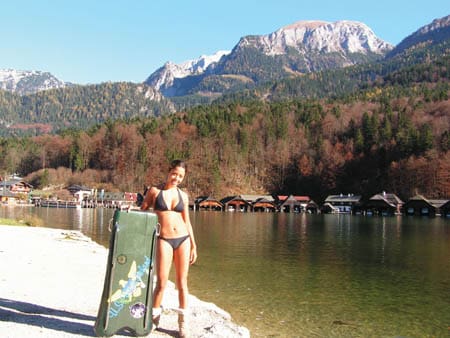 The girls have also been putting in some hours at the beach. "I got really pale, so I have been going to the beach a lot to try to get my color back," said Putnam.
Mohler, who fractured her wrist during International Training Week in Torino, Italy, on Thanksgiving Day, has had her cast removed and is ready to hit the sand.
"I've been working on my tan a bit, but I haven't been able to get to the beach as much as I would like to," she said. "I just got my cast off, so now I can work on my arm tan."
When they weren't hurtling headfirst on their sleds, reaching speeds of up to 70 miles per hour, the high-schoolers were keeping up with their studies.
Mohler, who is home-schooled, took textbooks with her and has been studying as much as possible. Putnam attended the St. John School on Gifft Hill before she left, where she was close to graduation.
Keeping Up School Work
"I have been corresponding with St. John School on Gifft Hill," she said. "I only have two more classes to graduate, so my teachers have agreed to keep up with me through e-mail. The school is 100 percent behind me, and it's great."
After graduation, Putnam will attend the University of Utah, where one of the only two skeleton tracks in the United States is located.
"The American team trains there, and I will be able to train with them sometimes," she said. "I wouldn't go to Utah for any other reason."
The two young women return to Konigssee, Germany, on Jan. 11, and will go straight back to skeleton racing.
Time Trials Mid-January
"We have time trials on Jan. 20 and 21, where we will be trying to qualify for the Olympics," said Mohler. "If we place in the top four for women, we will be able to compete in the Olympics."
The girls will continue practicing and racing skeleton in Europe until Feb. 28, when they will return home for the season.