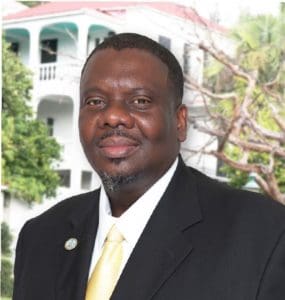 Victor Somme III, acting Education commissioner, said Tuesday that he looks forward to welcoming students and staff to the 2022-23 school year on Aug. 8 when public schools are scheduled to reopen. 
Before the start of each school year, officials from the V.I. Fire Service and Health Department are invited to conduct rigorous environmental and life and fire safety inspections of public-school campuses, according to a press release from the Education Department. Somme said the results of these annual reviews help determine maintenance priorities for the year. 
"We are careful to conduct these annual inspections so we can identify and address priority areas as part of our year-round maintenance plan," he said.  
Some items from the most recent inspections have been completed, and architectural and engineering consultants have developed packages to address high-priority areas of concern, according to the release. In addition, the department's Facilities Division works closely with schools to complete all projects, it said. 
Annual environmental and life and safety inspections for the 2022-23 school year will begin in mid-July. In June, for the first time, the department conducted extensive safety and security inspections of schools with professionals from the Fire Service, V.I. Rescue, V.I. Police Department, and EMS to identify potential campus vulnerabilities in the event of an active threat, the release stated. 
Tuesday's announcement follows a report by the V.I. Board of Education, outlining areas of concern in the territory's public schools, many of them regarding maintenance of the facilities.
"While many of our buildings are aged and have outlived their lifecycle, this does not prohibit us from opening schools on time and providing safe and welcoming environments for students to learn," Somme said. 
"Maintenance is ongoing, and we continue to work closely with the Office of Disaster Recovery, our federal partners, and industry consultants to build new schools or modernize existing buildings. I look forward to welcoming students and staff and opening schools safely in August," he said.
To learn more about the Education Department's New Schools Project, visit www.newschoolsvide.com.