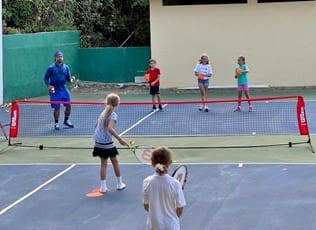 Last week, a pod of third graders from the Good Leaf Private Education Association, a homeschool on St. Thomas, participated in their first tennis lesson, sponsored by the Virgin Islands Tennis Association (VITA). The US Tennis Association's (USTA's) 'NetGeneration 'Tennis In Schools' program provided the grade-specific tennis curricula and a school equipment kit including a junior net, multi-level balls, racquets and rolling sport duffel bag.
VITA is a district within the USTA Caribbean Section. The Virgin Islands Tennis Association (VITA) is the entity that promotes USTA programs in the territory. It is a non-profit organization whose mission is to support tennis training, development, and tournaments for all levels of play.
Through the collaborative effort between SHAPE America and the USTA, the Net Generation school tennis program represents a standards-based, comprehensive curriculum that all teachers can easily implement into K-8 school settings.
By aligning with the SHAPE America national standards and grade-level outcomes for K-12 physical education, the Net Generation curriculum provides a foundation for tennis instruction that can meet the needs of all students.
VITA encourages all K-8 schools in the Virgin Islands to take advantage of this free program. For more information about how VITA can assist with registering a territory school, email Amy Tayler @ amyusvi@mac.com
"One of our top goals for VITA is to work with all schools in the territory. It is free for schools to join USTA's organization membership and register for the NetGeneration program. USTA does require the teacher/partner to be SafePlay certified and background checked," –Amy Tayler, VITA vice president.
https://www.facebook.com/vitennisassociation
Contact: Amy Tayler, Vice President
Virgin Islands Tennis Association
352-874-1108    amyusvi@mac.com