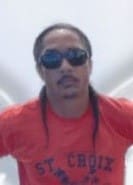 Victor "Vitin" Burgos died on Aug. 24. He was 42 years old.
He was preceded in death by his daughter, Vanessa Victoria Venessia Burgos; grandfather, Efrein "Fren" Diaz; uncle, Angel Encarnación; and brother, Rafael "Rafy" B. Soto Jr.
He is survived by his mother, María M. Diaz; father, Carlos M. Burgos; stepmother, Sarita Burgos; stepfather, Ismael Pérez Cruz; companion,
Sheleek Del Sol; daughters: Venessia Victoria Burgos and Gabriella "Gaby" Passee; son, Victor Hakeem Ashanti Burgos; grandson, Ayden Burgos; grandmothers: Gilberta Ayala, Leonor Asencio and Carmen S. Diaz; grandfather, Oscar Asencio; sisters: Yera Burgos and Vanessa Burgos; brothers: Carlos M. Burgos Jr. And Carlos "Charlie" Soto; stepsisters:  Elizabeth Pérez, Jessica Pérez, Sandra González and Vanessa González; stepbrothers: Ismael Perez Jr. and Jonathan González; and nieces: Nashaliz Burgos, Natalize Burgos, Naidaliz Burgos, Rosie Burgos, Maria Soto, Jahkishma Soto, Shalymar Soto, Rogelyn Marcelino Soto, Nakida Clark, Leticia Walsh, Yeraliz Álvarez and Erica Skillern.
He is also survived by nephews: Axay Soto, Jahriel Soto, Eric Soto, Xavier Soto, Eniel Soto, Kymani Soto, Jahriel Burgos, John Carlos Burgos, Antonio Burgos, Rafael Álvarez, Kevin Encarnacion and Kally X. Burgos Perez; aunts: Geneveva "Beba" Diaz, Monsita Diaz, Mercedes "Che" White, Carmen "Min" Diaz,  Nayda "Cena" Feliciano,  Awilda Ayala, Leticia Diaz Avillan, Julia Diaz Avillan, Rosalia Ayala, Isabel Romero and Paula Huggins; uncles: Carlos Diaz, Esteban Diaz, Efraín "Cano" Diaz, Pedro Cirilo Jr., Indalecio Gonzáles and Carlos Santiago; sister-in-law, Alexia Pérez Santiago; brother-in-law, Reiner "Nara" Quintana; and godparents: Rosalía Ayala and Héctor "Speedy" González.
Other survivors include godchildren: Selwyn "Lazarito" Manbodh III,  Rafael "Rafy" Álvarez and Seth Phipps; cousins too numerous to mention; special friends: Rafael "Rafy" Ocasio, Rafael "Nano" Ocasio Jr., Jessica Nieves, Jose Nieves II, Joel Anthony Nieves, Miguel Colon, Dionne Marshall Nieves, VI Paving, Marco Trucking, Carlos Burgos Trucking, VIAPCO, St. John Fishing Crew (Dalty, Duckie, Calbo, Kendal, Anthony), David Phillip, Jermain Weekes, J & W Restaurant, Nancy Gonzales, EC Tab Paving, Chico Trucking, Polaris, Larry Hill, ICS, Wesley Manwell, the Berg family, the Roldan family, Ken Mashburn, Freddy and Lucy Garcia, Julio and Ita Maldonado, and Brunilda; as well as other relatives and friends too numerous to mention.
The family requests that those in attendance wear live colors, red preferred.
A viewing will be held from 5-7 p.m., Tuesday, Sept. 7, at James Memorial Funeral Chapel.
A second viewing will take place at 9 a.m. followed by a funeral service at 10 a.m., Wednesday, Sept. 8, at James Memorial Funeral Chapel. Interment will be at Frederiksted Cemetery.