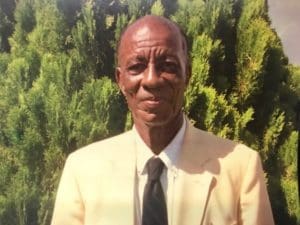 Victor Russell Venner of Sunny Isle Housing, St. Croix, VI, died on Thursday, Feb. 4. He was 91 years old.
He is survived by his daughters: Joycelyn Yvonne Rossington, Evelyn Venner Potter and Florence Carberry; sons: Winston Venner and Victor Small Venner Jr.; grandchildren: Julio Rossington, Janelle Rossington, Jenine Rossington, Curtis Venner, Chenelle Venner, Chris Venner, Cyeedah Venner, Mary Lawrence, Michelle Venner, Dareem Potter, Dyonna Potter, Dykisha Potter, Vickie Venner and Victor Venner Jr.; and great-grandchildren: Jocelyn Rossington, W. Bishop Rossington, Harper Rossington, Cree Rossington, Jaslyn Francis, Justyn Francis, Corbin Joseph,
He is also survived by Nasiem Venner, Cheniya Simmonds, Chenejha Paul, Anthony Paul Jr., Cyeed Pesante, Cy'niqua Audain and Cymiyah Audain; sisters: Joycelyn Hadley, Elcina Cornet and Millicent Williams-Liburd; brother-in-law and sister-in-law: Juran and Iris Games; nieces: Darnnet Edgar, Paula Jones, Caral Jones, Janet Cornet and Valerie Cornet; and nephews: Scotdale Liburd, Cleophilus Peters, Desley Peters, Everette Venner, Randolph Liverpool, Errol Hadley, Noel Hadley and Franklyn Jones.
Other survivors include friends: Pastor Spencer Walwyn and family and the members of Grace Baptist Church Central, Pastor Elvin Bloice and family and the members of Full Gospel Baptist Church, and the Sunny Isle Housing community; care takers: Marcelline Hermas, Jacqueline  Mackclocklam, Jewel Nelson, Carol Atwell, Carol Bideau, Yvette Thornhill and Deslyn Thornhill, Continuum Care, Davidna Rossington, Carmen Garvey James and family, Marslyn Carty, Veronica Sealy and Indonesia Byron; as well as many other relatives and friends too numerous to mention.
The first viewing will be held from 3-5 p.m., Friday, Feb. 19, at James Memorial Funeral Home. The second viewing will be held at 10 a.m., Saturday, Feb. 20, followed by the service at 11 a.m. at Grace Baptist Church Central, 8C Mount Pleasant. Interment will take place at Kingshill Cemetery.
Due to the COVID-19 pandemic and public health guidance, all COVID restrictions will be observed. Guests are required to wear masks, sanitize and observe social distancing guidelines. Refrain from hugging and shaking hands.