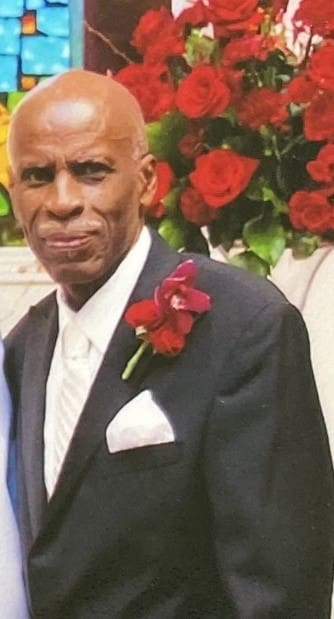 Victor William Irish of Estate Stoney Ground, Frederiksted, died on June 24.
He was preceded in death by his loving wife, Delacy Irish; daughters: Bridgett Davis and Myrna Davis; and sons: Steadroy Irish and Jerome Davis.
He leaves to cherish his loving memory, sons: Damani Irish, Vernon Irish, John Irish (Jessica Williams) and Steve Irish (Taren Cowan); daughter, Janice Peters (John Meo); and grandchildren: Klynt Benjamin, Gordon Benjamin (Stacey Benjamin), Alima Benjamin, Michael Davis, Jevonna Davis, Sekina Davis and Jerome Eustace Davis Jr.
He is also survived by more grandchildren: Shantavia Davis-Chong, Joshua Burgos, Jordan Burgos, Monique Irish, Jashem Irish, Vaughn Irish, Michael Irish, Michelle Irish, Alexis Irish, Kaleb Irish, Nevaeh Irish, Kyle Irish, Andre Irish, Ramon Small, Destiny Irish, Jasmine Irish and Nathaniel Irish; daughters-in-law: Joslyn Irish and Lisa Irish; and 13 great-grandchildren.
[adrotate group="6"]
Other survivors include special longtime friends: Stephanie Neilsen, Harvey Neilsen, Fredrick Christian, Veronica Jeffrey, Ivan Henrey, Melford Stevens, Winfield Castello Sr., Dolores Stevens, Jennifer Penn, Marylee Massiah, Alphonso Bastian, Julie Bastian, Austin Audain, Lesroy Baptiste, the LeBlanc family, Damian Blaze and Stclair Haynes; as well as other relatives and friends too numerous to mention.
There will be a viewing at 9 a.m. followed by a funeral service at 10 a.m., Sunday, July 18, at Bethel Seventh-day Adventist Church, Williams Delight. Interment will be at Kingshill Cemetery.
Due to the COVID-19 pandemic and public health regulations, all attendees must wear a mask and adhere to social distancing.