Government House has announced a series of ceremonies to celebrate the life and contributions of the late Fire-EMS Director Daryl George Sr., who died Oct. 24 after a sudden illness.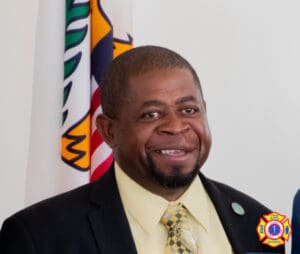 Candlelight vigils in memory of George will be held on both St. Thomas and St. Croix. The first, on Nov. 15, will be held at 6:30 p.m. at the Charles A. Seales Fire Station Annex in Estate Grove Place. The St. Thomas vigil will be held at 6:30 p.m. on Nov. 16 at the Omar Brown Sr. Fire Station, located across from Barbel Plaza.
George will lie in state at the Omar Brown Sr. Fire Station on Nov. 17 from 9 a.m. to noon, providing an opportunity for friends, colleagues, and community members to pay their respects, Government House said.
The funeral services to honor George will be held on Saturday at the Omar Brown Sr. Fire Station, with viewing from 8:30 to 9:30 a.m. and the service from 9:30 to 11 a.m.
Following the funeral service, the interment will take place immediately at Western Cemetery #1.
A repast in honor of George will be hosted at Joe's Hot Spot, located across from the Property and Procurement Department on St. Thomas.
George was one of the first to join the Fire Service ranks from a youth program called Junior Firefighters. He also served as a union leader and later as assistant director before being picked as the agency head by former Gov. John deJongh.
He was known as Mousey because of his height, but George was also known for possessing standout leadership skills. One of his last achievements was overseeing the merger of Fire and Emergency Medical Services into a modern first-responder entity.
"Government House extends its deepest condolences to the family, friends, and colleagues of Director Daryl George," Government House said in a statement announcing the services. "His dedication and service to the Virgin Islands Fire and Emergency Medical Services will be remembered and cherished by all. We invite the community to join us in these solemn ceremonies to celebrate his life and legacy."