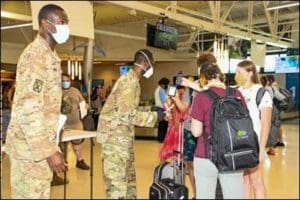 Virgin Islands National Guard (VING) personnel are busy screening passengers at both of the territory's airports.
Guardsmen and guardswomen assist passengers with filling out health questionnaires, taking thermal temperatures of travelers as they arrive and checking for COVID-19 test results.
VING is working with staff from the Departments of Health and Tourism. The Virgin Islands Port Authority oversees the operations at King Airport on St. Thomas and Rohlsen Airport on St. Croix.