Pictured above: The gravel lot adjacent to the Theovald E. Moorehead Marine terminal near Cruz Bay. At the Nov. 10 meeting, VIPA talked about paving and charging parking fees.
Photo courtesy of Amy Roberts. [hr gap="1″]
Commuters between St. Thomas and St. John who struggle to find parking in Red Hook will have at least an extra week to park at the lot next to the Red Hook Ferry terminal, according to the head of the Virgin Islands Port Authority.
The parking lot was scheduled to be closed on Monday, November 14, to clear the lot for construction of a second level, but rain has caused delays in preparing a satellite lot that commuters and visitors will need to use during construction, said Carleton Dowe, executive director of the VIPA.
Dowe made his remarks at a meeting held at the Legislature Annex in Cruz Bay on Thursday, November 10.  The meeting was called to inform the public about increases in tariffs for the use of Port Authority facilities and to provide updates on a dozen VIPA projects that are underway or in the planning phase.
[adrotate group="6"]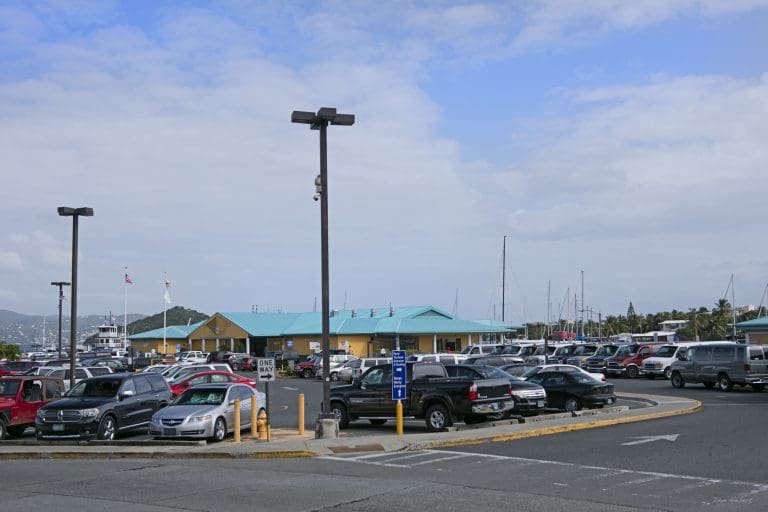 The addition of a second level to the parking lot adjacent to the Red Hook ferry terminal will provide 88 new spaces to supplement the 100 spaces that are now available on the ground level.  The contract for the $5.3 million project was awarded to Eleven Construction and is expected to be completed in a year.

In the meantime, commuters and visitors will find parking at a satellite lot that is being prepared at a location just beyond Ivanna Eudora Kean High School, a 15 minute walk from the ferry terminal.  Dowe said that the East End Taxi Association will provide shuttle service between the parking lot and the ferry terminal.
That was not the only parking news discussed at the meeting that affects St. John residents.  Dowe said VIPA plans to put out a request for bids by January, 2017, to pave the gravel lot adjacent to the Theovald E. Moorehead Marine terminal near Cruz Bay.
Dowe said he planned to move quickly on the project.  "I want to get the money from your Carnival," he said with smile.
Plans are also underway to charge for parking in the lot across from the post office in Cruz Bay. VIPA has not yet figured out the rates at the two St. John facilities.  Dowe said he had walked around Cruz Bay and seen rates of $4 per hour in some private parking lots, but VIPA's rates will be lower.  "Our financial people will discuss what the charge ought to be," he said.
The Port Authority is also raising its docking fees from $.60 a foot to $1.00 a foot and is raising its tariff for taxi operators who use its facilities.  As of October 1, it raised its fees for passengers on cruise ships and water tour operators.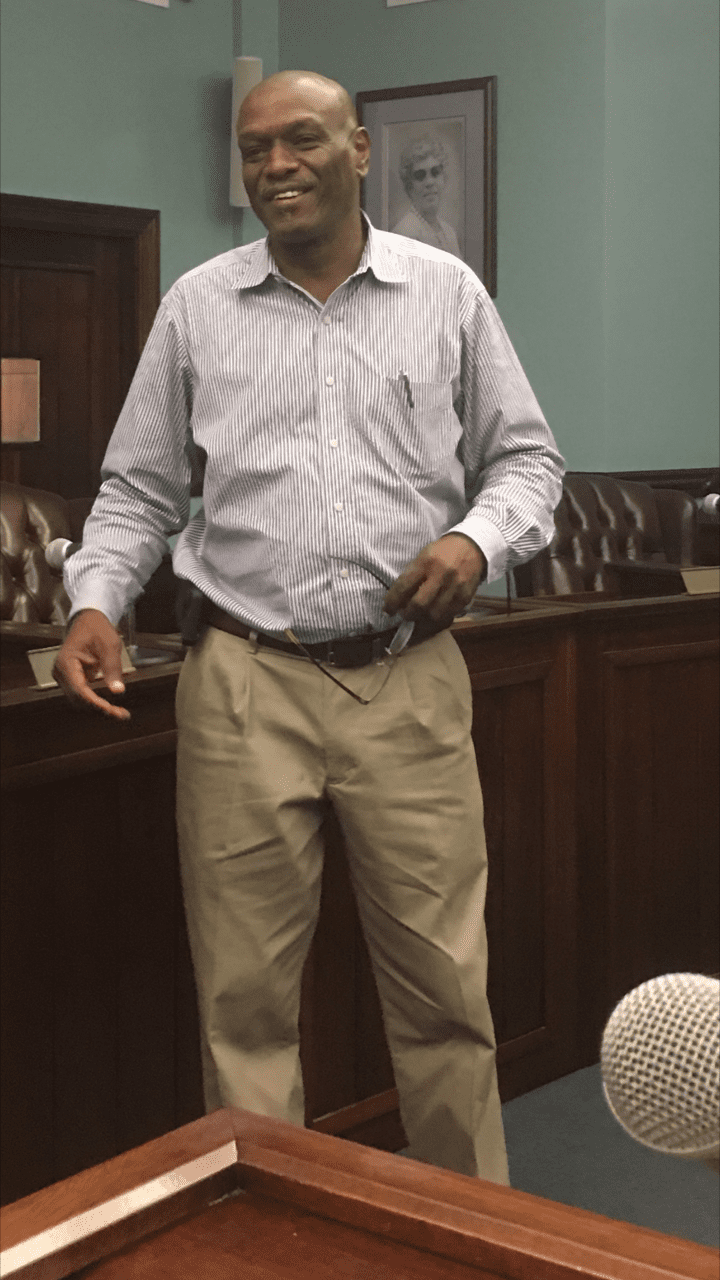 Dowe said the increase in tariffs is necessary to fund new projects, perform routine and major maintenance, and pay operational costs including utilities.  The Virgin Islands Port Authority does not receive funding from the Territory's General Fund but must generate its own funding through fees, grants, and bond issues.  "What we make is what we can spend," he said.
VIPA also plans to make repairs to the bulkhead and do maintenance dredging in Red Hook where the barges load.   That project, which is expected to take two weeks, should begin this month.
VIPA is still awaiting permits from the Army Corps of Engineers to construct a facility for Customs and Border Patrol in Red Hook.  Dowe said he hopes to put out a request for bids within a few months.
That project should alleviate the congestion at the Customs and Border Patrol facility in the Cruz Bay.  Dowe said that 150,000 passengers that land annually at Cyril E. King Airport on St. Thomas continue by ferry to the British Virgin Islands; however, these passengers often face delays and miss their return flights because of crowding at the customs facilities in Cruz Bay upon re-entering US waters.
Dowe said one project on St. John has been successfully completed. The $1.2 million paving project at the cargo apron next to the Moorehead Terminal near Cruz Bay is now being used to store shipping containers and bins for solid waste transported to St. Thomas.