The Enighed Pond Marine Facility may get smaller before it gets finished.
Just one year after the opening of the marine port — whose insufficient space already forces cars waiting to board barges to line up on Pond Road — part of the V.I. Port Authority-owned property will be transferred to the V.I. Waste Management Authority.
VIPA will transfer a portion of the northeast end of the property, where trailers currently are stored and which VIPA plans to pave, to the WMA, explained VIPA spokesperson Marc Stridiron.
"A portion of that property might be transferred to Waste Management for their operations," Stridiron said. "The agreement with them is fairly new."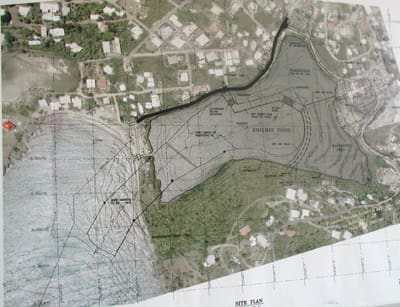 To Expand Treatment Plant
WMA will use the property, estimated to be between a half-acre and three-quarters of an acre, to expand its wastewater treatment plant, explained Stridiron.
"The land is right next to the wastewater treatment plant, so the transfer is basically just to accommodate their future expansion and development for the plant," he said.
Stridiron did not have information on whether WMA will pay for the VIPA property.
The transfer of the portion of Enighed Pond will change VIPA's paving plans for the area, explained Stridiron.
"There will be a need to adjust the total square footage of the paving," he said. "Obviously, transferring part of the property would adjust the size of the portion which needs to be paved. Both sides felt it would be prudent to do the transfer now, before the paving."
Paving To Cost $1 Million
VIPA will pave the northeast section of the Enighed Pond property, behind the wastewater treatment plant and in front of The Marketplace on the South Shore Road, at an estimated cost of $1 million to accommodate the storage of trailers, added Stridiron.
"The paving project has not gone out to bid yet, so we don't have the exact cost of the project," said Stridiron. "The internal estimate is about $1 million."
VIPA will charge for the storage of the trailers to offset the cost of the paving, he added.
"There will be fees associated with the use of the area, but we don't have specific numbers yet," Stridiron said.
"Once the project goes to bid, we'll know the exact cost, and what the maintenance needs will be. After the construction is completed, we will have a better idea of what sort of costs need to be recovered."
While VIPA moves forward with its paving project, the authority has put on hold plans to construct a guard house, an administration building, and to provide running water and electricity to the facility, he added.
"It's not that our plans for the Enighed Pond have changed," said Stridiron. "It's that essentially we don't have the funding to proceed with phase two. This does not reflect a change in the plan of what we intend to do with the area."