As St. John residents continue to feel the pressures of rapid development and rising crime rates, two V.I. Police Department officers stationed in Coral Bay are making a difference with their community policing styles.
"I love the community where I work," said VIPD Officer Adrien Huggins. "The people here are so community-based because it's such a close-knit group – everyone knows everyone."
"The community out here is great, it's like a big family," agreed VIPD Officer Delvin Fleming, Huggins' partner.
Inspired by Their Grandmothers
Both men have more than 10 years of experience in law enforcement, but credited their grandmothers as the source of their community policing skills.
"Basically my grandmother and I spent a lot of time together and we'd walk around the neighborhood and talk to people," said Fleming. "She taught me to treat people fairly and objectively and I bring that common sense approach to my work."
"Everyone recognizes good manners," he continued. "I was taught manners as a kid, and it still applies now."
"I got it all from my grandmother, Altagracia Maduro," said Huggins. "My grandfather was a police officer too, Lieutenant Clifton Joseph. He got me to join the force as a dispatcher and I just got more involved from there."
His years as a 911 dispatcher and later as a V.I. Housing Authority police officer helped Huggins perfect his community approach to policing.
Changing Perceptions of Police
"I like working and interacting with the people, especially with the kids," he said. "Just to know that I am able to help the kids see police officers in a different light and curb them from getting into violence and crime is a great feeling."
"Giving the kids options is important too," Huggins, a certified scuba diver, continued. "Not just about violence and crime, but teaching them about marine biology and the opportunities in the marine industry is valuable."
Fleming, also a certified scuba diver, actually wanted to pursue a career in marine biology when he was younger.
"I always wanted to study marine biology, but then I joined the Army," he said. "I think there are times in your life that are defining moments, and your life is not the same before or after. The Army was one of those defining times in my life."
"I realized that I really enjoy a close-knit social atmosphere," Fleming continued. "I enjoy camaraderie, teamwork and challenges. That's how the law enforcement happened – I needed to find work that I was good at and I loved."
The two have been working the beat in Coral Bay since shortly after the VIPD substation opened last October, and residents in the once sleepy east and south shore neighborhoods sing their praises at every opportunity.
Community Appreciation
"I feel so happy that Fleming and Huggins are here in Coral Bay," said a waitress at Island Blues. "They're doing such a great job. We're really lucky to have them."
"It's such a pleasure to see smiling faces and cordial police officers once again on St. John," said Joanne Sica, who works in the Coccoloba shopping complex.
"It's nice to have a friendly police presence in Coral Bay," said Carey DePree, a bartender at Island Blues. "It makes me feel safer that they stop in every night."
"They came around and introduced themselves to everyone when they first started out here," said Maureen Sullivan, owner of Keep Me Posted. "The trust that they created in the community is huge."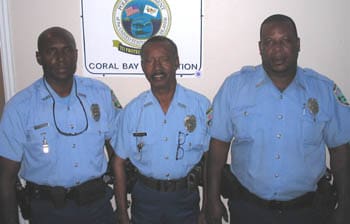 Being Integral Part of Community
"The real purpose of a police force is to protect and serve, and – in my opinion and the opinion of many others – to be an integral part of the community," Sullivan continued. "Officers Huggins and Fleming have made a true connection with the residents of Coral Bay, and that is vital to their ability to gain information and obtain leads in the unfortunate circumstances that a crime is committed."
The public's trust is exactly why Fleming and Huggins are dedicated to community policing.
"The public's trust is extremely important," said Fleming. "It really helps a bunch, because they are the ones who are around when something happens. We depend on the public to come forward with information."
"A lot of people out here said that they never trusted police before," said Huggins. "They see us in a different light. I think that is because we have a different approach."
Volunteer Work with Children
In addition to their full time and much appreciated police work, Huggins and Fleming also volunteer at the John's Folly Learning Institute.
"I look back at when I was kid growing up and I remember when adults impacted my life," said Fleming. "If a police officer took the time out to teach me something then, there is no telling what I would have achieved."
"If they took the time out to help me with the way the world works, there would have been more possibilities," he continued. "Giving those kids more options and opportunities is what it's all about," Huggins agreed.
In this age of technology and development, Huggins and Fleming are a throw back to good old fashioned policing – skills which can't be taught from a book.
Old Fashioned Police Work
"Back when my grandfather was an officer, they really had community policing," said Huggins. "It kind of strayed away from that, but my partner and I are bringing it back. We have a natural knack for community involvement and community policing."
"I try to feel how the person I am dealing with feels," said Fleming. "I think to myself 'how would I feel if I was in their position,' or 'how would I want an officer to treat me if I was in their position?' That is what keeps me focused and helps me make the decisions that I make."
"What these guys are doing is good for the community," said 24-year veteran VIPD Officer Alvin Wesselhoft. "Working with the public and getting the public's trust makes their jobs easier and the community feels more relaxed."