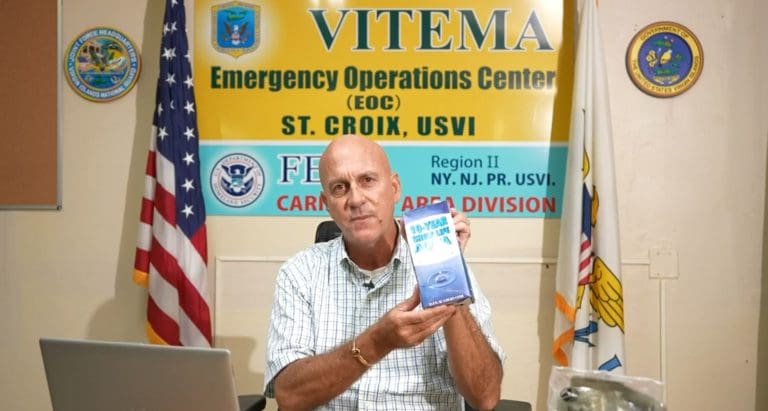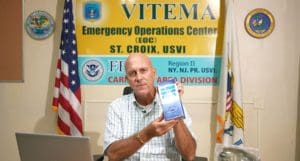 Broadcasting live from the V.I. Territorial Emergency Management Agency's Emergency Operations Center on St. Croix, Wednesday, VITEMA Director Daryl Jaschen said he was sitting in a room that would usually be filled with 40-50 people, but now most of their communication is conducted virtually due to COVID-19.
"For the past 15 months we have both been under a national and a territory state of an emergency," Jaschen said during the online stream of Inside the Cabinet, a regular Government House production providing access to V.I. government officials.
Recently, Gov. Albert Bryan Jr extended the state of emergency until Jan. 10, 2022. This allows VITEMA the opportunity for funding and resources to fight, prevent and mitigate against COVID-19.
Jaschen said the V.I. Department of Health, the V.I. National Guard, the Federal Emergency Management Agency, and Human Services Commissioner Kimberley Causey-Gomez were working together in a unified command and performing daily missions to help the territory continue the fight. This includes working at the territory's airports and seaports screening for COVID-19, transporting seniors and others to and from community vaccination centers, running an appointment hotline through VITEMA and staffing COVID-19 testing centers that operate through the Department of Health.
"Starting next week, we are going to enter the height of hurricane season which begins Aug. 15 and will go through Oct. 15," Jaschen said. In preparation, the volunteers from the V.I. Department of Public Works, V.I. Fire Services, and many volunteers activated what is called "Blue Sky Days." The program distributed 1,000 sandbags on each island (St. Croix, St. Thomas, St. John) to seniors or the disabled who were not able to make the trip for the sandbags. Jaschen said that updates for sandbag distribution will be provided by the governor during his weekly COVID-19 updates.
Also, in preparations for the height of hurricane season, Jaschen said 72 people from the V.I. Department of Human Services, V.I. Department of Education, and volunteers completed a training course in commodity distribution. If a disaster were to happen, the Federal Emergency Management Agency will deliver shelf-ready food and water to VITEMA and volunteers will deliver food and water to distribution sites. Jaschen said currently the territory has two warehouses with enough food and water to last for five days. "This covers 10,000 individuals on St. Croix for 5 days, 10,000 individuals on St. Thomas for 5 days and on St. John 800 individuals for 5 days."
Jaschen said that there are six sites on St. Croix, six sites on St. Thomas, three on St. John and one on Water Island designated for food distribution and they will open only two at a time on each island. "It is very important that we do not over-extend our capabilities, but also can meet the needs of the community."
Jaschen encouraged the community to shelter with friends or family if needed during a storm. "We are in COVID-19. We are really trying to minimize when we open those shelters up," he said. Shelters will open if a Category 2 or higher storm occurs, and VITEMA has begun to pre-identify shelters.
On St. Croix, the St. Croix Educational Complex and the D.C. Canegata Ballpark are currently operational. The shelters will be operated by the American Red Cross and will open within 24 hours of a storm. Residents seeking shelter should keep in mind that the capacity for each of those has been reduced from 100 people per shelter to just 30 people to allow people to distance and reduce the spread of coronavirus. "Instead of having these 20 square feet per person, it's closer to 90 feet square per person," said Jaschen. There is currently no working generator at Complex or Canegata, but 100-kilowatt generators will be set up at both sites, he said.
Other details to keep in mind when evacuating to a shelter, Jaschen said, are bringing masks, personal hygiene products, hand sanitizers and other essential items. Residents staying at the shelters will also get temperature scans. Pets will not be allowed. Secondary shelters also will be available in case of an emergency, and those with special needs should have already registered with the V.I. Department of Health.
A few other updates provided by Jaschen:
Hotspots will be provided by VIYA and have already been identified (15 sites on St. Thomas, 15 sites on St. Croix).
Sixty-six people completed community emergency response training.
Each emergency agency sent individuals to complete training on what the emergency operations are about and incident command training.
19,000 individuals signed up for the "Alert VI" mass messaging system.
Doubled the senior registry for seniors who cannot get out, live alone, and need help and assistance.
Completed 4,000 curfew passes this year, which are valid for two years.
VITEMA is in discussions with the V.I. National Guard and Department of Health concerning being available in case of a surge in COVID-19 cases.
Tsunami sirens destroyed in 2017 by hurricanes Maria and Irma "will take several more months" to finish replacing. Jaschen was not able to provide a specific date.
If residents are interested in receiving the COVID-19 vaccine, they can call 340-777-8227 to schedule an appointment and find out about locations. To receive updates and notices for natural disasters, updates on testing sites and other alerts you can register with vitema.vi.gov and follow the instructions to receive them by text, email, and telephone.
"Have a plan, have a kit, and stay informed," Jaschen said.