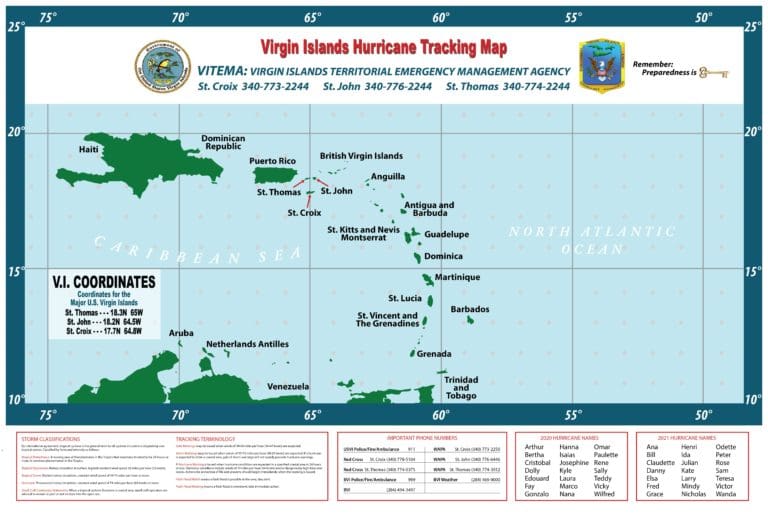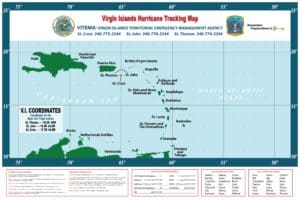 The Virgin Islands Territorial Emergency Management Agency will begin distributing free hurricane tracking maps for use by the general public beginning Friday, Sept. 11, on all three islands. This is the 10th year VITEMA has provided this service.
The paper maps are an excellent tracking tool to monitor approaching storm systems and their proximity to the U.S. Virgin Islands. As with any major storm-related event, VITEMA will provide daily updates on the location of a storm via multiple social media platforms, VI Alerts and the VITEMA website at www.vitema.vi.gov. In both districts, the hurricane tracking maps are available at the following locations:
St. Croix
Plaza Extra
Pueblo
Cost-U-Less
Home Depot
Office Max
St. Thomas
Gottleib Serve Station
Sea Chest
Food Center
Sparrow (Red Hook)
Gasworks Gas Station (Red Hook)
E & M Grocery (Northside)
St. John
Starfish Market (Cruz Bay)
Dolphin Market (Coral Bay)
E & C Service Station (Cruz Bay)
Pine Peace Market (Cruz Bay)
For more information, go to www.vitema.vi.gov and if there are any questions or concerns, contact VITEMA at contact@vitema.vi.gov.
VITEMA – St. Croix: 340-773-2244; St. John: 340-776-2244; St. Thomas: 340-774-2244