V.I. Track and Field (VITFF) congratulates three athletes for their recent accomplishments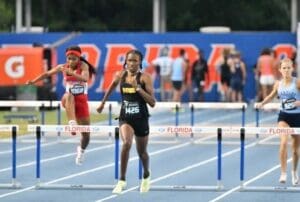 Michelle Smith (1426) Congratulations to St. Croix Track Club athlete Michelle Smith, a high school sophomore at Montverde Academy, on becoming a Florida State Champion. Smith competed in the Florida 2A State Championships on May 12 and became the state champion in the 300m hurdles by running a new Virgin Islands National record of 41.56. Her time made her the fastest high school sophomore in the 300m hurdles in the United States.
Michelle Smith won a bronze medal in the 100m hurdles with a time of 14.23. Just off her V.I. National Junior record of 14.19.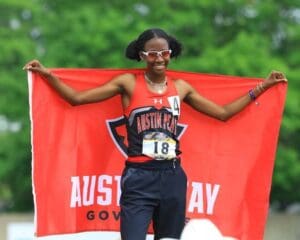 Mikaela Smith Congratulations to St. Croix Track Club athlete Mikaela Smith, a recent graduate from Austin Peay State University, Tenn., who competed in the Ohio Valley Conference Championship on May 11 – 13 in Murray, Ky.
Smith won her heat in the 800m in 2:12.66 to advance to the final. She continued to win a silver medal in the final of the 800m in a time of 2:11.49.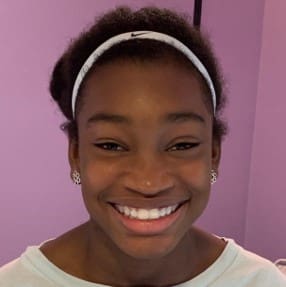 Sofia Swindell Congratulations to Sofia Swindell, a freshman at the Lawrenceville School, who competed in the Mid-Atlantic Prep League (MAPL) Outdoor Championships on May 14. Swindell won her prelim in the 100m hurdles in a time of 15.67 seconds to advance to the final. In the final of the 100mH, Swindell finished 1st in a time of 15.75.
She also finished 1st in the triple jump with a personal record of 36 feet and 9 inches.
For more information, contact Keith Smith Sr., VITFF president, at keithsmithsr@gmail.com or 277-1123.